From the Archives
The 1964 International Golf Show In Photos
A look back at what it was like visiting the aisles of the New York Coliseum for golf gear.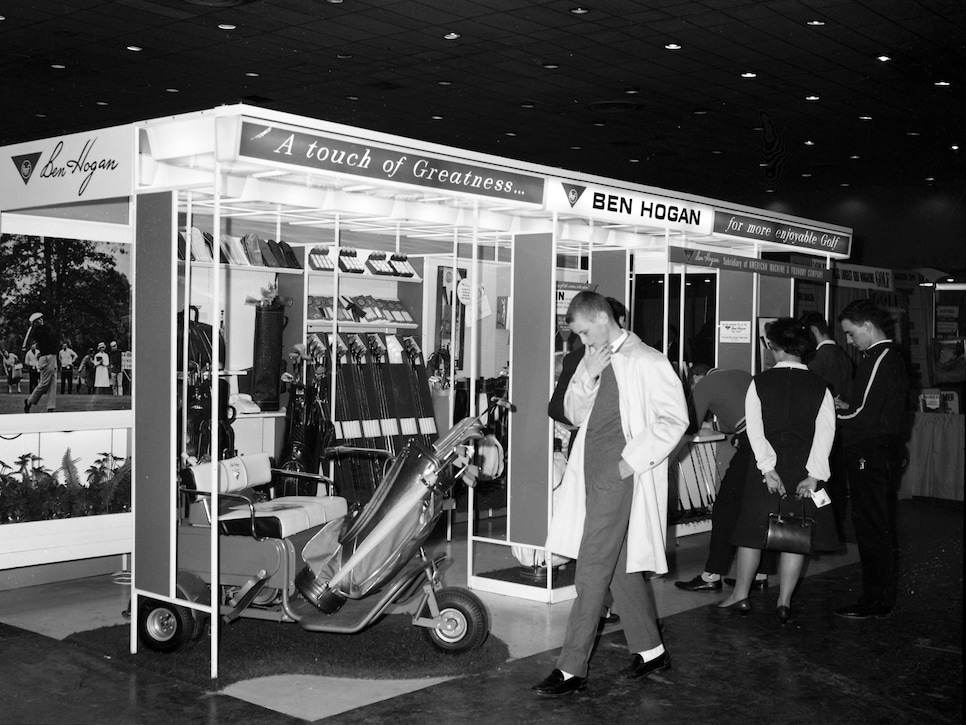 A young man peruses the equipment available in the Ben Hogan display booth.
Footjoy displays street shoes and golf shoes. The shoe company boasts that "in the top 4 U.S. tournaments more players wore Footjoy than all other brands combined!"
The Stevens club car claims it goes more than 100 holes without a recharge.
This booth is for Arnold Palmer designed putting courses and driving ranges. Displays include a photograph of the double deck 35-tee design featuring the identifying Arnold Palmer "A" frame". A sign states, "You too can be a Commander in 'Arnie's Army.'"
A neighboring booth features Arnold Palmer apparel and equipment.
Golf Pride grips' traction action promises to fit your hands, absorb shock and have a good feel.
Hand Craft Golf Co. offers the finest in hand-made woods. (And it should be noted that back in the '60s, the Coliseum was not a smoke-free environment -- a standing ashtray appears in almost all the booths.)
Etonic features all-weather golf and street shoes, along with golf apparel.
In one booth, potential buyers study foul-weather gear, which includes the "golfer's dream jacket," aka the "Duckster." Also on display are Frank Noone Shoes and Timber Point, "the club for family fun".
Par Mate gloves and accessories on display.
Lemmer-Mayer of Vienna features "world famous fashion in alpaca knits."
Izod-Haymaker displays polos with an alligator logo.
Shakespeare Tru Aim clubs partner with the Black Knight, Gary Player, to promote their wares.
The Dunlop booth displays both tennis and golf gear.
First Flight of Chattanooga, TN, offers equipment and apparel.
The family-owned business, Northwestern Golf Company, shows off its latest clubs.
"Get in the swing with Arrow for Spring!" And got some extra time on your hands? Arrow invites you to view the 1963 Masters tournament film in the theater.
Here's one constant linking then and now. Wherever golf enthusiasts converge, you will still find Golf Digest, "the world's leading golf publication."