Social Media
Photos: Golfers Over The Holidays
What the Pros are doing this holiday season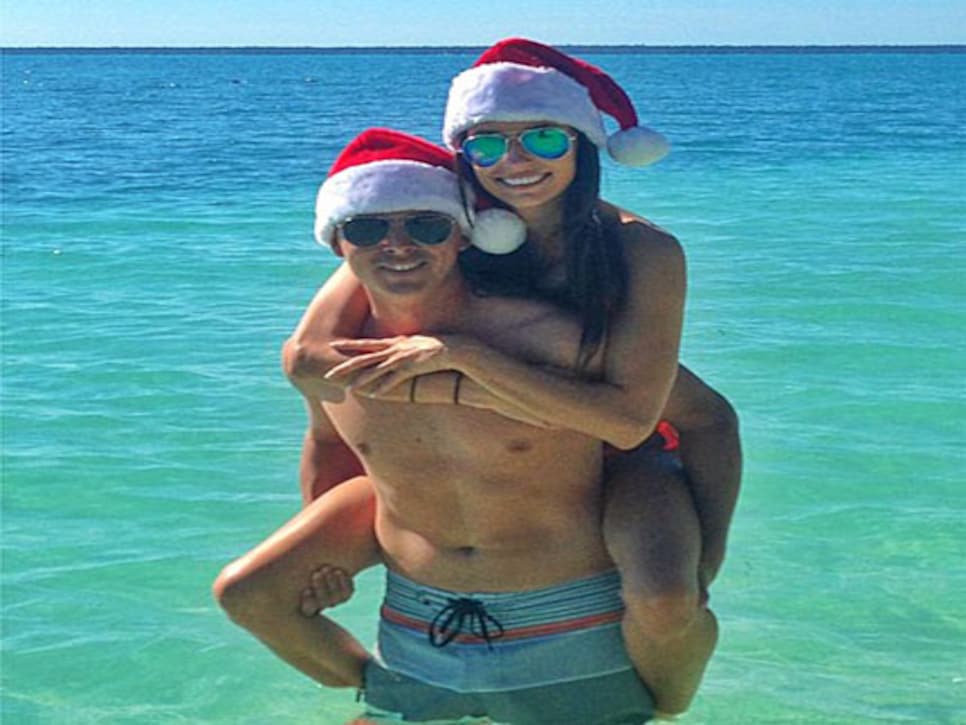 Rickie Fowler @therealrickiefowler
Merry Christmas everyone!! #TBT to my birthday trip to Baker's Bay with my gf @alexis.randock . . . I love you babe and hope you are having a Merry Christmas with your fam too!!
Rory McIlroy @rorymcilroyofficial
I do love being home for Christmas.
Paula Creamer @paulacreamer1
Beginners luck . . . First time fly fishing and landed this 3lb rainbow!
Paulina Gretzky @paulinagretzky
Merry Christmas Everyone!! P.S. We're having a BOY
Michelle Wie @themichellewie
I present to you: Lola Reindeer Santa!!! #gettingfestive #almostchristmas
Bubba Watson @bubbawatson
Daddy-daughter selfie!! #ProudDad
Morgan Hoffman @morganhoffmannpga
Got this little note in the mail today! So pumped to be playing my first Masters in April! Thank you to all my friends, family, and people who helped me get here! #prettylucky #augusta
Danielle Kang @daniellekang
Right before the drop . . . #GoPro
Blair O'Neal @blaironealgolf
I don't normally post food pics . . . But when I do its when I make Christmas morning Eggs Benedict !!
Ian Poulter @ianjamespoulter
Some things don't need a caption . . .
Luke Donald @lukedonald
I definitely wore them the best Merry Christmas from the Donalds
Morgan Pressel @mpressel
Happy Boxing Day! Early morning at the pub with the boys! #seriousfilterneeded #boxingday #CTID #MCFC
Cheyenne Woods @cheyenne_woods
Saturday night in Brussels
Natalie Gulbis @natalie_gulbis
Josh and I making Ebelskiver (Danish round pancake) With Mommy Rodarmel . . .
Jillian Stacey @jillianfstacey
Ended up being the best present for my child at heart @keeganbradley1 #xmasjammies #latergram
Michelle Wie @themichellewie
SO much fun ringing in the New Year at @atlantisresort last night with @whitkronkulous #hello2015
Luke Donald @lukedonald
It's good to be surrounded by greatness! These were the lucky two tonight Happy New Year from all of us. #2015
Belen Mozo @belenmozo
I'm on top of the world HEY! It took me 36 min to climb up the stud of Lion's Head. My first hike and so much fun!/ En la cima del mundo chavales. Por lo menos eso me merecía imaginarme después de solo tardar 36 min en subir Lion's Head! Increíble!!!!
Jordan Spieth @jordanspieth
Cool seeing the great Roger Staubach as well as Willie and Korie from @duckdynastyae at the Boys game! #uglysweater @@underarmour @@dallascowboys
Greg Norman @shark_gregnorman
Just finished 6 hr GT hike of the Remarkables. 2100m The one that was truly remarkable was my wife @kirstenpnorman. So proud of her. New name for this hike, "the never ending rock climb." A ball buster!!
Keegan Bradley @keeganbradley1
Panthers game!
Lexi Thompson @Lexi
Have a safe and fun night everybody! #happynewyear