Frame-by-frame analysis
Swing Sequence: Sung Hyun Park
With a swing like this, it's easy to see why Sung Hyun Park has two majors wins in only two seasons.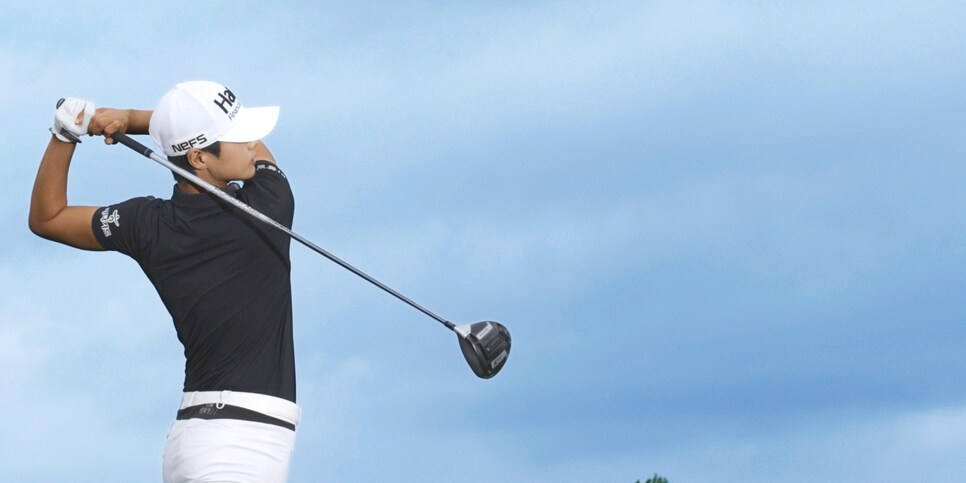 SWING SEQUENCE: SUNG HYUN PARK
In 2017, Sung Hyun Park had one of the greatest rookie seasons in LPGA Tour history. She won twice, including the U.S. Women's Open, and joined Nancy Lopez as the only other golfer to win the tour's Rookie of the Year and Player of the Year honors in the same season (the latter she shared with So Yeon Ryu). Park then won her second major, the 2018 KPMG Women's PGA Championship, to solidify her position as one of the tour's best players.Park has a proven swing, but she works on it in an unorthodox way. Rather than getting advice predominantly from an instructor, she prefers to diagnose and fix swing issues on her own after watching videos of herself taken by her mom or caddie. It's hard to criticize that process considering how well she swings the club, says instructor Sean Hogan, who has coached several pros on the LPGA and PGA Tours, including Lydia Ko and Suzann Pettersen."Her swing has great flow," Hogan says. "It's a bit of Tiger's athleticism mixed with Ernie Els' effortless power. She has a strong ownership of her swing." – Keely Levins
PRO-FILE: SUNG HYUN PARK
AGE: 24 / 5-8 / Seoul, South Korea
DRIVER: TaylorMade M3 460 (9.5 degrees)
BALL: Titleist Pro V1x
SOLID CONNECTION
"Park's power originates from a strong, stable connection to the ground at address," says instructor Sean Hogan. "Her setup looks athletic. She's ready to go." The forward ball position and noticeable shoulder tilt put her in the ideal position to launch the ball on the upswing, he says.
STARTING WIDE
Park's initial move is to maintain the width of her swing arc. That's a power generator all golfers should copy, Hogan says. "Her shoulders, arms, hands, and club move away as one unit," he says. "There's no change to the radius of her swing as she begins to load."
POWERING UP
Halfway into the backswing, Park hinges her wrists and allows the right arm to fold. "This combination gets her to fully load the club going back and sets up a powerful release of the clubhead on the way down," Hogan says. The wrist hinge adds another power lever to any swing.
FULLY FLEXED
"Park completes her backswing with a full coil of her upper torso while maintaining a solid connection to the ground with her lower body," Hogan says. "This shows her tremendous flexibility. It's also ideal in terms of storing power and getting in position for a properly sequenced downswing."
STAYING BACK
Her first move in the downswing is with the lower body. "At the same time, she's retaining that coiled look in her upper body," Hogan says. "Many amateurs do the opposite. They initiate the transition with their shoulders and upper torso, which ultimately leads to slicing and lost distance."
CHARGING UPHILL
Hitting the ball on the upswing with the driver, like Park is doing here, is vital to maximizing distance, Hogan says. "It's as if she's on a slight upslope as she makes contact," he says. "Her head and upper body are still patiently staying back. This is an ideal image for amateurs to copy."
"Her driver swing is a beautiful blend of athleticism, power and great sequencing." —Sean Hogan
FINISHING TOUCH
By clearing her left side first, she can let her arms and clubhead come through impact fully extended, Hogan says. "Sung Hyun puts an exclamation point on her driver swing with a picture-perfect, balanced finish," he says. "There's no holding back. It's why she averages 271 yards off the tee."