Can this teenager become China's Tiger? Leadbetter thinks so. See The Kid's swing in motion and decide for yourself.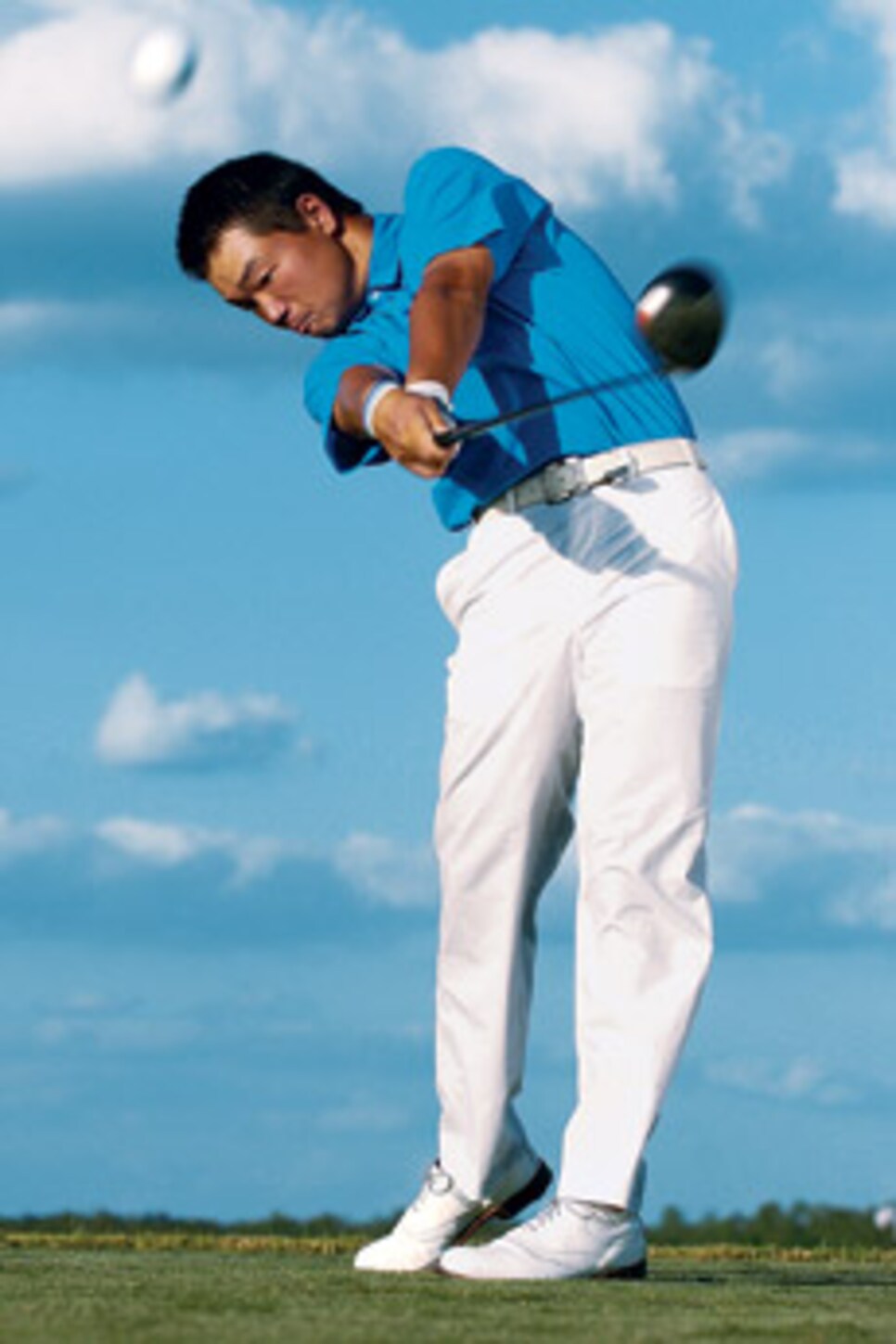 Age: 15Height: 5-feet-10Weight: 155Driver: Nike Ignite 410, 8.5 degrees of loftBall: Titleist Pro V1xClubhead speed: 117 mphBall speed: 171 mph__Average driving distance (carry):__279 yardsMu Hu's the name, and he's got game. At age 11, he won the 15- to 18-year-old division at the 2001 China Junior Golf Open. Later that year, Mu moved from his native Shenzhen to Florida for schooling at the David Leadbetter Golf Academy in Bradenton. Then it was on to Orlando for tutoring from Leadbetter at his ChampionsGate headquarters. (Mu's parents have homes in Shenzhen and in Celebration, Fla., with a business in China.)Now 15, Mu won three national junior tournaments in the U.S. last summer, and on a trip back home last fall, made the cut in two Asian Tour events -- including a tie for 11th in the Sanya Open.Confident but not cocky, Mu admits he's not yet the best Chinese golfer ("maybe third or fourth, though," he says). But he's well aware that his progress is being followed closely by the golf cogniscenti in China. "They call him The Kid, as in, 'How'd The Kid do today?' " says Andrew Park, a Leadbetter instructor at ChampionsGate who works closely with Mu. "The Chinese feel like the Thais have Tiger, the Koreans have K.J. Choi and all the female players, and now they want their own golf phenom. The Kid could be it."-- Scott Smith
This Kid's a KeeperBy David LeadbetterIn the past few years we have seen the rise in quality -- and quantity -- of young women from the Far East playing golf in the U.S. Now it seems the boys are starting to follow. It is amazing to see the talent, dedication and focus these young players with Asian roots have, and Mu Hu is no exception.A big, strong kid just under 6 feet, Mu is very athletic and totally dedicated to becoming a great player. He possesses a perfect temperament for golf and works hard on all aspects of his game. He has a very dynamic golf swing, moves fluidly and, with clubhead speed about 117 miles per hour, consistently hits the ball in the 300-yard range.His athleticism and power can be seen in the high-speed sequence photos here. Like Michelle Wie, his occasional practice partner on the ChampionsGate range (who happens to be just two days younger than he), Mu is technically advanced for his age and a quick learner. He's a natural drawer of the ball, but challenge him to hit different shots and he's up for it. He's also a good swing imitator. His Tiger (both old and new swings) is first rate, and he does a mean Vijay -- right down to the distinctive high-hands finish. (He recently vowed, however, "I'm finished with that -- I'm Mu Hu now.")Here's a first look at a golf swing I suspect you'll be seeing a lot more of in the years to come.David Leadbetter operates 25 golf academies worldwide. He works with many top professional and amateur players.
Mu grips down on his driver for control, yet this great lag position between shaft and wrists produces tremendous speed.
Plane a little shallow -- what the heck, he's only 15 . . .