Golf Instruction
Swing Sequence: Lexi Thompson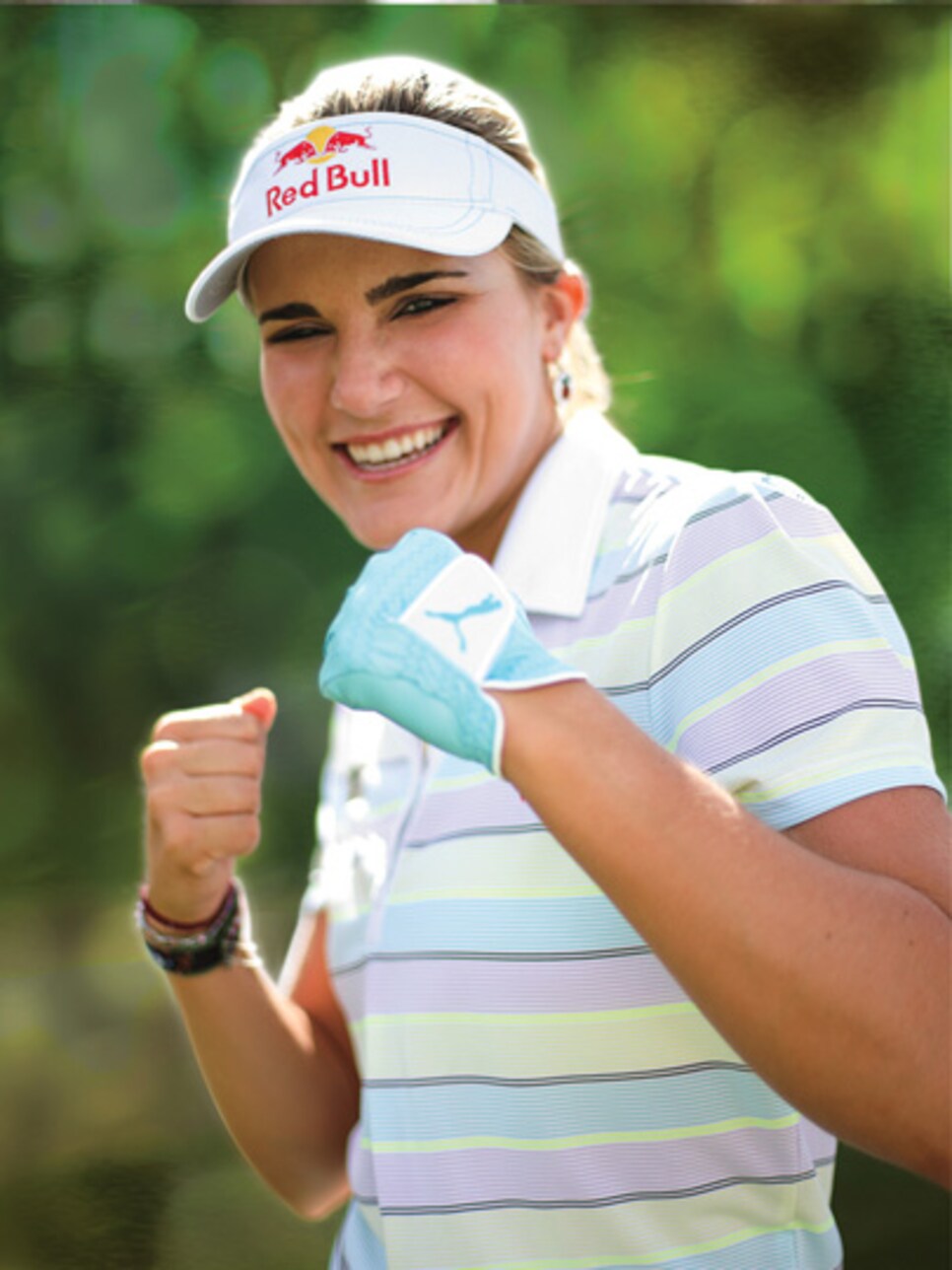 HERE COMES THE KNOCK-OUT
This isn't just a pose. Boxing is part of my fitness routine with Florida Panthers strength and conditioning coach Craig Slaunwhite. It really sharpens my hand-eye coordination, strengthens my arms and wrists and improves my stamina. I'm sure it helped me pick up the two wins I got at the end of the 2013 season.Another key for me is my grip. When I was real young, my hands were in a strong position on the club and the clubface was closed at the top, but my teacher, Jim McLean, didn't want to change that until I got older. He and I are still working together, and now my grip is more neutral. It lets me swing free without fear of hitting hooks.I don't like to think too much when I'm playing, so Jim gives me broad thoughts—like slow takeaway or constant grip pressure.I leave the mechanical keys (see following slides) for the practice tee. —With Roger Schiffman
STARTING SLOW← I try to make my club, arms and shoulders rotate in unison on the backswing. Jim McLean says that's a great focus for the first part of the swing. My stance is a bit wider than my shoulders, and I play the ball just inside my heel so I can swing up with the driver.THE BIG WINDUP←Notice my X-Factor position—the difference between my hip turn (which is minimal) and my shoulder turn. I'm keeping my lower body stable while turning my shoulders, which stores energy that I can unleash through impact.
LONG ISN'T WRONG← I used to have a short backswing, but Jim had me lengthen it. He likes to say, "Shorter swings, shorter shots." He showed me pictures of Annika Sorenstam, Mickey Wright and Sam Snead, who all went past parallel. My swing is long because I have a big shoulder turn.NO SWAYING← Notice my upper body is stacked behind the ball and inside my right leg. I'm fully loaded behind the ball, but I'm not swaying. My head is fairly centered, and my left heel remains flat on the ground. I'm ready to pound this drive.
EVERYTHING GOES← Check out the connection between my body and left arm, and see how the clubshaft is centered between my arms. This means I'm swinging everything—hips, arms, shoulders, club—together. I want to feel like nothing outraces anything else to impact. The result is controlled acceleration.ON MY TOES← I allow the momentum of the club to rotate my head toward the target, like Annika does. And I'm up on my toes through impact, which shows I'm not holding back. Other players who hit it long do this, like Bubba Watson and Louis Oosthuizen.