2010 Equipment
Golf World's Top 10 Equipment Stories
Golf World's Senior Editor E. Michael Johnson ranks the top 10 equipment stories of 2010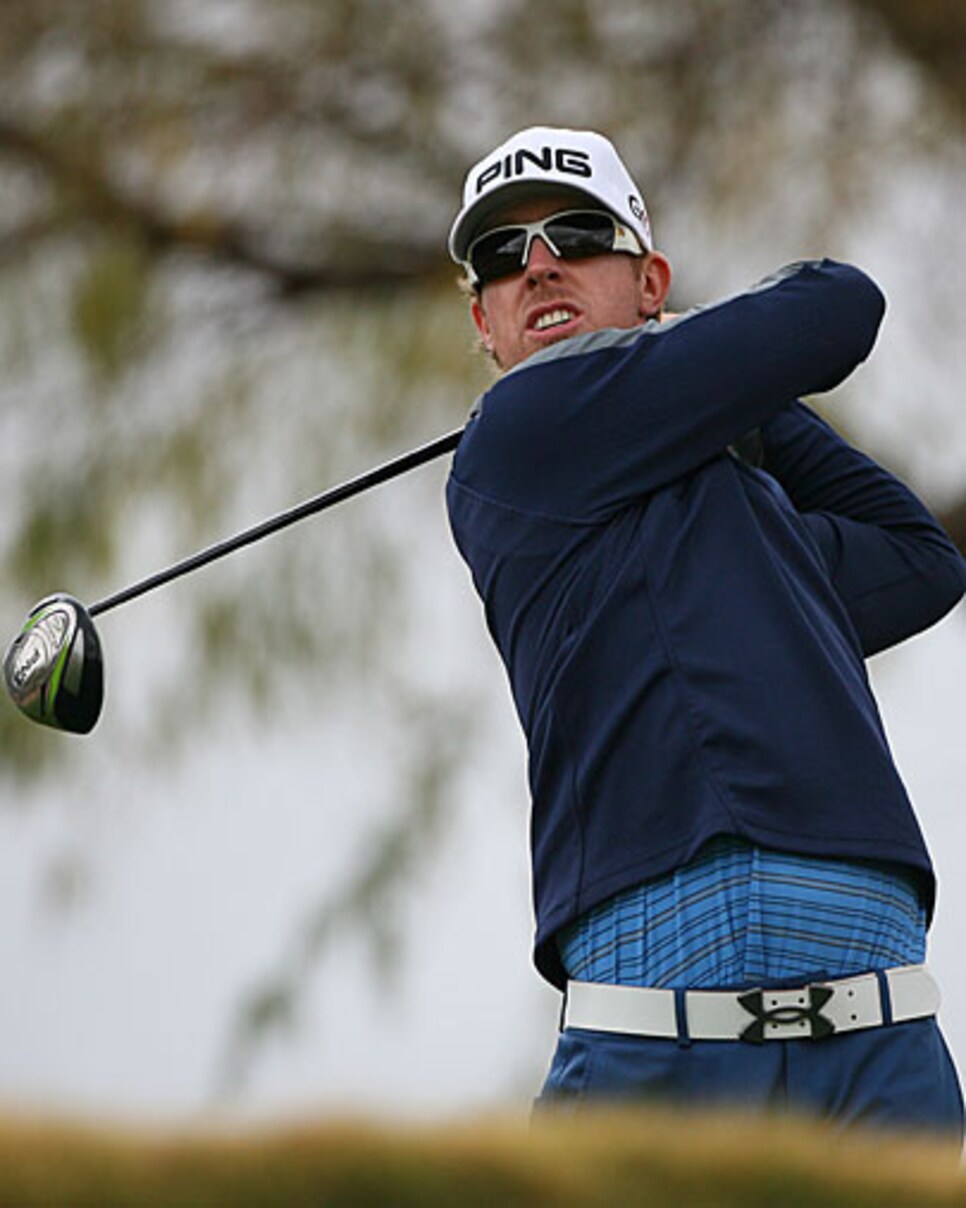 Photo By: Hunter Martin/Getty Images
Photo By: Darren Carroll/Getty Images
Photo By: Stephen Szurlej
Photo By: Courtesy of Scratch (golf)
Photo By: Kevin C. Cox/Getty Images
Photo By: Jamie Squire/Getty Images
Photo By: Donald Miralle/Getty Images
Hunter Mahan's Cracked DriverIn February
during the final round
of the Waste Management Phoenix Open, Hunter Mahan discovered a crack in his Ping Rapture V2 driver on the second hole, setting off a chain of events that eventually led to his girlfriend, Kandi Harris, scurrying to their car to retrieve a backup."I got it before the next tee shot, which was nice, because the next hole was a par 5," said Mahan, who didn't birdie that hole but used the backup to record four birdies and an eagle en route to a closing 65 and the win.
Photo By: Hunter Martin/Getty Images
Rocco Mediate Leaves CallawayTwo years ago he was hailed as the everyman who almost took down Tiger Woods in the U.S. Open. But at the John Deere Classic in July, Rocco Mediate looked like an everyday golfer when it came to his golf equipment. "I was in a rut and wanted to experiment with some things," said Mediate, who parted ways with Callaway after 14 years and used a non-logoed stand bag that housed clubs with no headcovers. "It's extremely liberating to be able to do what I want to do."Three months later
Mediate won the Frys.com Open
-- his first PGA Tour victory in eight years.
Photo By: Darren Carroll/Getty Images
White PuttersOK, it wasn't exactly Jack Nicklaus using "White Fang" to win the 1967 U.S. Open at Baltusrol, but TaylorMade's Rossa Corza Ghost mallet putter
was hard to ignore
. Justin Rose used the club in taking his first PGA Tour title at the Memorial, and Paula Creamer put one in her bag at the U.S. Women's Open at Oakmont and won her first major (on arguably the toughest greens on the planet). The company can only hope it has as much success with its white-colored driver.
Photo By: Stephen Szurlej
Tiger Woods' New Putter at the Old CourseAt the British Open 50 players used a putter that was different from the one they used in their previous start -- but
only one switch rated headlines
. That was Tiger Woods' benching of the Scotty Cameron putter he used to win 13 of his 14 majors in favor of a Nike Method 001 model.Unfortunately for Woods, he struggled after a solid first round, needing 99 putts through three rounds, including 35 in round three. Come Sunday, the Cameron was back in the bag. However, at the Chevron World Challenge, Woods used a Nike Method 003, a mid-mallet design, and had three backups made, leading one to think this time the switch may be permanent.
Photo By: Dom Furore
Ryan Moore's Numbers GameRyan Moore isn't a conformist. Just look at his attire. To start the season, however, Moore took his nonconformist ways to his equipment, too, using irons featuring the loft engraved on the sole of his Scratch Golf clubs instead of the number of the iron. Further, Moore went in loft increments of five degrees throughout his set (long irons usually have a three- or four-degree gap), explaining, "It lets me get from 20 degrees to 60 degrees in one less club."By year's end Moore not only ditched the number idea,
but had left Scratch Golf, too
.
Photo By: Courtesy of Scratch (golf)
Fred Couples' Soft ShoeFred Couples didn't win the Champions Tour's Mitsubishi Electric Championship in January, but he created a fashion craze by wearing Ecco's Golf Street Premier shoe -- an athletic-looking, spikeless model that Couples wore without socks.The footwear gained additional exposure when Freddie logged plenty of TV airtime during a sixth-place finish at the Masters. The reaction to the shoe was such that Ecco had the style on backorder for several months as it tried to keep up with demand.
Photo By: J.D. Cuban
Jim Furyk's BargainThe week of the Deutsche Bank Championship, Jim Furyk visited Joe & Leigh's Discount Golf Pro Shop at Pine Oaks GC in South Easton, Mass., and walked out with a Yes! Golf Sophia putter -- an 8802-style, heel-shafted blade with a nick on the top of it that was easy on Furyk's eye. The price, $39 (a discount from the $69 listed price) was easy, too.The return on investment, however, would make Warren Buffet envious. Furyk used the putter to win the Tour Championship and in the process claim the FedEx Cup, a payout of more than $11 million total. It also led to Furyk's selection
as PGA Tour player of the year
.
Photo By: Kevin C. Cox/Getty Images
History For SaleHe said, he said. That's what happened in May when former Titleist tour rep Steve Mata put irons and wedges he claimed Tiger Woods used during the "Tiger Slam" for sale on eBay for $250,000. Woods
disputed the authenticity of the clubs
, and eBay removed the auction. Later in the year, however, Green Jacket Auctions listed the clubs (after Mata signed an affadavit and passed a polygraph test), and they sold for $57,242.40 on Sept. 12.
The Leak Heard 'Round The WorldA faulty rainsuit or a faulty design? Did it really matter? Fact is, when the U.S. Ryder Cup team's rainsuits couldn't keep players dry and became heavy during the opening session in Wales, Sun Mountain's rainsuits and Lisa Pavin's intricate design became the story of the day instead of the golf.Afterward, Sun Mountain president Rick Reimers
was at a loss for why the suits leaked
but exonerated the captain's wife. "That is a totally misplaced affair," Reimers said of the Pavin-bashing.
Photo By: Jamie Squire/Getty Images
The Hottest Club in Golf? A 20-Year-Old WedgeWhen the PGA Tour announced in 2009 it would implement the USGA's condition of competition for grooves in 2010, everyone knew players would do everything they could to mitigate the loss of spin. What wasn't foreseen was how many players would resort to a loophole that allowed for the use of pre-April 1990 Ping Eye2 wedges and irons. Under an agreement made more than 20 years earlier, those box-grooved clubs remained legal and several players, including Phil Mickelson, put them in the bag early in the year,
sparking a heated debate
as to whether using such clubs was in the spirit of the game. Scott McCarron went so far as to say using Eye2s was akin to cheating, leading to a player meeting with PGA Tour commissioner Tim Finchem at Riviera CC in February and McCarron apologizing to Mickelson both in person and on Golf Channel. Ping ended the fiasco (which included Eye2 wedges selling for more than $300 on eBay) on March 8 when the company and the tour released a joint statement that said, "Ping will waive its rights that prevent the PGA Tour from prohibiting the use of pre-April 1990 Ping Eye2 irons and wedges that do not meet the 2010 Condition of Competition."
Photo By: Donald Miralle/Getty Images