Photo Essay
Historic Sharp Park Under Fire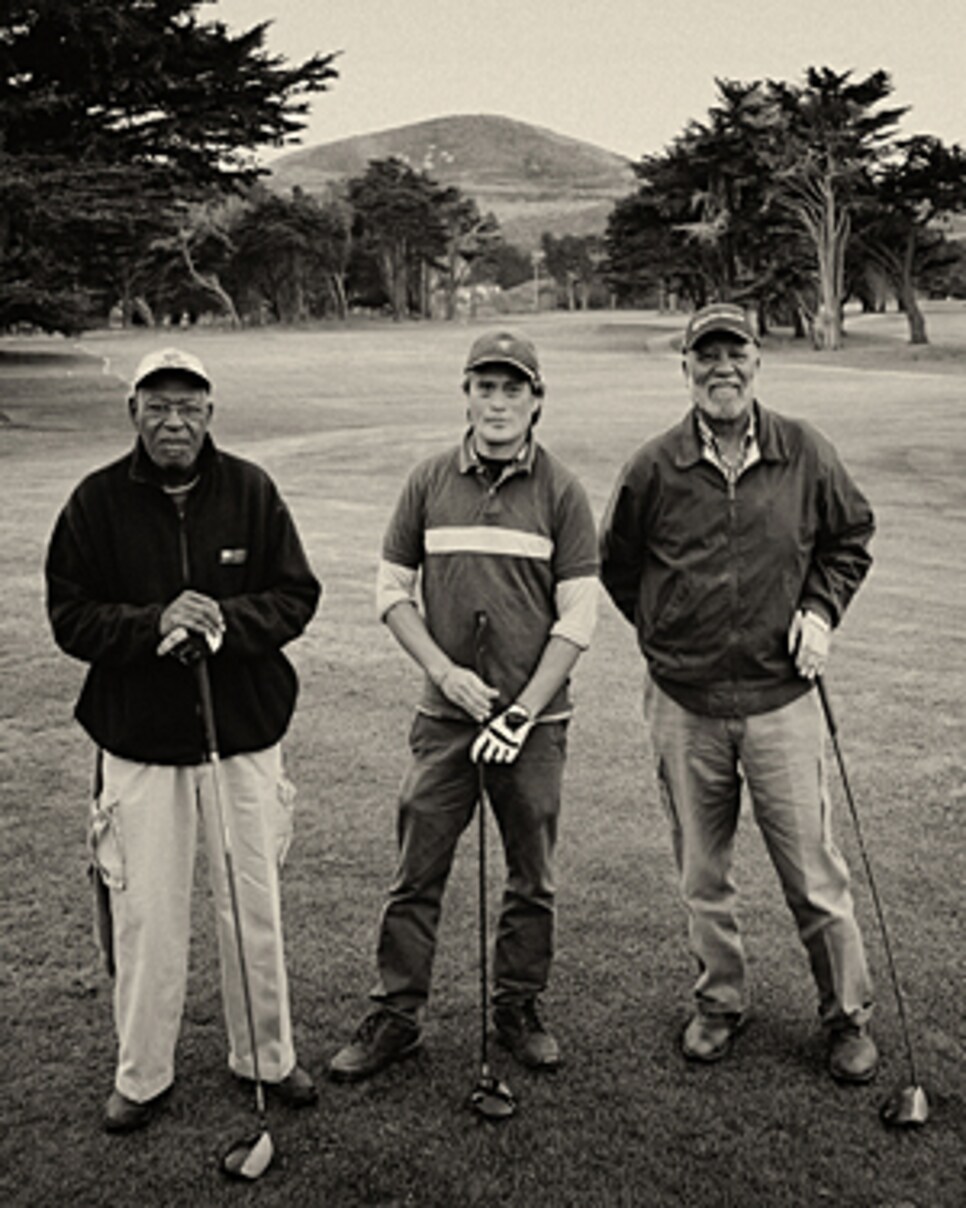 A foursome of golfers walks up the fairway of Sharp Park's 411-yard 11th hole, which was No. 1 when the Alister Mackenzie-designed course opened in 1932.
Some older golfers sit in the clubhouse bar waiting for play to start on a weekday morning. Many seniors play at Sharp Park, for as little as $13 on weekdays.
Although Sharp Park is operated by the San Francisco Park and Recreation Department, the course is located in the heart of the suburb of Pacifica, Calif., a suburb of about 40,000 people in San Mateo County south of San Francisco.
Wayne Kappelman has been Sharp Park's golf course superintendent since 2009. He and his six-person staff use only organic materials to maintain the turf. "There are weeds, more than on most courses, but we try to keep them in check," Kappleman says. "It's a challenge to go all-organic, but we thought it was the best thing to do. I think we're leading the way, and I'm sure many courses will follow suit. We have a historical gem here, and I would love to see it improved. I think we can do that while protecting the species. I think it would be a win-win."
A weathered ball washer with the clubhouse in the background. "The course has been kind of run-down," Wayne Kappelman says. "We have kind of an ancient irrigation system and no drainage, but we certainly could improve the course while maintaining and improving the habitat." The drainage situation makes the course extremely soggy in the winter months, especially in the "canyon" holes, Nos. 4-7, which were built when California Highway 1 was constructed prior to America's entry into World War II and disrupted the original design.
Nathaniel Davis, a retired 78-year-old San Francisco resident who plays once a week at Sharp Park, tees off on the 370-yard first hole. "This place means a lot to me," Davis says. "It's economical, the people are friendly and it's a diverse crowd. There are professional folks and regular folks. They're all nice."
Saturday mornings are busy at Sharp Park, which averages about 50,000 rounds a year, according to Sharp Park pro shop and restaurant owner Mark Duane. "It fluctuates from 46,000 to 56,000 depending on the weather," Duane says. "In 2010, we had our fair share of rain. This time last year [November 2010], we were almost under water."
Superior Court judge Craig Parsons (right), on a different kind of bench at Sharp Park with one of his regular golf partners, Paul Loveseth, a defense attorney. "We don't talk business out here," says Parsons. "We have a regular group that gets out at first light on Saturdays. I play a lot with a retired sheet-metal worker -- it's a tremendously diverse place. The environmentalists and opponents of the course have said otherwise, but it's not true. All you have to do is come out here. I've played courses up and down the coast, but I always come back here. I have a comfort zone here."
Pro shop owner Mark Duane on a recent Saturday morning. "You could call Sharp Park a 'poor man's Pebble Beach,' " Duane says. "We have judges and attorneys and people who work for a garbage company. We've got ladies groups, senior groups, Chinese groups, African-American groups. They all make Sharp Park what it is." As to the endangered species, Duane says: "I've been here 20 years. I've never seen a snake or a frog. I have people who have been playing the course since the 1940s, and they too have never seen a snake or frog on the course. There are no snakes or frogs being killed on the golf course."
For many Sharp Park golfers, it's not about having the latest and greatest equipment, but about enjoying a walk with friends. "We're hoping this place endures," says golfer Mario Romero.
Sean Moriarty drives on the 373-yard 16th hole, where the links feel is evident from the tee. The Pacific Ocean is to the right of the hole. When plans for Sharp Park were announced in early 1930, Chandler Egan, who directed construction for Alister Mackenzie, told a newspaper: "I have played at St. Andrews, and I frankly believe Sharp Park will be a worthy imitation of the classic course." In the build-up to the course opening, a newspaper called Sharp Park "a second St. Andrews."
Golfers putt at the par-3, 208-yard 12th hole, which was a short par 4 in the orginal design. "This is the one the biologist tells us she'd like to have back for frog and snake habitat," says Richard Harris. "We're not happy with that, but we'd be OK with it. We want to replace it with one of Mackenzie's original holes, the short fourth. We think we're being pretty damn reasonable."
Richard Harris near the tee at Mackenzie's original fourth hole, a 120-yard par 3 that played uphill toward the site of the current 17th tee. If the current 12th hole was given up to facilitate species habitat near a pond, the lost one-shotter would become a new 16th hole. "This hole is basically here," says Harris, who first played at Sharp Park in the 1960s. "It's right here to be done. You'd have a walk back to the tee, not perfect, but it would work."
Two people walk along the seawall adjacent to the 16th fairway. The current seawall was built in the early-1980s, replacing a less substantial one that went up in 1941 after Mackenzie's two beach-side holes, Nos. 3 and 7, which were vulnerable to winter storms, were abandoned.
A golfer starts his round on a recent morning, eschewing power carts to hoof it.
Four hand carts present an intriguing pattern at No. 11 as the golfers using them have walked out of sight to hit their tee shots.
A fox walks through a wooded area not far from the 16th green. Advocates for Sharp Park's survival as a golf course contend that if the land was returned to its natural state, the frog and the snake would have a tougher time. "Having golf controls the populations of predators that would be here if there were no golfers," Richard Harris says. "There would be lots of racoons, skunks, rats, all of which prey on the frog. Originally there were coyotes and mountain lions who controlled smaller predators, who were the alpha-predators. Now golfers serve as alpha-predators."
Sharp Park's small netted practice/warm-up area didn't have any takers on a recent day, giving a stray cat the run of the place.
While some Sharp Park supporters envision a spruced-up course, with better conditions and the design restored to reflect Mackenzie's original vision, it has a scruffy charm now. A yardage marker shows its age.
A regular Saturday group, Mel Zagala, Ifren De LosAngeles and Jun Salumbides (left to right) pauses en route to the 13th tee, near which sits one of Sharp Park's many Monterey Cypress trees, a favorite of Alister Mackenzie. John McLaren supervised the planting of thousands of trees when Sharp Park was transformed from artichoke fields into a municipal golf course in the early 1930s.
The tee at the 498-yard 18th hole, protected by a chain-link fence. No. 18 is near housing that borders the course to the north and east. The Pacifica community wants the golf course to remain open. Congresswoman Jackie Speier has also supported the continuation of golf at Sharp Park while recovering habitat for the endangered species.
Combined age of this foursome, 293 years. Clockwise from top left: Frank Balestreri, Frank Mattera, Rich Castro and Jack Scramaglia. "We all love Sharp Park," says Scramaglia, who has played the course since 1963. "It's comfortable."
"It's been somewhat shocking to me that they could close such a beautiful, longtime golf course," says 53-year-old Brian Leigh. "This is a great place to enjoy a round of golf."
A sign at the Laguna Salada warns golfers to stay out of the environmentally sensitive area between Nos. 14 and 17.
The scenic beauty of Sharp Park is evident in this view of the par-4 16th hole. "This is only 20 minutes from downtown San Francisco," Richard Harris says of the picturesque setting. "You can see why we're fighting."
Ready for another round together: Wei Tom (left) and John Dombkowski. "It's truly a treasure," Tom says of Sharp Park, "and the price is right."
A golfer gets in one last hole before sunset, framed by mature trees.
Every muny has its characters. This is Joe Brinzo from San Carlos, Calif., who has two gloves and two Jimmy Buffett parrot headcovers. "Before I start my round, I always 'tweak the beak' for good luck," Brinzo says.
With the sun setting over the Pacific Ocean, a golfer hustles to putt out at No. 18 late on breezy afternoon. "The sensible outcome -- continued use of a popular activity and strict protection for wildlife -- is already on the table," the San Francisco Chronicle wrote in a Sept. 18 editorial supporting Sharp Park's survival as a golf course. "Both golfers and naturalists -- if there's a difference -- should be pleased with the path being followed. It's not time to give up on Sharp Park as an affordable golfing destination."