Photo Essay
Cy Cyr's Golf Courses Under The Stars
I was inspired to photograph golf courses at night because of a starry trip back home to Biddeford, Maine in early 2014. I took my Canon camera to the beach and made photos of the Milky Way over the Atlantic Ocean. I enjoy following night photographers on Instagram and am moved by golfer/astrophotographer Jimmy Walker's Hubble-esque night sky photos. Wondering if night golf course photos have ever been done before, I searched online only to find lit-up par 3 courses and sunset wedding photos. I knew I was on to something. I have now photographed 30+ golf courses at night including Banff Springs in Canada, White Witch in Jamaica, Royal Troon in Scotland and dozens in the U.S.Check out more of Cy Cyr's night golf photos.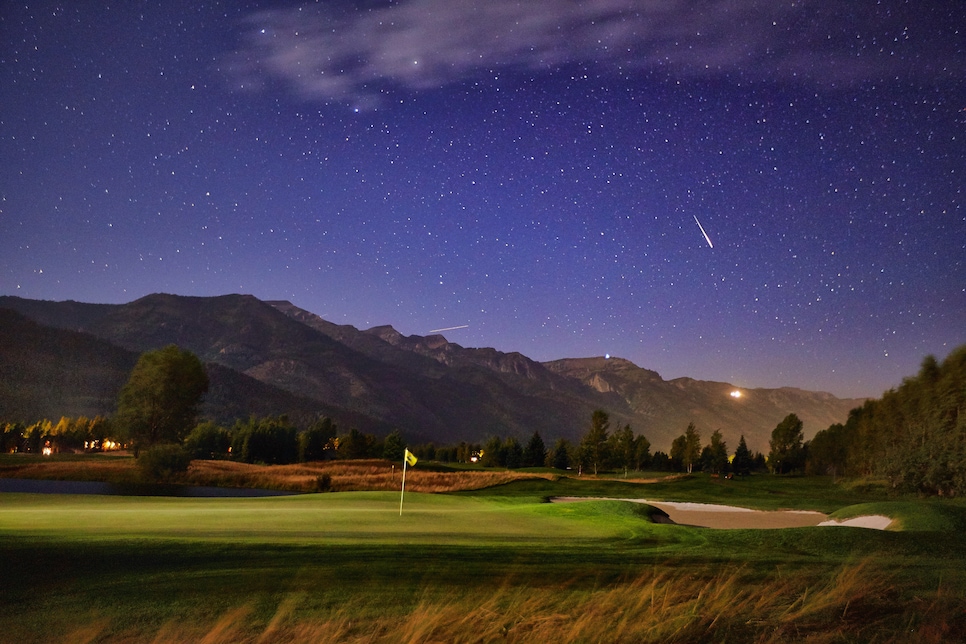 Teton Pines Country Club and Resort, Wilson, Wyoming
I was in Wyoming during the forest fires in 2015. You could barely see the Tetons. But on this night, the wind changed direction and I got really lucky with clear skies and a shooting star. When I retrieved this camera at sunrise, I came across a moose and her two calves, who let me follow them for an hour wandering through fairways, backyards and streets. There's one LED light to the left of the photo illuminating the green. The grass in the foreground is blurry due to wind blowing the grass during the 25 second exposure. Photographed August 21, 2015
Photo By: Cy Cyr
Hazeltine National Golf Club, Chaska, Minn.
An LED on the left of the water lit up the members eighth green during this two hour exposure compilation. I believe this will be the 17th hole during Ryder Cup play. Approximately 200 photos were stacked to created the movement of the stars. Hazeltine is amazing and I can't wait to watch the Ryder Cup in September! Photographed September 14, 2015
Sugarloaf Golf Club, Carrabassett Valley, Maine
I wanted to start my project during peak foliage time in my home state of Maine. I flew up and had convinced my retired dad to come with me in the family minivan. We scouted for locations during daylight and were also joined by Kevin Bennett, a friend and great photographer from Bangor. This was taken on the 11th tee box while my dad and Kevin used flashlights to illuminate the hole. There are a few stars in the top right. There were flurries that night. We were on the lookout for bears and moose. Dad and I slept in the van for the next six nights while driving throughout New England. Photographed October 9, 2014
Photo By: Cy Cyr
Pebble Beach Golf Links, Pebble Beach, Calif.
I went to California to photograph a speed golf event and wrote to Pebble Beach staff to see if I could photograph the course for two nights. I was ecstatic to photograph Pebble Beach for my project. Jimmy Walker told me it's surprisingly dark at Pebble Beach, and he was right. A time lapse that I did shows multiple shooting stars. This photo was taken 90 minutes after sunset. I placed an LED light on the cliff to give it some life, and there was another illuminating the green. Photographed April 15-16, 2015
Photo By: Cy Cyr
Cordillera Ranch, Boerne, Texas
Shot this one with tips from Jimmy Walker. Jimmy invited me to his home and course in December 2014. He let me know that it's OK to push the camera sensor to the limit. Jimmy also told me that his camera and 3900mm lens is atop an 8000-foot mountain in New Mexico and it's controlled through the Internet. It was cool to see a few of his prints at his home. Photographed December 15, 2014
Photo By: Cy Cyr
Arrowhead Golf Club, Littleton, Colorado
While researching places to photograph, Arrowhead caught my eye. Towering rock shot into the sky like shards of glass. I had to photograph it. The staff couldn't have been nicer. A few holes looked at downtown Denver, but I went with the Milky Way views behind the 12th green. Dena Davis, Assistant pro Ben Orr and his wife joined me for a few hours on the course that night. It was cool to see their reactions when I hit the "play" button on the back of the camera. Photographed August 19, 2015
Photo By: Cy Cyr
Silvertip Resort, Canmore, Alberta, Canada
The Banff area is truly spectacular. Less than two hours from Calgary, it's a golfer's paradise. Here, the "Three Sisters" peaks in the distance watch over your putts. There was nearly a full moon on this night, no lighting was needed. The moon greatly effects the exposure of a night photograph such as this. Photographed August 30, 2015
Photo By: Cy Cyr
Streamsong Resort, Bowling Green, Florida
Matt Ginella and I were 10 minutes into the shoot when he volunteered to place the LED lights on the green and bridge. He called off my offer of joining him twice. His flashlights kept walking away towards the bridge and then I heard him yelling. I yelled back "Light the bridge, light the green!" But he kept yelling. I called him, but he left his cell phone on our cart, 10 feet from me. He was still yelling ... so I got in the cart and drove the 150 yards down to the bridge, where I found him out of breath. He asked me, "Did you see it? Did you see it?" Ginella ran into a lynx while beginning to cross the bridge.Because of my quick departure with Ginella from Streamsong, I went back two weeks later with my dad, and we spotted a beautiful white owl and a few alligators. Photographed January 8, 2015
Photo By: Cy Cyr
Royal Troon, Troon, Scotland
When staying at The Marine Hotel on the 18th hole to photograph Royal Troon in Scotland for NBC/Golf Channel in July 2014, I knew I had my opportunity to make a test photo. My videographer friend Mike DiCarlo and I headed out to the "Postage Stamp" hole with a golf cart, headlamps, flashlights, tripod and a bottle of Scottish whiskey at 11 p.m. The test photos taught me lessons about lighting, long exposures, moonlight, city lights, camera limits and much more.
Photo By: Cy Cyr
Reserve Moonlight Basin, Big Sky, Montana
This Jack Nicklaus-designed course sits on thousands of acres. The cart path is nine miles long. One of the holes is 777 yards long. You're looking at 100 photos stacked in one photo, to produce the North Star rotation. To top this photo off, an aurora appeared over the mountains. I was extremely upset I missed seeing this in person, as I was sleeping in my rental car in the parking lot. I'd like to dedicate this photo to assistant pro David Wanninger, who bravely drove me around Moonlight Basin in the dark on this night. We enjoyed each other's conversation for many hours. David unexpectedly passed away in March 2016. Photographed August 26, 2015
Highland Links, North Truro, Mass.
When I was researching courses for this project, Highland Links was a "must have." After all, how many courses have a lighthouse in the middle of their property? This was the sixth course my dad and I photographed during our New England swing. It was so cold that we ended up huddled under a blanket while the wind was whipping through their nine-hole oceanside course. Photographed October 13, 2014
Photo By: Cy Cyr
Quintero Golf Club, Peoria, Arizona
Quintero is a track I've played twice and I had to include it in my project. The first time I played it for free. The second time I paid the normal rate, and I would've paid more. It's desert golf with wonderful mountain views. This is their downhill par-3 ninth hole. A small LED lights up the green during this 30 minute exposure facing south to Phoenix. Photographed November 25, 2014
Photo By: Cy Cyr
Fairmont Banff Springs Golf Club, Banff, Alberta, Canada
Like Pebble Beach, I wanted two nights at Stanley Thompson's gem in Banff. I made a beeline for the par-3 fourth hole, named "Devil's Cauldron." It's beyond amazing. I was joined on these nights by Australian assistant pro and photography buff Lewis Belling and PR guru Tara Gaucher. They helped me place lights on the green while avoiding the very abundant elk on the course. In 1953, Marilyn Monroe filmed wilderness scenes near the golf course for "River of No Return." Photographed September 1, 2015