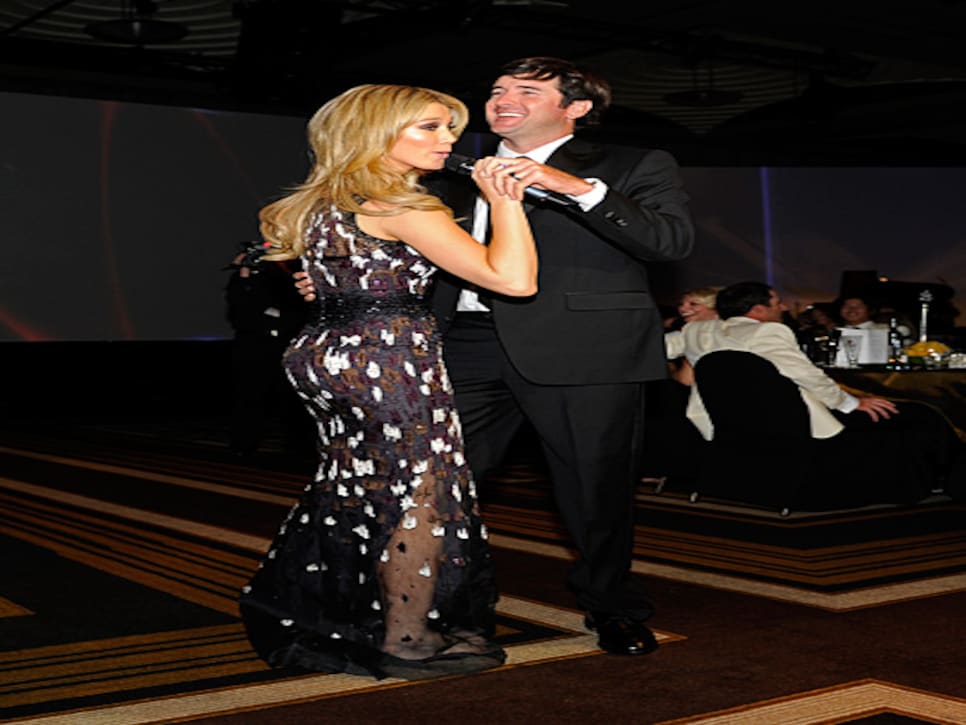 "Bubba Golf," meet "Bubba Dance." Here, Watson waltzes with Australian recording artist Delta Goodrem at the 2011 Presidents Cup gala dinner in Melbourne.
Bill Murray (aka "Carl Spackler") needs no introduction -- or reason to spontaneously break into one of his many dance moves on the course.
Murray isn't just a solo artist, though. Here, he partners with D.A. Points during the pair's win at the 2011 AT&T Pebble Beach National Pro-Am.
Juli Inkster has won seven major championships, but her biggest golf accomplishment just might be creating "the Inkster" dance.
Here, Cristie Kerr gives "the Inkster" a try. Decent form, but the judges would like to see a little better posture.
That can't possibly be Jose Maria Olazabal doing "the Cabbage Patch," right?
Why yes, it can. Apparently, that's the recent European Ryder Cup captain's go-to move. . .
It seems as if Olazabal's penchant for dance rubbed off on the rest of the European Ryder Cup team. We're thinking 2014's competition should feature a dance-off, though it looks like the Americans would be a decided underdog to G-Mac and Co.
Corey Pavin gets a lesson in doing the Hula. Looks like he might need a few more. . .
Ai Miyazato seems to be a quicker learner than Mr. Pavin. . .
The late Sam Snead was always quick on his feet, even here at age 88.
Another old-timer who always has a spring in his step, Gary Player.
George Lopez shows off some of his moves. We'd be dancing, too, if we owned a mansion overlooking Pebble Beach Golf Links.
And here's Christina Kim being, well, Christina Kim. . .
The King dances with his wife, Kit. Is anybody smoother?
No dancing on the golf course slideshow could be complete without the incomparable Chi Chi Rodriguez. Here, he's in the middle of his famed "swashbuckling" routine.
Another picture of Chi Chi? Is that really necessary? YES.
Bravo, Ian Poulter! We think even that stingy, old judge on "Dancing With The Stars" would approve of your ballroom form.
In addition to his unique style, the late Payne Stewart shows he also had plenty of grace.
Justin Timberlake brought sexy back. Matt Kuchar? Well, we commend him for trying.
Even caddies get the urge to dance from time to time. Is Damon Green giving Zach Johnson the "Talk to the Hand" routine?
Um. . . yeah. . . We don't know what that is. Just stop it, Paul Lawrie. Please.