2011 Presidents Cup
The Presidents Cup: Friday's Winners and Losers
Who were the winners and losers Friday at the Presidents Cup? Let's take a closer look with another rundown of birdies and bogeys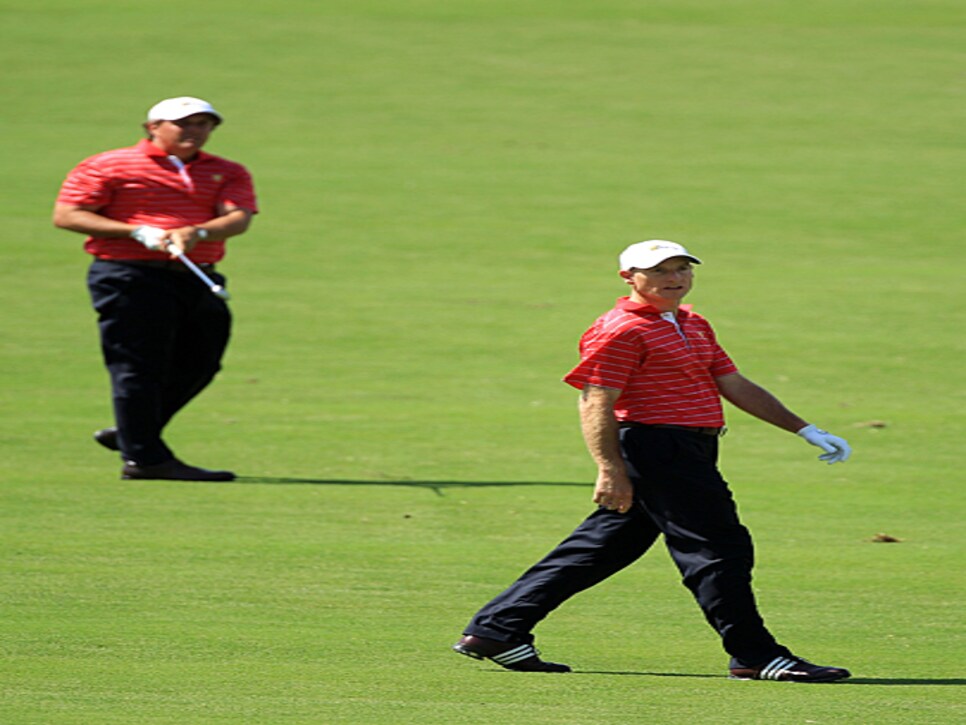 BIRDIE: Jim Furyk and Phil Mickelson
Neither U.S. veteran had a particularly stellar 2011 season, but as a team they have proven to be, well, old reliables thus far in this Presidents Cup. On Friday they took down the Internationals' best player, Adam Scott, and young K.T. Kim for their second win together in as many days. If they were an afterthought before these matches began, they aren't anymore.
BOGEY: Tiger Woods
Sorry, but when you're a captain's pick, you have to pick up points. Woods is now 0-2 after leaving Harding Park in San Francisco undefeated in five outings. We're not going to get into the whole "Keegan Bradley should be on the team" debate again. Unnecessary. This is merely about Woods and his performance thus far. Two birdies on his own ball Friday isn't what he was brought to Melbourne for, and his 0-2 start is his first shutout through two sessions since the 2004 Ryder Cup. Good thing the rest of the team has scored some points.
BIRDIE: Aaron Baddeley
Baddeley sqaundered a big lead on Thursday, but he came back to steal a victory with Jason Day over Woods and Dustin Johnson. His key par-saving putts on the final two greens were knee-knockers in front of the home crowd, and Badds was good enough to knock them down and secure the victory.
BOGEY: Jason Day
Sure, he picked up a point alongside Baddeley, but his contribution was minimal. Day had nine 5s and an X on his card as he rode Baddeley's back to a win over Woods and Johnson.
BIRDIE: K.J. Choi
The reigning Players Champion is the only member of the International Team to go 2-0, and he's done it with different partners. On Thursday he won with Adam Scott as his partner and on Friday he was triumphant with Geoff Ogilvy.
BOGEY: Robert Allenby
The Aussie was a questionable captain's pick heading into the week, and he's done little to quiet any doubts. He is the only Australian on the International team without a point, joining Ernie Els, Ryo Ishikawa, K.T. Kim and Y.E Yang as home-team players who have been shutout.
BIRDIE: Adam Scott
Despite the distractions posed by his caddie heading into the week, Scott has quietly picked up 1.5 points in two matches and is one of the four of five Australians on the team who have won matches.
BOGEY: Fred Couples
Even if his team has another lead heading into the weekend, the U.S. captain's selection of Tiger Woods hasn't panned out yet. Will people even remember if the U.S. wins and Woods goes without a point? Actually, yes, they will.
BIRDIE: Richard Forsyth
The course superintendent oversaw adjustments to the greens on a windy day at Royal Melbourne that kept things playable. Greens were watered and not rolled, which slowed the putting surfaces to 12.5 on the Stimpmeter -- about what the club members are used to but still plenty slick in the difficult north to northwest winds that buffeted the layout.
BOGEY: Misguided fan
Partisan spirit is to be expected in team play, but the fan who yelled at Hunter Mahan as he was setting up to hit his approach shot to No. 16 went well beyond the boundaries of good taste.
BOGEY: Painfully-slow golf
Starting with Robert Allenby and Jim Furyk and continuing down the list alphabetically, Friday's four-ball matches easily exceeded the wince-inducing five-hour threshold. Were conditions tough? Why, yes they were. But a videotape of the proceedings replayed in fast-motion would have still looked glacial. Golf can't be great theater when the storyline moves with the speed of "Reds." This was a 24-man walkabout-like effort.