U.S. Open Fashion Winners & Losers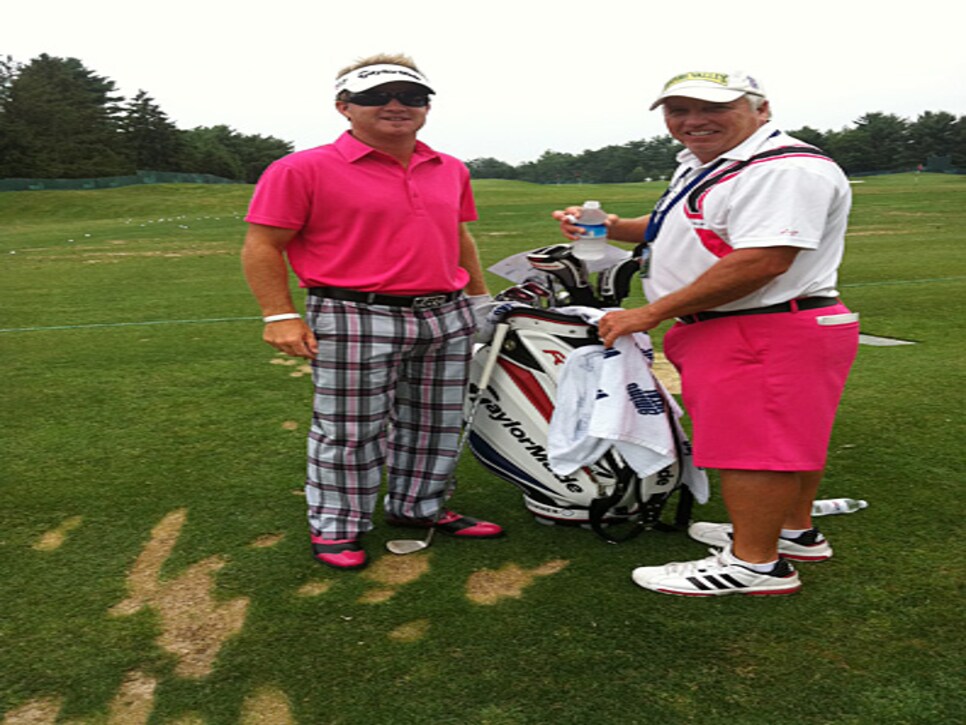 Brian Gay and Kip HenleyBrian Gay and Kip Henley make the perfect team. The Sligo color palette is strong and bold. Nice FJ's!
Robert RockNo hat, no visa, no problem. Rock Rocks. Justin Bieber only wishes he had the Englishman's hair and game.
Luke DonaldWhen you're the No. 1 player in the world, you, too, can dress just like this: RLX shirt and belt work well for Luke. Having your daughter's name embroidered on your collar for Father's Day is a nice touch.
Hiroyuki FujitaOh my! These pants might look great on the hanger, but I'm not sure it works on him. Fit is an important ingredient.
Webb SimpsonWebb Simpson with great color and game. Bold colors were prominent throughout the U.S. Open.
Bud CauleyRoll Tide! The young Bud Cauley, having just inked the deal with IJ Poulter apparel, makes the cut for style and for score. There's a big future for this enthusiastic and talented player.
Ian Poulter and Rickie FowlerThe style poster boys telling a monochromatic story.
Charley HoffmanHoffman's selection of green accents is just perfect from glove to belt to shoe. It's subtle and great.
Phil MickelsonA risky color combination is best attempted by only the very confident.
Matteo ManasseroBravo Matteo! The colorful stripes match your enthusiasm. A proven winner.
Ryo IshikawaDon't try this at home! Not only is Ryo in shape, his wardrobe is totally in sync. Notice the details down to the button on the back pocket and socks: perfect, just perfect.
Aaron BaddeleyBeam me up, Scotty! When you're trim wearing a white belt, shoes and pants makes a unified, clean statement.
Bubba Watson"Birdies For The Brave" benefits from every Travis Matthew shirt sold. Designed by contest winner Clay Duerson from Lexington, Ky. A deserving design and cause.
Brandt JobeBlack shoes and belts work best on dark trousers that minimize the contrast.
Nick WatneySimple clean and coordinated. Nice combo: Hugo Boss and Nick Watney.
Kenichi KuboyaAnother strong red statement with excellent fit. Kuboya has beautifully-tailored trousers and an interesting belt buckle. Attention Mick Jagger!
Rory SabbatiniHank Williams Jr. or Sabo? Pick 'em. A strong statement. Note: The cowboy hat and sunglasses are two key ingredients to sun protection.
Rickie FowlerFowler continues to find new ways to make style statements. The Puma pattern accented with green shoes is totally "Pumarized!"
Camilo VillegasCamilo stripes it down the center with his J Lindeberg clothing. A sleek match in both fit and style.
Y.E. Yang and Michael BestorY.E. Yang represents color to the highest level in both clothing and equipment. Caddie Michael Bestor sporting great glasses.
Rory McIlroyRory's Oakley clothing (O Hydrolix polo, Take Pant 2, and Fast Jacket sunglasses) matched his great play, with a clean and consistent look. Keeping his shirts in the blue palette all week was an excellent strategy. Well done.