The Loop
A PGA Tour cheating allegation, a new potential star in women's golf, and a first-time green jacket winner
Welcome to another edition of The Grind, where we believe it's better to give than receive—unless a green jacket is involved. Sadly, I wasn't able to defend my title at the 25th HGGA Championship, but at least I got to slip the coveted coat on one of my groomsmen and a former Golf Digest colleague, Eric Lebowitz.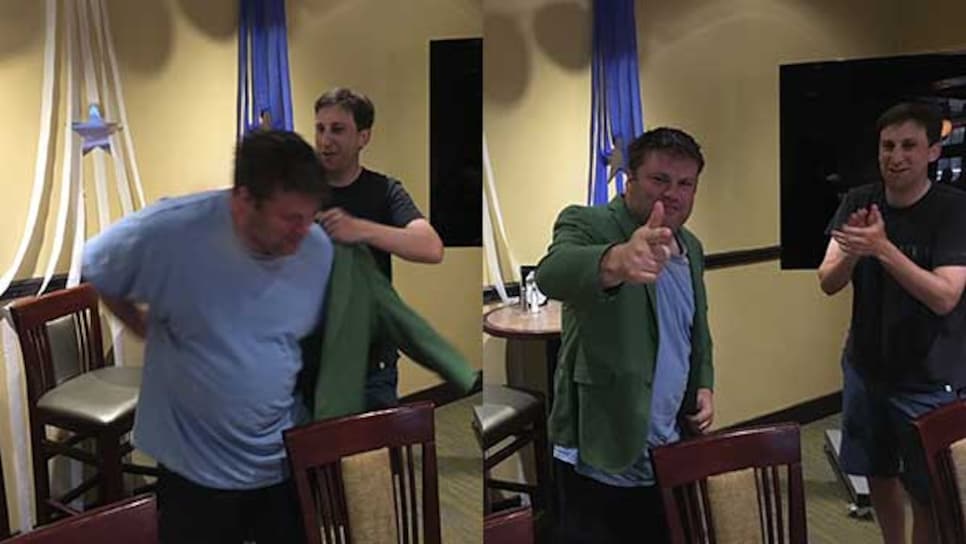 At long last, it was his time to win a first major, and he did it in style with a Masters-worthy celebration:
Congrats, Eric, but get ready for everyone to complain about your handicap being too high for the next year. And while we were contesting this great championship in Charlottesville, there were plenty of other (less important) things happening in the world of golf. Let's discuss.
Francesco Molinari: Many questioned Molinari's decision to skip the French Open, where he's had success and could do a Ryder Cup scouting trip, but he made a heckuva choice. Not only did the Italian pick up his first PGA Tour title, but he did so in dominant fashion, winning the Quicken Loans National by eight shots. Bravo, Francesco!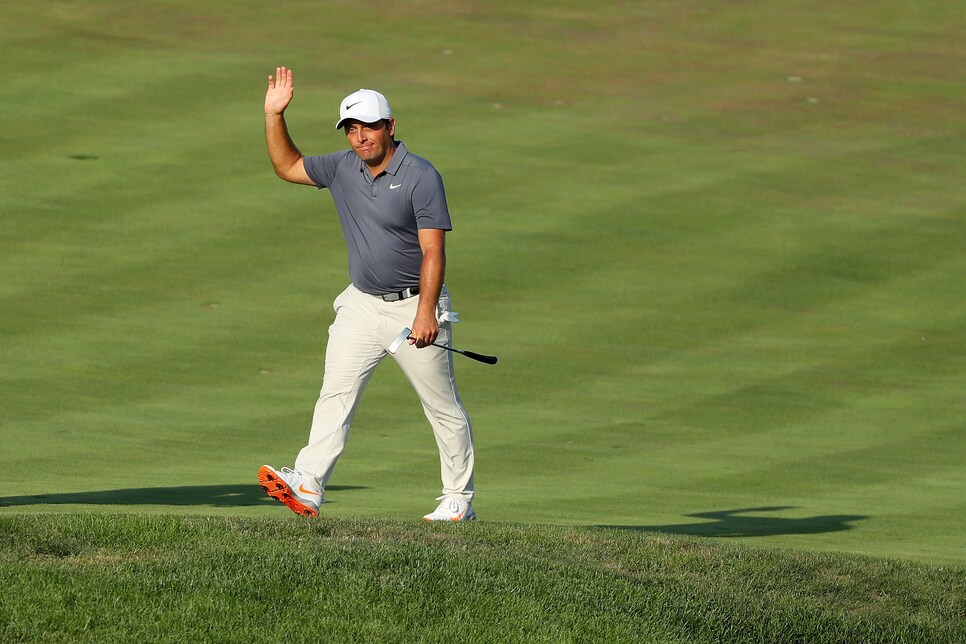 Tiger's mallet putter: After that missed cut at the U.S. Open and a poor putting performance at the Memorial, it was great to see Tiger Woods rolling the rock again—no matter how weird it looked to see a TaylorMade mallet putter in his hands.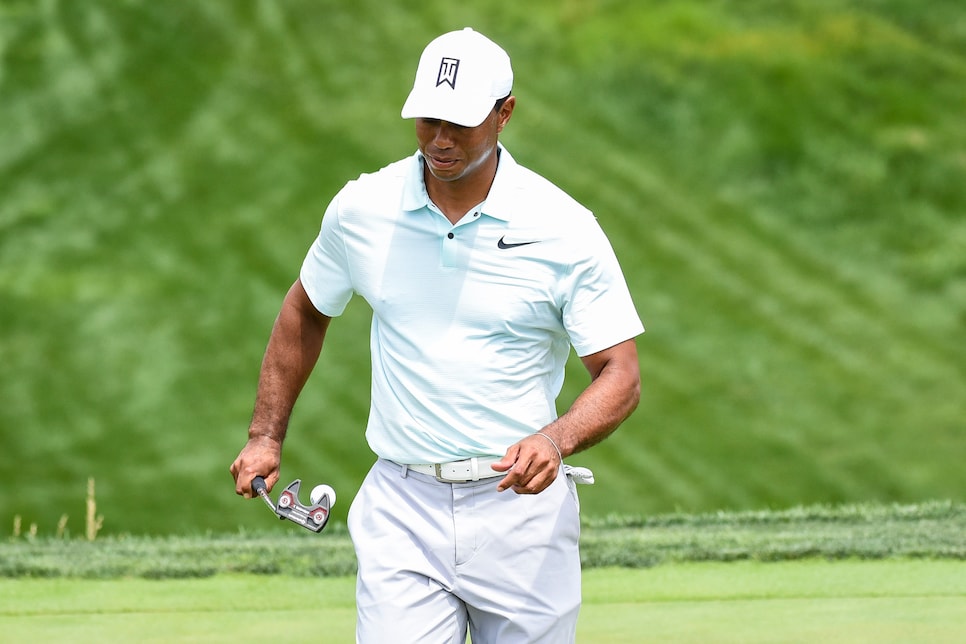 Woods entered the Quicken Loans National ranked 89th on tour in strokes gained/putting, but he was seventh in the field at TPC Potomac at Avenel Farm on his way to a third top-five finish of the season. Woods now has a 69.765 scoring average and is up to 28th in the Ryder Cup standings. Not that the latter matters. He locked up a spot in Paris a long time ago.
Muni He: After two semesters at USC, He turned pro in December. And after winning her first Symetra Tour title over the weekend, she's about to turn a lot of heads:
The McNealy mansion: You probably know by now that budding tour star Maverick McNealy is the son of billionaire Scott McNealy. But you still might be interested to see photos of the house he grew up in that comes with its own backyard golf hole and hockey rink, and can be yours for $96.8 million: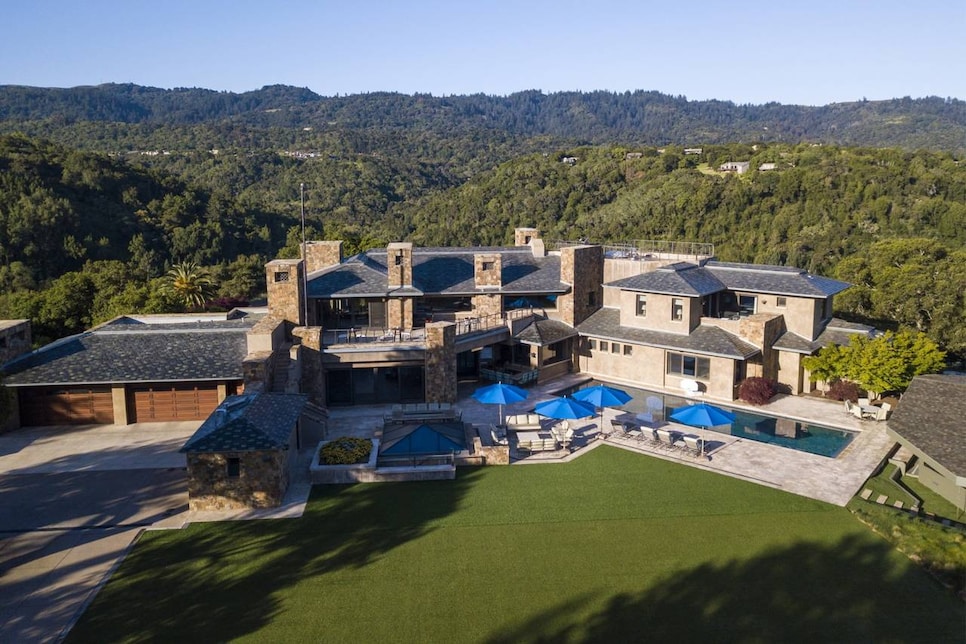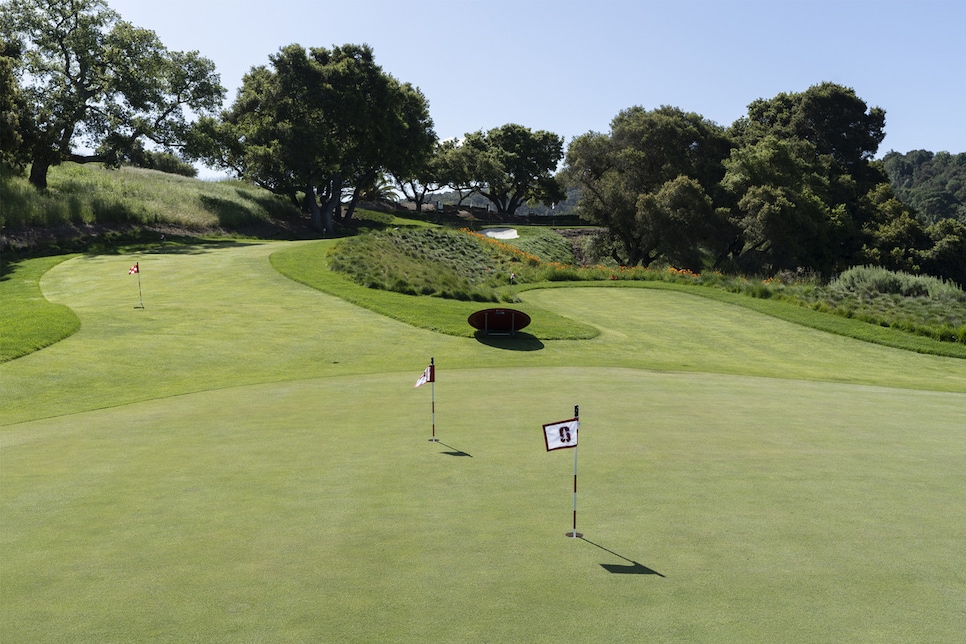 If you happen to have a tenth of a BILLION dollars lying around, this is the place for you.
PGA Tour cheating allegations: Joel Dahmen's week in Washington D.C. was highlighted by a Saturday tee time with Tiger Woods, but will be more remembered for a Sunday tweet he made following the tournament in which he accused a different playing partner, Sung Kang, of cheating.
Kang's drop was approved by a rules official, but this was an ugly situation. And while we love a little drama, Twitter probably wasn't the place to throw out such a damning accusation.
Driver yips: I can confirm this affliction is real. And it's awful. I'm by no means a great driver of the golf ball, but every year on my golf trip—the only time I ever face any pressure on the golf course—I start hitting about two tee shots absolutely off the planet every nine holes when I just do a funky hitch on the downswing. Out of nowhere. I've heard Hank Haney has the same problem so maybe I'll have to consult with him. In any event, I shouldn't knock any athlete for not performing in the clutch ever again. Of course, I still will, but I shouldn't. By the way, I still finished runner-up. Talk about showing some guts out there.
Graeme McDowell's WD: The 2010 U.S. Open champ will not play in this year's Open Championship after withdrawing from this week's qualifier. The reason? Air France didn't get him his clubs in time.
We've seen pros WD in situations like this rather than play with a replacement set, but it's still hard to understand why G-Mac wouldn't at least give it a go. In any matter, I'm extra glad we decided to drive to Virginia.
The PGA Tour heads to West Virginia for the Greenbrier Classic, AKA that event that every commercial break you'll see that ad in which Phil Mickelson talks about falconry. Great stuff.
Random tournament fact: The official name of this tournament is now "A Military Tribute at the Greenbrier." OK then.
RANDOM PROP BETS OF THE WEEK
— I will qualify for the U.S. Senior Open when I turn 50: 1 million-to-1 odds
— I will finish runner-up again at the HGGA Championship when I turn 50: Even odds
— TaylorMade is about to sell a lot more mallet putters: LOCK
The guy can draw a crowd, huh?
VIRAL VIDEO OF THE WEEK (TRICK SHOT DIVISION)
Justin Thomas probably won't face this shot at Le Golf National when he returns this fall for the Ryder Cup, but hey, you never know:
VIRAL VIDEO OF THE WEEK (FRUSTRATED GOLFER DIVISION)
Brooke Henderson broke her wedge after a difficult chip during the KPMG Women's PGA Championship:
On the bright side, her form impressed Club Pro Guy:
VIRAL VIDEO OF THE WEEK (GET OUT THE TISSUES DIVISION)
THIS WEEK IN DUSTIN JOHNSON-PAULINA GRETZKY PUBLIC DISPLAYS OF AFFECTION
THIS WEEK IN SERGIO GARCIA-ANGELA AKINS PUBLIC DISPLAYS OF AFFECTION
Apparently, Sergio isn't big on dressing up unless he has the green jacket in tow.
"People think this is easier than it is. They think they can hit those shots. These are the best in the world, but it brought me to my humbled knees." — John Smoltz after shooting 85-77 to miss the cut at the U.S. Senior Open. Good effort, John. You're still a total legend and an inspiration to senior tour dreamers everywhere.
THIS WEEK IN TOUR PROS ARE JUST LIKE US!
Former Ryder Cupper and current European Tour tournament committee chair David Howell missed his second-round tee time at the French Open, but only received a two-stroke penalty since he caught up to his group on the first hole. "I was staying only 300 yards from the first tee. It's not as if I got stuck in traffic," Howell said. Either way, we've all got golf buddies like this.
Congrats to David Toms on winning the U.S. Senior Open for his first 50-and-up major championship. And thanks to DT for joining us on this week's Golf Digest Podcast. . . . Sung Hyun Park won the KPMG Women's PGA Championship to claim her second major by beating So Yeon Ryu and Nasa Hataoka in a playoff. So much for that sophomore slump. . . . 90-year-old RJ Smith is selling the 70,000 (Yes, 70 THOUSAND) golf balls he's collected through the years for charity. We're guessing his wife won't mind, either. . . . And finally, here was my HGGA Championship scripting: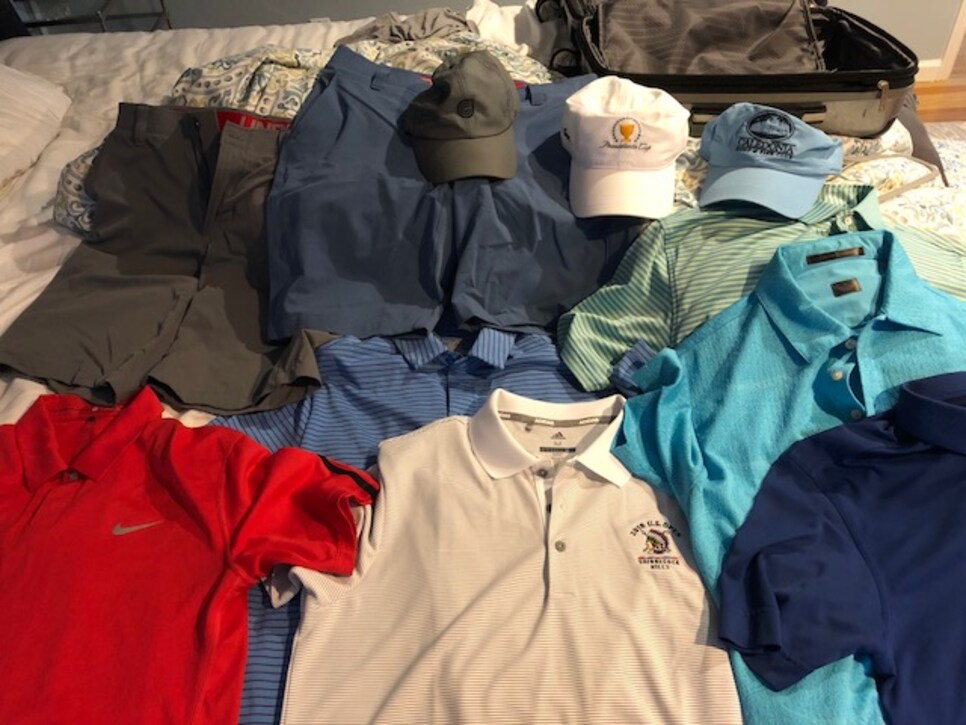 I'm still fielding offers for an official apparel sponsor.
RANDOM QUESTIONS TO PONDER
Will Tiger Woods slip on the green jacket again?
Will I slip on the green jacket again?
Where should we go for next year's golf trip?