News
The key to David Toms' Senior Open win on Sunday? "Keep on breathing"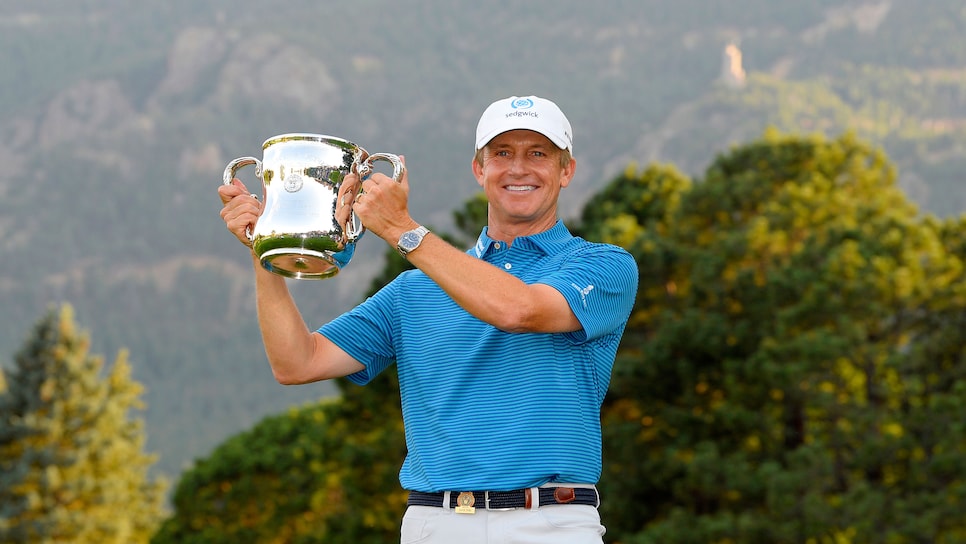 Robert Laberge/Getty Images
David Toms won his first tournament in seven years on Sunday, and he did it in eerily familiar fashion. Nursing a one-shot lead, the 51-year-old Toms laid up in a big spot, got up-and-down from the fairway, and went on to win the U.S. Senior Open. It was Toms' first win on the over-50 circuit, and those paying attention might have noticed how it mirrored the biggest win of Toms' professional career, when he laid up on the 72nd hole of the 2001 PGA Championship and got up-and-down to beat Phil Mickelson.
Those paying attention on Sunday might also have noticed how Toms relied on some deep breathing to help him navigate those tense final holes, and Toms said that's been a strategy that dates back to his college career at LSU.
"I think when I look back at times I've putted my best or played my best it really is all about breathing," Toms said as a guest on this week's Golf Digest Podcast.
Toms referenced an old pro at LSU Golf Course, Al Michaels, who once offered the golfer his secret to success.
"We called him Mr. Al and I asked him, 'What do I need to do to make it in golf? And he said, 'Son, all you got to do is keep on breathing.'" Toms said. "I think about that a lot. Just breathe and it will calm your nerves. It doesn't always work but certainly it's something you can think about outside the shot itself and it slows you down and keeps you in the moment."
As a guest on this week's podcast, Toms talked about his eventful week at the Broadmoor in Colorado, including his son's last-minute fill-in role on the bag when his regular caddie Scott Gneiser went to the hospital with chest pains (Gneiser returned on the weekend); his adjustment to senior golf; and what he looks forward to the rest of the way.