News
David Toms leans on memories to guide him to U.S. Senior Open victory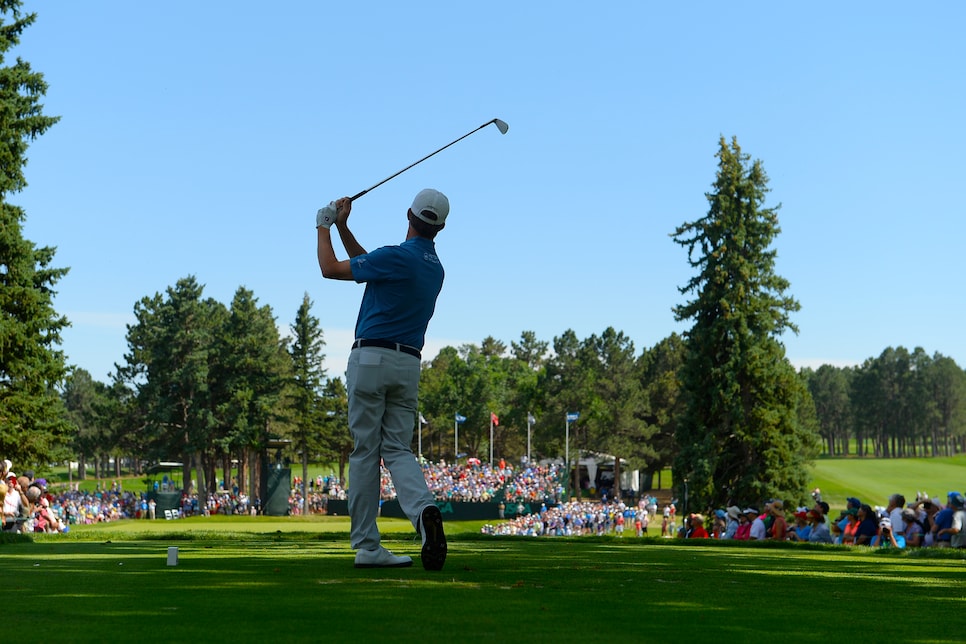 COLORADO SPRINGS, Colo. – Of course he thought of the putt that clinched the biggest victory of his career.
And of course he thought of his previous success in this state, when he was still trying to find his footing on the PGA Tour.
And of course he forgot about his failed bid just a week earlier and remembered just enough about his last victory more than seven years ago, about how to think and execute and breathe – and it was hard to breathe – coming down the stretch with a chance to win.
And of course he teared up after he steadied his trembling hands, sank a two-foot par putt, and hugged his wife and children and his long-time caddie.
With déjà vu washing over him on a windy and dry afternoon, David Toms won the 39th U.S. Senior Open Sunday at The Broadmoor with a combination of punctilious ball-striking, patience and putting – the very things he did so well in a solid PGA Tour career accented by his 2001 PGA Championship victory.
"My emotions are all over the place," said the Louisiana native, who won for the first time since the 2011 Crowne Plaza Invitational at Colonial, the last of his 13 tour titles. "It was just so hard. When you haven't done it in a while, it's pretty brutal. And I'm just glad I got it done."
Toms, 51, emerged from a day-long scuffle with the intransigent East Course and a handful of determined adversaries – midway through the back nine he was part of a five-man logjam at the top – to become the eighth player to make the Senior Open his first victory on the Champions Tour. And he did it with a series of clutch shots down the stretch, none more important than the 16-footer for birdie at the par-3 16th that gave him the lead and the 20-foot par putt at the intimidating par-4 17th that helped preserve it.
When he two-putted the 72nd hole for par, Toms had completed an even-par 70 and one-stroke victory over Miguel Angel Jimenez, Tim Petrovic and Jerry Kelly, who had led after each of the first three rounds. His 3-under 277 total was worth $720,000 and a berth in the 2019 U.S. Open at Pebble Beach.
By all accounts, it was also worth the wait, considering his glistening eyes in the immediate aftermath and again later at the trophy presentation.
He had reason to be emotional. The week started when his caddie, Scott Gneiser, was rushed to the hospital Thursday morning with chest pains, forcing his son Carter, a sophomore golfer at LSU, to be pressed into service. Paired with fellow PGA champions Davis Love III and Vijay Singh, Toms was uneasy about the situation, to say the least.
"I go up to them before the round, and I'm apologizing. 'If he gets in your way just yell at him, whatever, he can take it,'" Toms said. "Every time I hit it in the bunker, I never wanted to hit it in the bunker because I didn't want to see what he was going to … the rake job and all that kind of stuff. I didn't want to be the bad person there. So that's the way it started."
On Friday afternoon, Toms found himself three over par and slipping out of contention. Carter set him straight, the son switching roles as it were, with his dad. "He said to me, 'You're going to make bogeys in a U.S. Open.' It sounded like something I would say to him," Toms said. "He did an unbelievable job. He really kept me in there."
Toms salvaged a 71. When Gneiser returned on Saturday, he was able to post a bogey-free 66, setting himself up for a second date in the final pairing in as many weeks, this time with Kelly, whose one-stroke lead left Toms in the identical situation he faced the week prior at the American Family Insurance Championship in Wisconsin when he trailed Esteban Toledo by one shot.
Winner of the 1999 International in nearby Castle Pines, Colo., Toms struck the ball pure amid swirling winds, but he struggled with his distance control, hitting just eight of 18 greens in regulation. Time and again he managed to salvage pars thanks to just 26 putts on the day. He never held the outright lead until the 16th hole, when he rammed in only his second birdie of the afternoon and reacted with an uncharacteristic fist pump.
More characteristic – and familiar – was his uncanny par save on the following hole. Fighting nerves, his drove into the left fairway bunker on the 532-yard par-4, forcing him to lay up. A so-so approach relegated him to a left-curling downhill 20-footer. Three feet from the cup it looked so good that Kelly raised his putter in the air watching from behind.
"It always comes down to those putts," said Kelly, who closed with a 72 after fighting a cold all week. "You end up, he makes birdie on 16. And let me tell you, that par putt on 17, that I had a front row seat, that was pretty solid. That was nice. Did you guys see that I rose my putter? That was just a pure putt, and that's … he's a major champion already. And now he's got his first win out here."
Toms is a major champion because on the 72nd hole at Atlanta Athletic Club, after being forced to lay up, he put his third shot on the green and sank a 12-foot par putt to beat Phil Mickelson by a stroke. Different circumstances yet the congruency was undeniable.
"Oh, yeah, I thought of that as soon as he hit out of the bunker," Gneiser said. "And I had a good feeling about it, just as I did then [in Atlanta]. You know, he just was so smooth and steady all day. It was only a matter of time."
Toms was channeling the thought. "As far as the comparison to the PGA Championship, that was the first thing that popped into my mind after I had to hit the shot out of the bunker," he admitted. "I was in the middle of the fairway, I'm still in good shape. It's normally a par-5, just like 18 at the Athletic Club was. So I need to go make a birdie."
Which he did. To top things off, Toms sensed one final rush of recall standing over his 15-footer for birdie on the final hole.
"I thought a lot about the International this week, winning at Castle Pines. I thought of my son, who played there on Wednesday, so I kind of thought about that a lot," he said. "In fact, what I thought about over the last putt that I had on 18 was that year that I won the International, I had to two-putt to win, and I had a downhill right-to-left breaking putt just like I had here. And I actually made it that year. And I thought I had made this one. … So you can tell that I was always trying to draw on something positive from the past."
And, of course, as they say, past is prologue. It was for David Toms, who reached inside himself for the player he once was and reanimated himself.
And of course there was satisfaction. "It's been a while since I've made putts that I really had to make to win a golf tournament, no doubt about that," he said.
"And I'm so happy. Until you're able to do it, you have doubts."