U.S. Open style
Fashion Winners & Losers At Olympic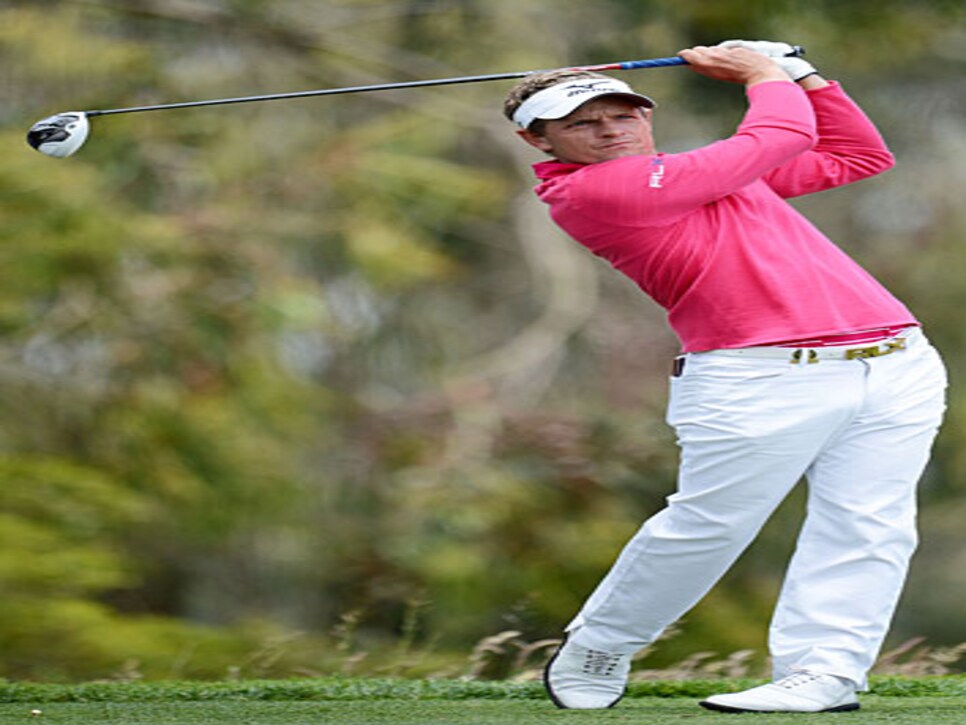 Luke Donald
How to make white pants, belt, shoe and hat all work together. Luke might not always play like No. 1, but he certainly dresses the part of No. 1.
Graeme McDowell
This a textbook example of how to make the entire outfit work.
David Toms
There's a new rule if you're over 40: You cannot wear a white belt. Ever.
David Toms
Wearing it two days in a row just makes it worse.
Webb Simpson
If you're Ben Hogan, you can wear a cardigan. If you're the U.S. Open champion, you can wear a cardigan. Just ask Webb Simpson, or 2010 U.S. Open champion Graeme McDowell. The defense rests.
Fowler Fans
The Four Blocks of Color. Don't try this at home!
Rickie Fowler
Cloudy, with a 30 percent chance of rain.
Rickie Fowler
Bright sunshine, NO chance of rain.
Justin Rose
Diamonds are forever, part I.
Zach Johnson
Diamonds are forever, part II.
Hiroyuki Fujita
Are we getting too logo happy, or is this the Breeder's Cup?
Matt Kuchar
Kooch, we love you and your effervescent personality. So why are you dressing like a dead man? And don't get us started on the pleats.
Bob Estes
There should be a rule against wearing everything you packed at the same time. I'm sorry, but this long sleeve/short sleeve combination violates Rule 27 (long sleeves over short sleeves, not the other way around).
Martin Flores
See Rule 27.
Y.E. Yang
Great shirt for:A. An oarsmanB. A jockeyC. A golferD. None of the above
Bubba Watson
Does anybody know what time it is? Bubba certainly does with his Richard Mille timepiece.
Beau Hossler
Something tells me we will be seeing a lot more of Beau and frankly, I think it will be refreshing. Here's a player who even knows the brand of socks he's wearing.
Ryo Ishikawa
Pick any day and I guarantee you that Ryo is on the style leader board.
Ryo Ishikawa
Down to the last detail, including the socks.
Alex Cejka
Alex the First (in style). Stay stylish, my friends. Stay stylish.
Hunter Mahan
Love the red FootJoys.
Jim Furyk
OK, we get it, Mr. 5-hour Energy. It's kind of hard to miss.
Ian Poulter
A perfectly-coordinated ensemble. Would you expect anything less from a style icon?
Morgan Hoffmann
DON'T SHOOT!
Webb Simpson
Winning look on a winning player.