2011 Presidents Cup
Thursday's Winners and Losers
Who were the winners and losers on the first day of the Presidents Cup? Let's take a closer look with our rundown of birdies and bogeys.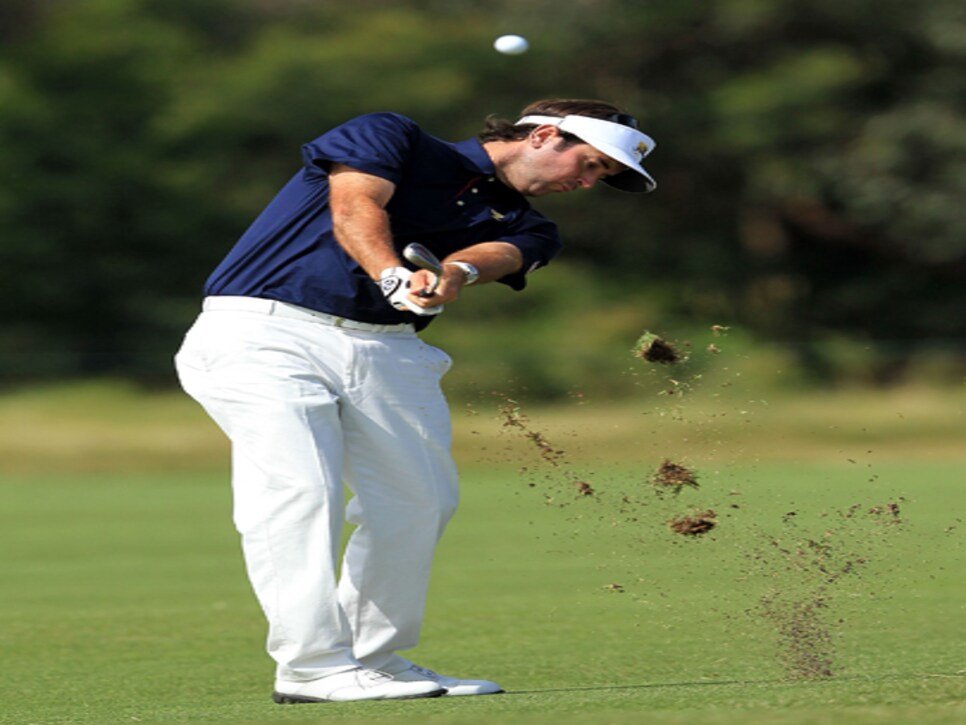 BIRDIE: Bubba Watson
Played loose and hit it big in pairing with Webb Simpson for 4 and 2 win over Ernie Els and Ryo Ishikawa. The U.S. tandem had a chance in one stretch to win seven-straight holes before finally winning the 11th and 12th holes to take command.
BOGEY: Tiger Woods
The former world No. 1 appeared to put the debate about his selection as a captain's pick to rest when he showed flashes of his old self at last week's Australian Open. Then he, alongside Steve Stricker, laid an egg on Thursday. The 7 and 6 loss was the worst in the history of foursomes play in the Presidents Cup and tied for the worst in the history of the entire competition.
BIRDIE: Royal Melbourne
The Alister Mackenzie course is again showing why it's one of the best courses in the world. Said International vice-captain Frank Nobilo: "A lot of courses get compared to St. Andrews, but nowhere is more like the Old Course than this one."
BOGEY: Steve Williams
The world's most outspoken caddie continues to be a sideshow. Case in point: the most anticipated moment of the opening day of the Presidents Cup was his handshake with Woods on the first tee.
BIRDIE: Adam Scott
The Aussie brushed aside all the Tiger-Stevie noise and played superb golf with K.J. Choi in their 7 and 6 thrashing of Woods and Stricker. Choi was a rock, but he didn't have to endure any of the scrutiny that his partner faced. Scott was the Internationals' most brilliant performer on Day 1.
BOGEY: Australian contingent
Other than Scott, it was a tough day for Oz. Jason Day and Aaron Baddeley bogeyed the last two holes to blow a 2 up lead to halve with Matt Kuchar and Dustin Johnson. Robert Allenby lost big with Retief Goosen, and Geoff Ogilvy on his home course failed to protect a 2-up lead with Masters champion Charl Schwartzel in halving with youngsters Bill Haas and Nick Watney.
BIRDIE: Fred Couples
The U.S. captain picked up where he left off as skipper in 2009. Three of his six teams on Thursday won in romps and two halved their matches.
BOGEY: Steve Stricker
He was the rustiest of the American players, and it showed as he continually failed to help Tiger Woods, who didn't produce much magic himself. Stricker, it should be pointed out, didn't come in 100 percent healthy because of a recurring arm injury. He clearly wasn't himself.
BIRDIE: Resilient Americans
Bill Haas and Nick Watney never led in their match against Geoff Ogilvy and Charl Schwartzel and Dustin John and Matt Kuchar never led in their match against Aaron Baddeley and Jason Day, yet both American duos won half points.
BIRDIE: Juli Ogilvy
The wife of the 2006 U.S. Open champion, although an American, made clear where her allegiances were on Thursday. "People have been asking me which team I'll be cheering for. My husband is on the International Team. We're playing in his hometown. My kids are half-Australian. I mean, whom do they think I'm cheering for?"