2015 Year In Review
PGA Tour Style Winners and Losers of 2015
A look back at some of the year's best-dressed tour pros—and a few of the worst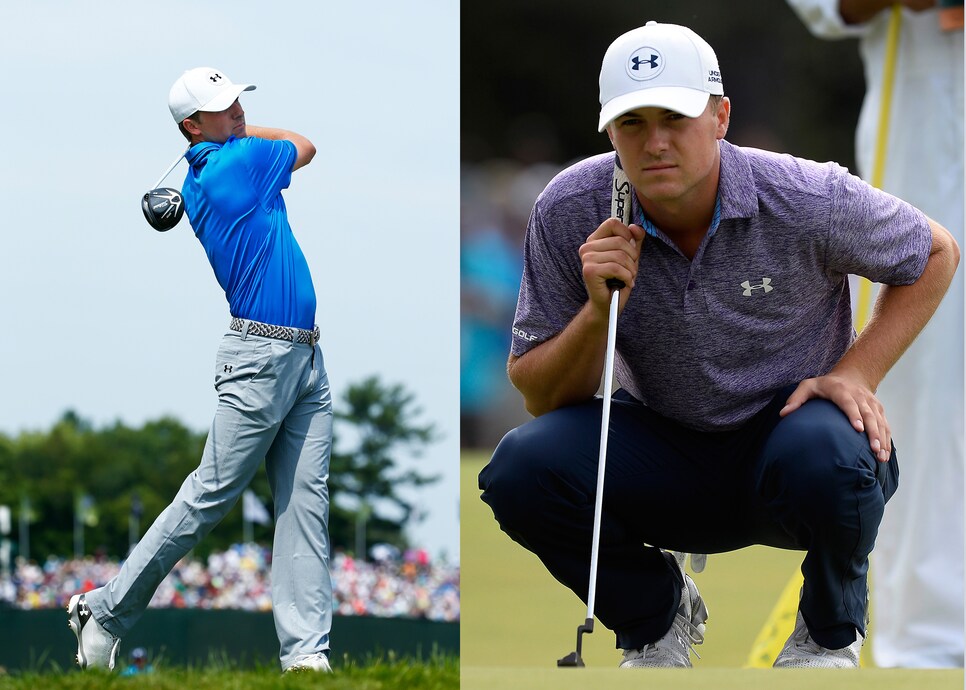 Photo By: Jamie Squire/Getty Images, Jeff Siner/Charlotte Observer/TNS via Getty Images
Photo By: Streeter Lecka/Getty Images, David Cannon/Getty Images
Photo By: David Cannon/Getty Images
Photo By: Richard Heathcote/Getty Images
Photo By: Cliff Hawkins/Getty Images
Photo By: Mike Ehrmann/Getty Images, Jamie Squire/Getty Images
Photo By: Christian Petersen/Getty Images
Photo By: Victor Fraile/Getty Images
Photo By: Tom Pennington/Getty Images
Photo By: JIM WATSON/AFP/Getty Images
Photo By: David Cannon/Getty Images, Stuart Franklin/Getty Images, Harry How/Getty Images
Photo By: Stuart Franklin/Getty Images
Photo By: Rob Carr/Getty Images
Photo By: Ezra Shaw/Getty Images, Jamie Squire/Getty Images, Marianna Massey/Getty Images
Photo By: Tom Pennington/Getty Images
Photo By: 2015 Getty Images
Photo By: Harry How/Getty Images
Photo By: Mark Runnacles/Getty Images
Jordan Spieth
Winner:
For as sharp as his game was in 2015, Spieth matched it with his look. While honing his wardrobe around basic blues and grays, Spieth took some small liberties with color and pattern thanks to UA's cool melange polos and multicolored braided belts. This is clearly a winning formula. That said, Jordan would be smart to push things a little more in 2016 -- not to mention convince Under Armour execs to finally start selling their golf shoes to the public.
Under Armour
Photo By: Jamie Squire/Getty Images, Jeff Siner/Charlotte Observer/TNS via Getty Images
Rory McIlroy
Push:
It was an up-and-down style year for Rors. There were moments of brilliance with color-blocked polos in sharp shades, and he was very creative with his custom-designed Lunar Control shoes. But he also was saddled with the weird neon-ombre look shared by the entire Nike contingent. Where Rory struggles is when he tries to avoid looking flat but goes too far with his color. It's a tough balance. Some of the onus is on Nike, which, like any apparel maker, offers up looks for its stars. Credit Rory/Nike for trying new looks, but the duo might want to limit the monochromatic choices in 2016.
Nike Golf
Photo By: Streeter Lecka/Getty Images, David Cannon/Getty Images
Jason Day
Loser:
Let's get this straight, Adidas is the style loser here. Jason is just the guy stuck wearing the clothes. It's time for Adidas to give Day his own iconic look, if not a range of them. The triple-stripe motif is so strong and has such incredible brand recognition it would be great if Adidas could reinterpret this unique signature. Given that Day ditched his underachiever status in 2015 with his PGA Championship breakthrough, 2016 should be the year his style catches up with his game.
Adidas Golf
Photo By: David Cannon/Getty Images
Rickie Fowler
Winner:
Rickie's known for bold color statements at big events, but this season he earned more style cred by working some darker, high-contrast color-blocked looks into his wardrobe. It shows lots of style confidence.
Puma Golf
Photo By: Richard Heathcote/Getty Images
Rickie Fowler
Winner:
As far as lids are concerned, this one is easily the coolest we've seen this season. No one has set the golf trend in hats like Fowler over the last few years.
Puma Golf
Photo By: Cliff Hawkins/Getty Images
Dustin Johnson / Adam Scott
Winners:
Under the "If it ain't broke don't fix it" file you'll find this duo. DJ has been rocking single-color setups that make him look lean and mean for several seasons, and Scott was one of the first to take the color-blocked trend inside the ropes. Both have strong style signatures that are instantly recognizable. They also both show that it's not just what you wear that makes you stand out, but how you wear it.
Adidas Golf
,
Uniqlo
,
FootJoy
Photo By: Mike Ehrmann/Getty Images, Jamie Squire/Getty Images
Kevin Na
Loser:
We're all for challenging conventional golf style, but Na seemed to miss week in and week out in these Elord printed polos. I'm still convinced this shirt is a Magic Eye design.
Elord
Photo By: Christian Petersen/Getty Images
Victor Dubuisson
Photo By: Victor Fraile/Getty Images
Billy Horschel
Winner:
Not many men can pull off lime-green trousers and a horizontal cabana-stripe polo, but this has been Horschel's M.O. throughout his career. It works because Horschel has become fully invested in what he wears and how he wears it. It's why he pulls off cutting-edge style with great energy, all reflecting his personality.
Ralph Lauren-RLX
Photo By: Tom Pennington/Getty Images
Morgan Hoffmann
Winner:
If there's a player to watch stylewise in 2016, it's Hoffmann with his clothes from upstart golf lifestyle brand, Greyson. The apparel firm founded in early 2015 combines sophisticated prints and a modern palette with the game's rich history and tradition. The result is some of the most stylish gear we've seen in a long time, leaving us anxious to check out Hoffmann's look this spring.
Greyson Clothing
Photo By: JIM WATSON/AFP/Getty Images
Ian Poulter
Push:
It's a challenge to grade the Englishman in 2015. Some days he was vintage Poulty in bright tartan trousers, subtly tweaked from previous seasons. Other times, he was decked out with mod-looking sweaters in Miami Vice colors. We're all about finding one's personal style, but this season just didn't feel like Poulter's strongest.
IJP Designs
Photo By: David Cannon/Getty Images, Stuart Franklin/Getty Images, Harry How/Getty Images
Thorbjorn Olesen
Winner:
One guy who always showed up looking sharp is Olesen. The Dane again used simple clothes in sharp colors -- combined with a fresh flat brim -- to put a contemporary twist on a classic aesthetic.
Nike Golf
Photo By: Stuart Franklin/Getty Images
Ryo Ishikawa
Winner:
Continuing his reign as the game's most fashion-forward golfer, Ryo rocked 2015 in one killer custom Callaway kit after another. Look for more as prints will continue to trend on and off the course in 2016. Now if only Callaway would bring these looks to U.S. retail outlets rather than limiting them to the Japanese market.
Callaway
Photo By: Rob Carr/Getty Images
Russell Henley
Loser:
Henley looks better in classic stripes and more traditional colors, which makes it tough to be a head-to-toe Nike tour pro when those looks don't always jive with the brand's hyper-modern mood. It's why Henley looked a little out of his element in 2015 Nike scripts.
Nike Golf
Photo By: Ezra Shaw/Getty Images, Jamie Squire/Getty Images, Marianna Massey/Getty Images
Martin Kaymer
Loser:
Kaymer is a handsome guy with a sharp, modern look, but this year he got caught up in too many of these weird watercolor prints. How this made it into the 2015 script is unclear. Hugo's Boss should've know that if this shirt didn't look cool on Kaymer, it wasn't gonna work on anyone.
Hugo Boss
Photo By: Tom Pennington/Getty Images
Keegan Bradley
Loser:
We're begging you Keegan, please stop wearing those gaudy Jordans. Yeah, we know you and MJ are buds, but enough is enough. Particularly, too, given that there are a lot of very good looking Jordan golf shoes that hit the market in the summer with the official launch of Air Jordan VI golf shoe line.
Jordan Brand
Photo By: 2015 Getty Images
Bryson DeChambeau
Winner: His pro career won't begin until after the Masters, but here's hoping the U.S. Amateur champion keeps that hat when he starts playing for pay.
Photo By: Harry How/Getty Images
Golf Fans
Loser: Sorry folks, but we saw a lot of bad outfits in 2015. Remember, you're going to a golf tournament, not the circus.
Photo By: Mark Runnacles/Getty Images