The Grind
The PGA Tour's all-time twist ending, Bryson DeChambeau's embarrassing injury and the one way Team USA could lose the Presidents Cup
Welcome to another edition of The Grind, where we never realized how dangerous golf was until this year. First, there was that Australian pro who sliced his hand open trying to move a stake. Then Jordan Spieth nearly fell off a cliff at Pebble Beach. And now Bryson DeChambeau nearly got decapitated by a gallery rope.
We always knew about the perils of playing with weekend hackers in a pro-am, but this is getting out of control! It's amazing moms even let their kids play the sport anymore! But, fortunately, they still do, so we still have a job. And there's plenty to talk about this week. And not just Bryson. Although, we're definitely going to talk about that some more. Anyway, let's get to it. And remember to keep your head on a swivel, everyone.
Max Homa: Golf Twitter's top funnyman is turning into a terminator on the course. Homa won for a fourth time since the start of last year, but this was the most improbable. Thanks to a chip-in birdie on the final hole (and an ensuing three-putt collapse from Danny Willett that we'll get to later), Homa lifted the Fortinet Championship trophy for a second consecutive year.
But as always, there was so much more to Homa's week. Not only did he win, he provided this gem of a quote about his wife after:
And then there was this hilarious story earlier in the week. Well, it might not be so hilarious to former Cal-Berkeley teammate Michael Kim whose spot he completely blew up:
Speaking of blowing up, how about Homa having as many PGA Tour wins as anyone since the start of 2021? And moving to No. 16 in the world with career tour win No. 5? I guess you could say Golf Twitter's favorite son has morphed from the tour's class clown into a serious player:
OK, so he's still a bit of a class clown.
Cameron Smith: No matter what tour he plays on—or where he parks his car—the dude is a total stud. And there aren't too many people with mullets we'd say that about. Smith continued his incredible run in 2022 by winning his first LIV title in Chicago—and claiming the $4 million prize that comes with it.
He might be the game's top player and fisherman. Either way, he's been reeling in some pretty big fish all year.
Andrea Lee: The former Stanford standout earned her first LPGA title at the AmazingCre Portland Classic. And as the all-time wins leader in school history, she broke somewhat of a Stanford Standout Curse in the process.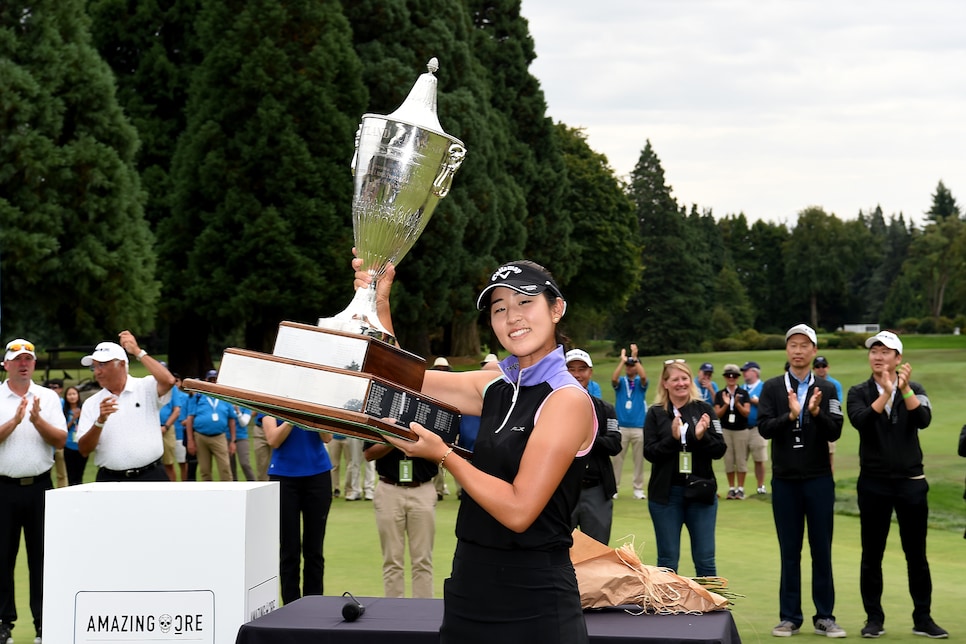 You see, both Patrick Rodgers and Maverick McNealy share the record on the men's side with 11 career wins as a Cardinal, yet neither have won on the PGA Tour. Of course, they share that mark with Tiger Woods, and he has a record 82 career PGA Tour titles. OK, so maybe there's no such thing as the Stanford Standout Curse. Anyway, congrats to Andrea Lee.
Danny Willett's three-putt: Combined with Homa's chip-in, this might be the most stunning twist-ending to a golf tournament—heck, any sporting event—ever. Facing a three-and-a-half-foot putt for birdie while holding a one-shot lead, Willett was a bigger favorite to win than the Falcons when they were up 28-3 on the Patriots in that Super Bowl. Seriously, he had to be 99.99 percent. And then Homa chipped in. And then this happened:
Absolutely stunning stuff. At least Willett was on the other side of another all-time final-round reversal back at the 2016 Masters. And once the golf gods toss you a green jacket, you can't really complain about anything ever again, which might explain why Willett smiled throughout the ordeal and handled losing so incredibly well. Like with this tweet:
I'd argue you had one full hand and a few fingers from the other on that trophy, but point taken. That was wild.
Talor Gooch: Look, I like a bit of trash-talking as much as the next NBA fan, and maybe golf needs more of it, but it's tough to take from someone after a week in which he finished T-35 out of 48 players. Yet there was Gooch taking a shot back at Shane Lowry, who said his BMW PGA Championship win last week was "one for the good guys." Have a look at this caption:
It must be nice to happen to be part of a loaded squad (you know, like a solid bench player on the Golden State Warriors during their current dynasty), but maybe wait until you actually win yourself, Talor? And speaking of the Aces, LIV Golf commentator Arlo White compared the Aces to the Chicago Bulls. During Michael Jordan's heyday. I mean, you can't make it up.
I know they're paying you well, Arlo, but c'mon now.
Cheating in golf: Using the recent story on Matt Moroz by Fire Pit Collective's Ryan French, AKA Monday Q Info on Twitter, we decided to do a deep dive into cheating in golf. Why it happens, how it happens, and just how prevalent (Probably more than you think!) it is. We came to the conclusion that we are selling cheating in golf, but we are buying you listening to our podcast:
Team USA: At least, when it comes to following directions. About its wardrobe. On Monday, the Americans, led by Kevin Kisner, got off to a tough start at Quail Hollow:
To be clear, the clothes look great, but Kiz didn't follow the scripting. And others weren't much better.
Say what you will about Patrick Reed, but the artist formerly known as Captain America always wore the right team garb. Even well after the events were over.
We shift to team golf this week for the Presidents Cup, AKA that one the Americans never lose, AKA that one where there's even less of a chance they lose this year because of all the LIV guys being ineligible. Sorry, Trevor Immelman, but Cameron Smith and Joaquin Niemann aren't walking through that door! Seriously, we haven't seen an international underdog story like this since Rocky went into Russia and beat Ivan Drago in "Rocky IV." Our pal Sam Harrop even made another song about how strong Davis Love III's U.S. squad will be this week at Quail Hollow:
Good stuff, Sam. Although, again, that's not exactly music to Trevor Immelman's ears.
Random tournament fact: Team USA is 11-1-1 in the biennial event, including eight straight victories dating back to that famous tie in 2003 that we got Nick Price to talk about on The Loop podcast this week. That streak will probably continue this week. Well, unless the Americans get hit with some kind of mismatching uniforms penalty we don't know about.
RANDOM PROP BETS OF THE WEEK
—A final hole chip-in/three-putt will settle the Presidents Cup: 1 MILLION-to-1 odds
—The Internationals will win the Presidents Cup: 7-to-1 odds (Actual odds!)
—Bryson DeChambeau will be more careful around gallery ropes in the future: LOCK
Matt Fitzpatrick and Alex Fitzpatrick seem like they're going to be a hoot to follow:
And the "scoreboard" comeback remains undefeated in sports.
Forget about being the viral video of the week, this is the viral video of the year. Bryson DeChambeau vs. a gallery rope—and the gallery rope won by knockout:
LIV Golf: Gallery ropes, but stronger. All kidding aside, those ropes are tight, and we hope Bryson is OK. But that really looked like it was just a glancing blow. Let's take another look from a different angle, shall we?
Wow, DeChambeau didn't calculate that one correctly. At all. Poor guy. He's been taking steady Twitter fire since. Like this:
And, well, we could go on, but you get the point. It's been a tough couple days for this former U.S. Open champ.
THIS WEEK IN PUBLIC DISPLAYS OF AFFECTION
The only person more surprised that Max Homa won was Max Homa's wife. Her stunned reactions were priceless:
Congrats to the Homas for claiming another title in Napa. Only this time, the wine will have to wait with Lacey being pregnant. And Max having to represent his country as a pro for the first time at the Presidents Cup. Actually, Max can probably begin boozing it up because that's probably not going to be much of a contest.
"That's what people ask me, 'Shouldn't you be a prime candidate to go to LIV because of the situation of your first year on tour where you couldn't be a part of the FedEx Cup Playoffs?' And I said, 'Guys, I haven't won yet, and I've made more than $10 million on tour.'" —Will Zalatoris to Graham Bensinger. Tough to argue with that—especially since Will has made a lot more now that he has won.
Congrats to Robert MacIntyre for winning the Italian Open by beating Rory McIlroy and Matt Fitzpatrick, the latter in a playoff. It's a good bet that Bob will be back at Marco Simone Golf Club next year as teammates of those two stars for the 2023 Ryder Cup. … Shout-out to Stewart Hagestad for coming as close as you possibly can to shooting 58 at Los Angeles Country Club—and providing quite the reaction:
No one has ever been more upset to shoot 59. … A Pebble Beach mansion named Lucky Strike—an ode by the owner, lawyer Cary Patterson, to a big case he won against Big Tobacco—went on the market for $31 million. Great property and great name, but not great timing with the housing market starting to slide. He might only get $30 million! … A Tiger Woods backup Scotty Cameron putter signed by Tiger Woods fetched $328,577 at auction. Imagine what his starting putter would go for? … And, finally, shout-out to Waterloo for shipping me some sparkling water: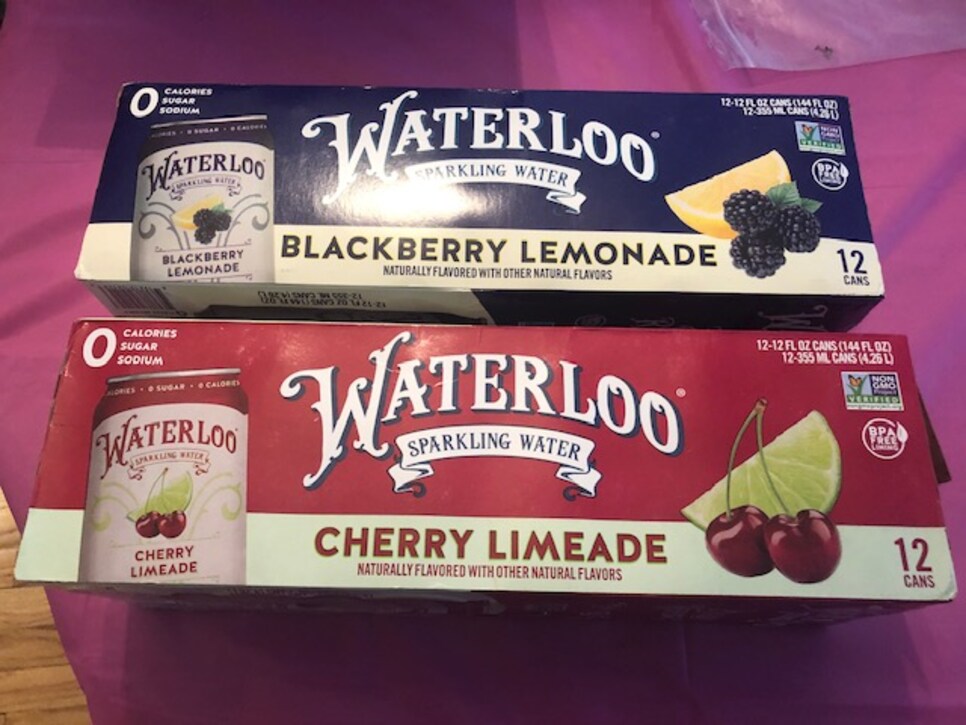 And a special thanks to my peeps at adidas for sending me this slick-looking cooler (filled with slick-looking golf shoes):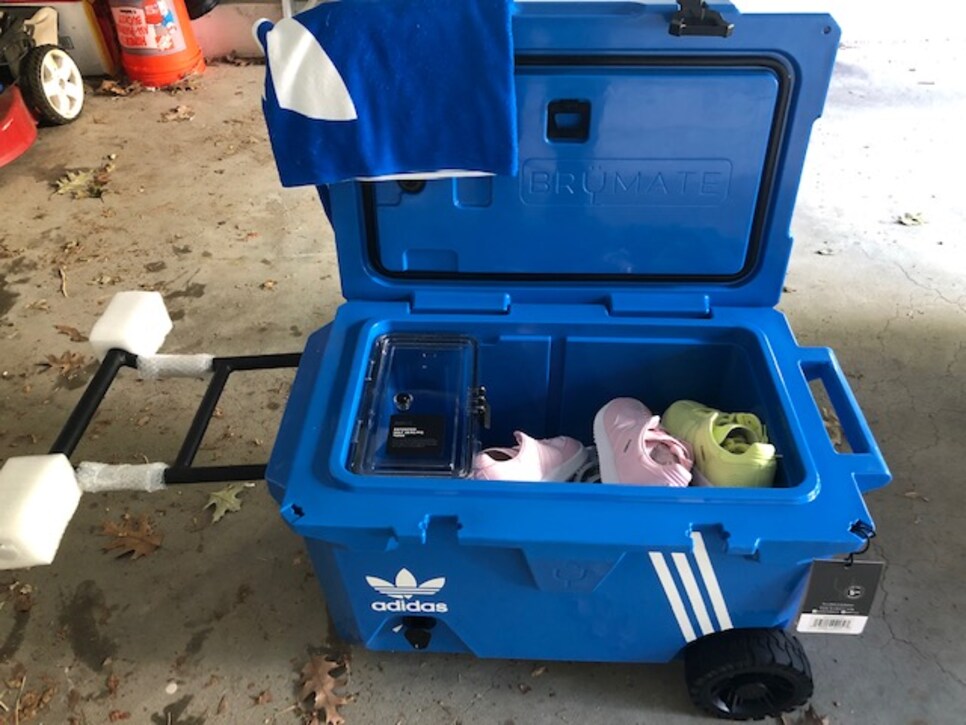 Never have I gotten two more random things sent to me that complement each other so perfectly. It's almost enough to get me to host people at my house. Almost.
RANDOM QUESTIONS TO PONDER
Who would win a Lowry-Gooch boxing match?
Is Bryson going to sue that gallery rope, too?
Am I now a (gulp) golf influencer?