Golf Equipment
What's In My Bag: Keegan Bradley
Age: 26 | Resides: Jupiter, Fla. | Story: The Ryder Cup team standout won the 2011 PGA and 2012 WGC-Bridgestone.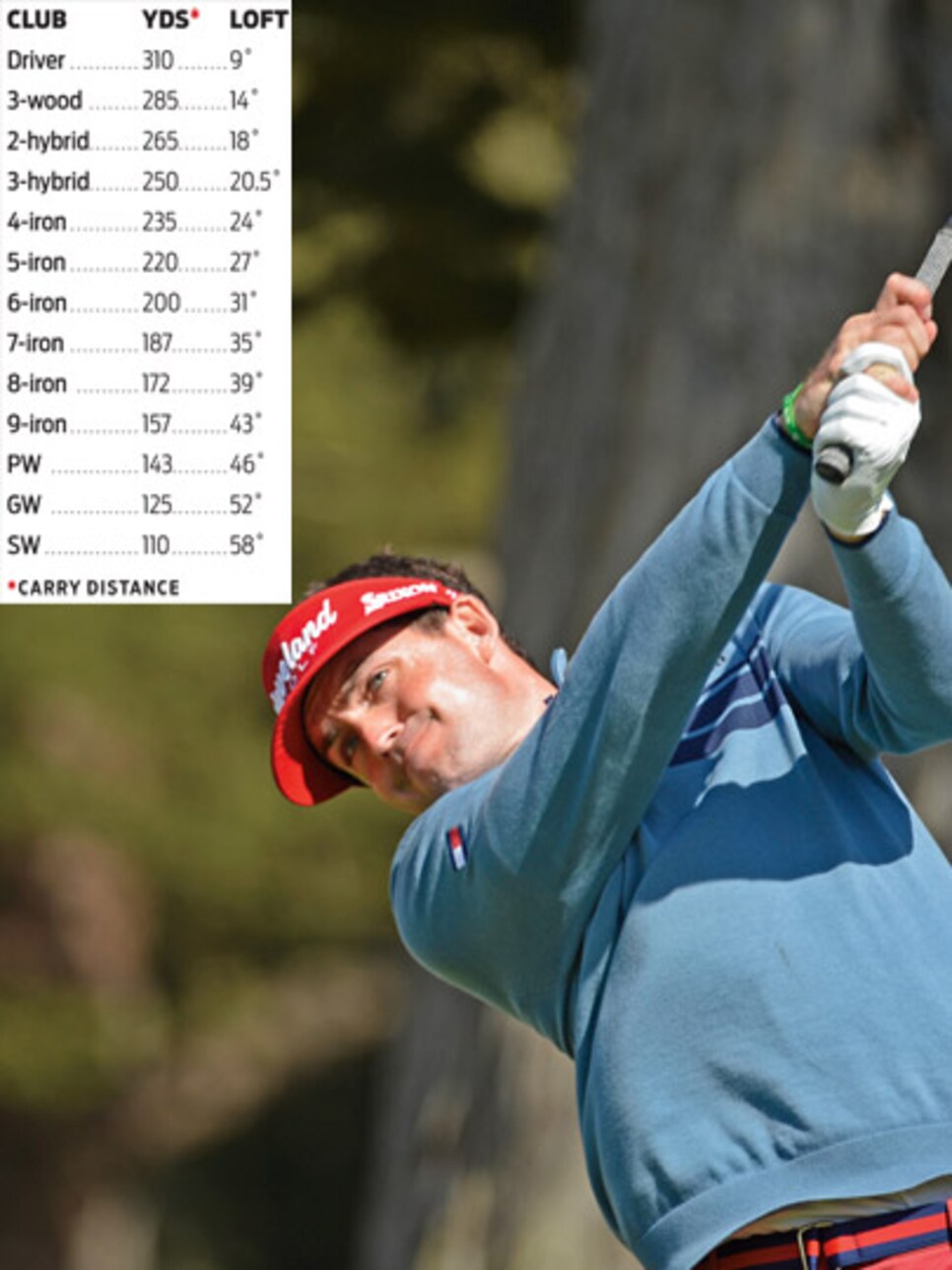 Photo By: Photo: Stephen Szurlej
Photo By: Photo: Stephen Szurlej
Photo By: Photo: Stephen Szurlej
Photo By: Photo: Stephen Szurlej
Photo By: Photo: Stephen Szurlej
I WAS FORD-FOCUSEDIt might surprise you, but my favorite moment of my career isn't winning the PGA Championship. It's when I Monday-qualified for the South Georgia Classic, a Nationwide Tour event [now the Web.com Tour] in Valdosta, Ga. It was my first year as a pro playing on the Hooters Tour. I drove there in my blue Ford Focus, which I basically lived out of. I drove for six hours from the Charlotte event to Georgia, then made it. That was satisfying.
BEING AN ATTRACTIONThe best part about winning the PGA is getting great pairings at tour events. It's fun to play with Phil Mickelson and other past major champions. It's humbling. The five-year exemption, getting to do really cool stuff I otherwise wouldn't have, that's all great, too. There's not many bad parts, but I've had to get used to giving up a lot of my time at tournaments. It's forced me to create a new routine.
DRIVERAfter winning the PGA with a Cleveland Launcher, I was nervous to switch. But I love my Classic 290 (Miyazaki Indigo 61 X-flex shaft). It's the straightest club I've ever hit. This is 9 degrees, but there are times I'll swap it for a 10-degree model.
FAIRWAY WOODI use Cleveland's Launcher FL 3-wood (14 degrees, Miyazaki Black 83 X-flex).
HYBRIDSThese clubs have come up big for me. You'll see me pull my Cleveland Launcher DST 2-hybrid or my Gliderail Tour Mashie 3-hybrid when I need to hit a pressure shot.
IRONSI love the feel of Cleveland's CG7 Tour irons, which I carry for my 4-iron through pitching wedge (True Temper Dynamic Gold X100 shafts, Lamkin grips).
WEDGESI like using a 75-percent swing for wedge shots instead of full force. I carry Cleveland 588 Forged models (52 and 58 degrees, True Temper Dynamic Gold S400 shafts).
PUTTERI was the first to win a major with a belly putter, and I've spent hours practicing that way, so I hope they don't ban anchoring. My Odyssey White Hot XG Sabertooth (46.75 inches) broke this summer, but they put in a matching head with my old shaft, and it worked as great as it ever has.
CLOSE TO MY HEARTSharing my victory at the PGA Championship with my sis, Madison, and her son, Aiden (left), made my first major all the more special. My family's always there for me.
Photo By: Photo: Stephen Szurlej
'V' MARKS THE SPOTI've marked my ball with a red "V," which stands for Victory, under the number since I was 10. My Srixon Z-Star helped me win the WGC in August.
Photo By: Photo: Stephen Szurlej
HEADS UPYou'll never see me mark my ball with a coin tails up, unless I've moved my ball marker. (That way, if I see the tails side, I'll know I need to move it back.) Otherwise, my marker will be heads up, looking at the hole.
Photo By: Photo: Stephen Szurlej
BLEED FOR BOSTONMy main passion off the course is Boston sports teams. I'm a huge fan of the Celtics, Red Sox, Patriots and Bruins. One of the coolest parts of the past year has been getting to know the athletes I've grown up admiring.
Photo By: Photo: Stephen Szurlej
FAVORITE MUNCHIESFitness and nutrition are two things I'm thinking more about this year. I always have something to munch on: a homemade peanut-butter-and-jelly sandwich, a granola bar or a Myoplex shake are my top choices.
Photo By: Photo: Stephen Szurlej