Swing Sequence: Ian Poulter
Fashioning his swing: Ian Poulter has steadily improved over his career and was sixth in the World Ranking in early May. Study his swing with frame-by-frame photos and analysis by his swing coach David Leadbetter.
• Web-Extra Video: Behind the scenes with Ian Poulter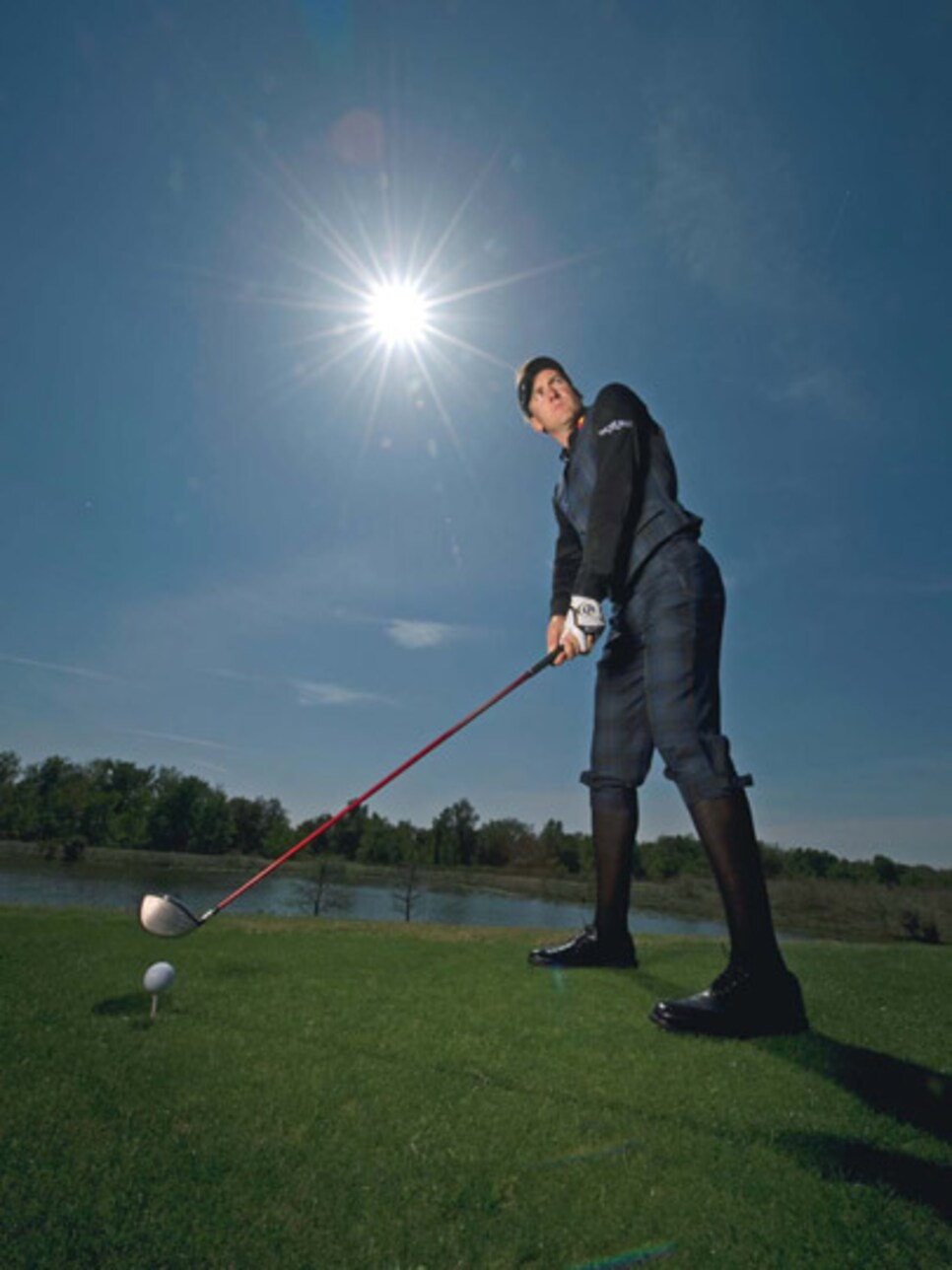 Sights on St. Andrews
The Friday before I went to the Singapore Open last October, I was given a new shaft for my driver. I took 10 swings with it, absolutely loved it, and went out and won the event. The club has been in the bag ever since. Lately I've been playing really solid, and a big part of that is getting the ball in play. I really believe I won the WGC-Accenture Match Play in February by keeping my tee shots in the fairway. The WGC win is massive for me. To finally win on the PGA Tour, it answers a lot of questions for me and, I guess, for a lot of other people. Now the next thing is a major. I'm English, so to win the Open Championship this year at St. Andrews would be the biggest one I could possibly get.--Ian Poulter
---
__AGE:__34 | __HEIGHT:__6-feet-1 | __DRIVER:__Cobra ZL, Fujikura 6.0 Motore Speeder shaft, X-flex | BALL: Titleist Pro V1x Plus Traj. | DRIVING DISTANCE (RANK): 286.8 yards (53rd) | __PUTTS INSIDE 5 FEET (RANK):__99.3% (1st)
Fashioning his swing
Ian Poulter is living up to a flashy imageThere aren't many guys on the PGA Tour who know what it's like to work in the back of a golf shop regripping clubs and changing spikes. But you're wrong if you think, based on his showy appearance, that Ian Poulter is too much of a dandy to get his hands dirty."Imagine changing guys' spikes -- nice, sweaty, stinking shoes that you put your hands in to take out the spikes," Poulter said of his time as an assistant club pro. "They should've changed those spikes 2½ years previous, so you had to drill them out. It was quite nice."Now maybe you can understand Poulter's motivation to keep his PGA Tour card. He was still in his mid-teens and a 4-handicapper (yes, a 4) when he put down the spike wrench and started on his quest to be a tour pro. Now 34, Poulter has steadily improved over his career and was sixth in the World Ranking in early May."Ian has the ability because of his great hand-eye coordination," says his swing coach, David Leadbetter. "He used to be able to walk on his hands. Even when his swing is out of sync, he still can manage to get the club in a great position at impact."Poulter says he works with Leadbetter only a few times a year, and the focal point always seems to be the backswing.Adds Leadbetter: "We've worked to maintain Ian's height during the swing -- and to get the club on line at the top. His tendency is to drop down on the backswing and get the club laid off, which results in him having to overuse his hands to square the club at impact." --Ron Kaspriske
Ian has great width at the start of the backswing.
Power move: He's fully loaded behind the ball.
His clubface and left wrist are square to his target.
At address, he's comfortable, poised and ready to go.
We've worked to maintain Ian's height during the swing -- and to get the club on line at the top.
The club's on a great plane here coming down.
He's not over-controlling. It's a full-blooded release.