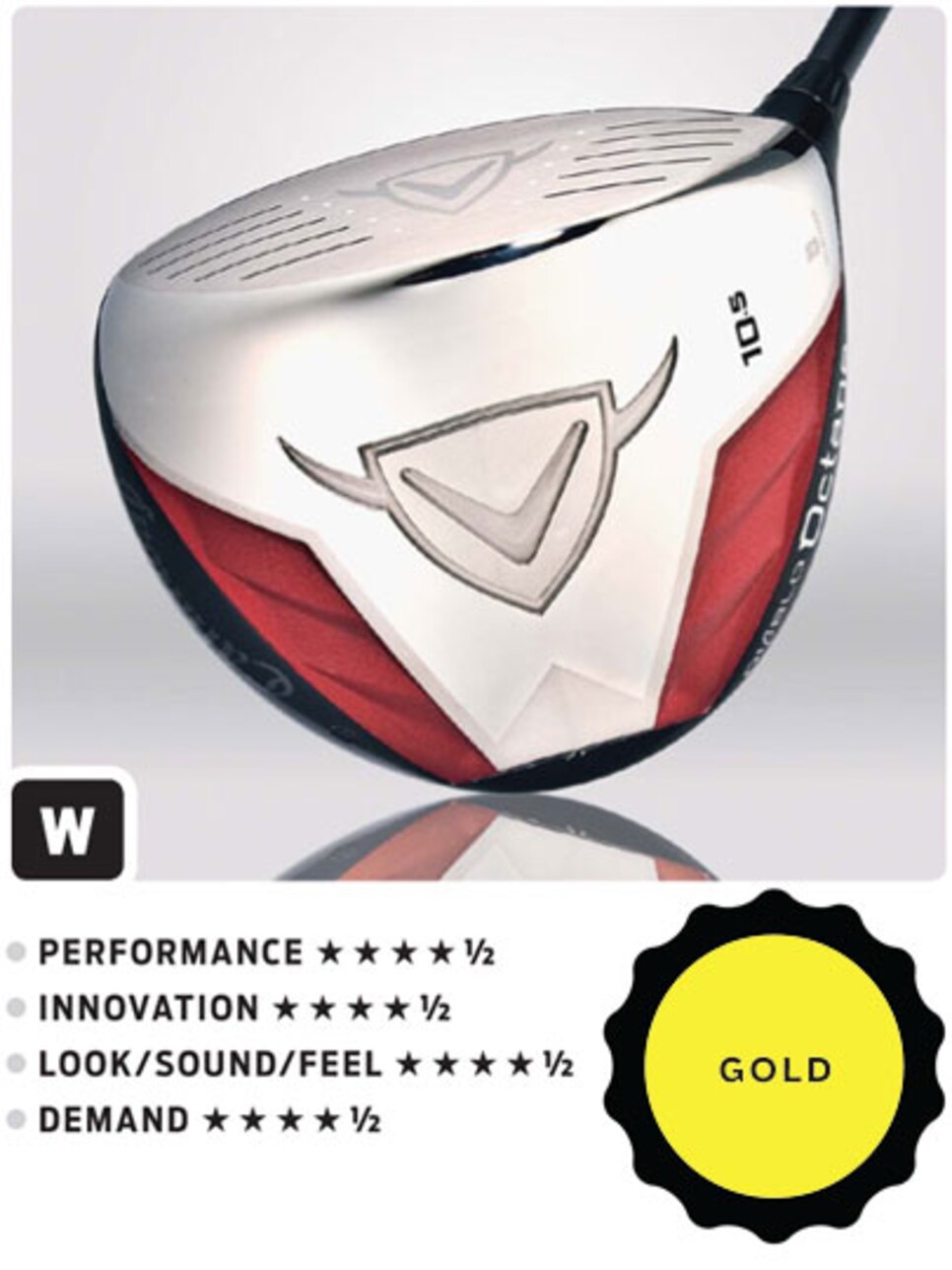 CALLAWAY DIABLO OCTANE DIABLO OCTANE TOUR
STREET PRICE:
$300
WEBSITE:
callawaygolf.com
LOFTS:
9.5, 10.5, 11.5, 13;Tour: 8.5, 9.5, 10.5__TECH TALK:__The clubhead weighs just 195 grams thanks to a lightweight carbon-fiber crown. Despite the lighter weight, the head still has a low center of gravity (CG) and the off-center hit stability of heavier heads. A 46-inch lightweight shaft is designed to increase swing speed, and a chemically milled cupface helps improve ball speed.
PLAYER COMMENTS:L:
"Impressive. It took awhile for the ball to come down."... "The tour version might be the best-looking Callaway driver ever made."
M:
"Perfect combination of distance and forgiveness. You can hit this any place on the clubface, and it will still go like a center strike."
HOT:
Many companies have given up on carbon fiber, but Callaway uses the material's light weight to control the clubhead's CG more precisely than most. Plus, the Octane's shape is more appealing than last year's Diablo Edge.__NOT:__The Callaway fitting system is great. Fitting for shaft length would make it even better.
CALLAWAY RAZR HAWK RAZR HAWK TOUR
STREET PRICE:
: $400
WEBSITE:
callawaygolf.com
LOFTS:
Neutral and Draw versions: 9.5, 10.5;Draw version only: 11.5 and 13;Tour version: 8.5, 9.5, 10.5__TECH TALK:__The company's lightweight carbon-fiber material is used to form the clubhead's crown and sole. The overall design is enhanced by a spin-cast-nickel rear-weight pad and a thin aluminum skid plate on the sole. A chemically milled titanium cupface helps improve face flexibility on off-center hits.
PLAYER COMMENTS:L:
"It sets up darn-near perfect. That evokes a feeling that you can take a rip at it without fear."
M:
"This thing is a freakin' rocket. Toe strikes sounded like center strikes. It sits square, and it's exactly what I want to hear."__HOT:__Callaway's new carbon-fiber formula establishes the foundation for a more precisely shaped and weighted driver that gives new meaning to the expression "doing more with less."
NOT:
We would have expected Callaway to use its material technology to explore clubhead adjustability by now.
CLEVELAND LAUNCHER ULTRALITE SERIES
STREET PRICE:
$300
WEBSITE:
clevelandgolf.com
LOFTS:
XL270: 9*, 10.5*, 12* (*also in Draw versions); SL290: 9, 10.5, 12; TL310: 8.5, 9.5, 10.5
TECH TALK:
Cleveland's second generation of lightweight drivers features three new models. The 270-gram version weighs about 25 grams less than last year's Launcher DST yet still maintains traditional swingweights.
PLAYER COMMENTSL:
"I know this is lightweight, but I could feel the clubhead the whole time. Toe hits really flew." ... "It has that Cleveland hot-spicy sound and trajectory."
M:
"The clubhead has a nice, traditional teardrop shape, but it's bigger than usual. Looks like you can really get it up quickly."
H:
"This club definitely corrects a slicer's swing. I didn't hit one ball to the right with it."
HOT:
The concept of less total weight is the least-explored area of driver technology, and Cleveland offers the best selection. The high-tech Miyazaki shaft is the secret hero.
NOT:
A 46¼-inch driver is longer than most and might be too long for the masses.
NIKE VR PRO
STREET PRICE:
$400
WEBSITE:
nikegolf.com
LOFTS:
8.5, 9.5, 10.5, 11.5
TECH TALK:
The four-piece titanium forging has a thin crown to save weight, an intricate hosel that features 32 adjustable settings and a variable-thickness cupface to improve off-center hits. The sole's re-engineered "compression channel" is supposed to give at impact for more ball speed on center and off-center strikes compared with last year's VR STR8-Fit Tour.
PLAYER COMMENTS:L:
"A sweet hit is almost hydraulic. Hang time is awesome." ... "A better attempt than last year's club."
M:
"The adjustable hosel is much less noticeable in this new version. The look is much more traditional."... "The sound and feel are beyond powerful. If Tiger put this in the bag, he might find his game again."
HOT:
: The subtle variations in adjustability might be best appreciated by better players, but the revised look works for everyone. The sole channel is an interesting approach to improving ball speed.__NOT:__A good player's driver doesn't need its stock length to be 45¾ inches.
PING G15
STREET PRICE:
: $300
WEBSITE:
ping.com
LOFTS:
: 9, 10.5, 12, 13.5__TECH TALK:__An external weight pad is centrally located in the rear sole to lower the CG and help players hit the ball higher with lower spin. The shaft's CG has been placed closer to the grip end of the club to help players swing a slightly heavier head just as fast as a lighter one for more power transfer to the ball.
PLAYER COMMENTS:L:
"It might be generic-looking, but there's nothing generic about blowing it past your playing partners by 20 yards."
M:
"It's easy to hit and has a ton of carry. Plus, the look is very classy, and it has an excellent sound."... "The face depth is perfect and easy to line up. Very forgiving."
H:
"The club feels stable, and the face has nice rebound effect."__HOT:__This driver is the best example of simple efficiency in all the ways that matter. Our panelists even praised the grip. And don't forget Ping's sophisticated fitting system.
NOT:
Mustachioed alignment aid can be a turnoff. Some fast swingers might find the stock shaft too soft. (In which case, see above.)
TAYLORMADE BURNER SUPERFAST 2.0
STREET PRICE:
: $300
WEBSITE:
taylormadegolf.com
LOFTS:
9.5, 10.5, HT (high trajectory)
TECH TALK:
TaylorMade's SuperFast philosophy is rooted in the concept of helping golfers create speed through a lightweight club. SuperFast 2.0 uses an ultralight, 48-gram shaft to achieve an overall weight of less than 280 grams. The clubhead has a conventional shape with an unconventional matte-white finish. A low-riding sole and sloping crown push the CG low to launch the ball high with less spin.
PLAYER COMMENTS:L:
"If you don't like this club, you don't like vanilla ice cream. I just pounded drive after drive with this beast. But wouldn't I do the same if it were all black?"
M:
"Scary long, with great trajectory. The more I hit it, the more I noticed that the loud sound doesn't match the softer feel." ... "A very forgiving and long club."
HOT:
You cannot hit the ball far without speed. Burner SuperFast 2.0 is an impressive attempt at building extra forgiveness into a driver that can increase your speed.
NOT:
The crown's graphics are only slightly less subtle than the sound.
TAYLORMADE R11
STREET PRICE:
: $400
WEBSITE:
taylormadegolf.com
LOFTS:
9, 10.5
TECH TALK:
The movable weights of the original r7 and the adjustable hosel of the R9 are joined by a rotating soleplate that independently changes the driver's face angle for 48 possible settings. As a result, the adjustments in loft and lie from the hosel don't affect the driver's appearance at address. The purpose of the white paint job is to eliminate possible glare at address.
PLAYER COMMENTS:L:
"It's ahead of the curve visually. They tried something different, and it works." ... "It's easy to work this club any way I want, and the distance is superb."
M:
"The adjustability is complex but not complicated. The soleplate is idiot-proof."__HOT:__Getting more distance from your driver has less to do with springlike faces and huge clubheads these days. Instead, it's about getting the most from each golfer's swing. The R11's adjustability makes achieving this goal easier than with any other club on the market.
NOT:
Even with 2 degrees of launch adjustability, this is still a driver for better players.
TITLEIST 910D2/D3
WEBSITE:
titleist.com
STREET PRICE:
: $400
LOFTS:
: 8.5, 9.5, 10.5 in both models__TECH TALK:__The adjustable hosel allows the club's loft and lie angle to be manipulated independently to any of 16 settings. The purpose is to help optimize each player's launch conditions. The D2 and D3 (smaller head designed to spin less) feature a thinner crown than previous Titleist drivers to help lower the CG. The face design has a thick center section equidistant from the perimeter for maximizing ball speed.
PLAYER COMMENTS:L:
"I love how the alignment aid frames the face." ... "You can hit the shot you want with this club."
M:
"The adjustability is spot-on: One degree open looks like 1 degree open." ... "The feel is solid."
H:
"It's easy to hit, and hit long. I'm starting to tire out, and this club still gets it out there."__HOT:__Adjustability doesn't have to be about a wide range of flight patterns as much as finding each player's individual setting. Titleist has done that here in a way that will please its target audience and probably a few others, too.
NOT:
At 320 grams, it's among the heaviest drivers on the market.
ADAMS SPEEDLINE F11
STREET PRICE:
: $300
WEBSITE:
adamsgolf.com
LOFTS:
8.5, 9.5, 10.5, 12.5; Draw: 9.5, 10.5, HL (high launch)__TECH TALK:__Adams addresses the aerodynamic inefficiencies of a large driver head by adding ridges to the back of the crown and sole to help reduce the speed-sapping effect of drag during the downswing. The F11 is also 4 percent larger front to back than last year's Fast 10, which gives it a more forgiving shape.
PLAYER COMMENTS:L:
"The look on this is beyond funky, but I absolutely pounded it. It was solid with wonderful sound." ... "Crisp and explosive. What would've been hooks were only slight draws with this driver."
M:
"The lines on the crown are much less distracting than you'd think. Feels easy to swing; I don't have to work at it." ... "I hit high, straight bombs with it."__HOT:__Adams has devoted serious time and energy to solving the aerodynamics riddle posed by drivers with larger, more confidence-inspiring shapes. The F11 gets us closer to an answer than most.__NOT:__We'd like to see an even larger, more forgiving face.
COBRA S3
STREET PRICE:
: $300
WEBSITE:
cobragolf.com
LOFTS:
8.5, 9.5, 10.5, 11.5__TECH TALK:__After studying the impact pattern of thousands of golfers, Cobra designed an elliptical sweet spot on its face from low heel to high toe to improve ball speed on off-center hits in those areas. The club has a three-way adjustable hosel that--starting from the neutral position--rotates the face 1.5 degrees closed to 1.5 degrees open. A non-adjustable offset model (S3 Max) is available.
PLAYER COMMENTS:L:
"Clean lines, classic shape. No way to miss this to the right." ... "The trajectory? Wow. Looks like a bullet coming out of a barrel."
M:
"The big face makes up for the smaller-looking head." ... "A nice, firm, crisp sound--not a lot of the harsh aftertaste that you've had with previous Cobra drivers."__HOT:__Cobra's face-technology story had become stale; this change seems intriguing and effective. We also like that the shaft length stays at a manageable 45½ inches.
NOT:
Cobra had a light, 45-gram shaft a generation ago. It needs to revisit lightweight drivers.
NIKE SQ/SQ2 MACHSPEED BLACK
STREET PRICE:
: $300
WEBSITE:
nikegolf.com
LOFTS:
8.5, 9.5, 10.5, 11.5, HL (high launch) in round and square__TECH TALK:__Nike's aerodynamics research led to shape changes: A tapered heel section and a diffuser pattern on the sole aim to reduce drag. The club's total weight is less than 300 grams thanks in part to a 50-gram Mitsubishi Rayon Fubuki shaft. The purpose of the lighter weight is to help players increase clubhead speed. The head also has an eight-way adjustable hosel.
PLAYER COMMENTS:L:
"The neutral setting is actually shut, but if you inch it to the right you can get a good look."..."The ball went straight, even mis-hits."
M:
"Looks substantial. I like the weight. The ball rebounds nicely." ... "The square version looks like bathroom tile. Way too loud."__HOT:__This is a big improvement over last year's model. The larger, faster face and sleeker, less jarring shape are upgrades. A choice of square or round clubhead (with meaningful adjustability) is a plus.__NOT:__The adjustable hosel borders on dog-collar size, and the square version is a nonstarter for many.
PING K15
STREET PRICE:
: $300
WEBSITE:
ping.com
LOFTS:
9.5, 10.5, 12__TECH TALK:__An external weight pad near the heel accounts for about 10 percent of the clubhead's weight and is designed to keep players from leaving the face open at impact. The K15 features the largest face of any Ping driver. Recessed sections on the rear crown allowed engineers to save weight for a lower CG.
PLAYER COMMENTS:L:
"Even though the crown is elongated, it sits very square. I can feel the ball fast off the face."
M:
"This added piece in the back is distracting. I wish they could have hidden it more. However, the distance was excellent. The ball just flew off the face."
H:
"Massive head shape, but that makes it easy to hit."__HOT:__Here's to innovating in a way that offers genuine benefit for struggling golfers without forcing them to use a club that makes them feel like an invalid.
NOT:
The massive address-position visual borders on a training-wheels sort of look.
SRIXON Z-STAR
STREET PRICE:
$400
WEBSITE:
srixon.com
__LOFTS:__9, 10.5__TECH TALK:__The all-titanium head features two weight ports in the heel and back sole that can be filled with a choice of four weights (a three-gram screw, two seven-gram screws and an 11-gram screw). There are 168 combinations of loft-, lie-, and weight-position adjustments. In addition, the adjustable hosel accommodates 12 settings from draw to fade.
PLAYER COMMENTS:L:
"Might be the best marriage of head and shaft I've seen. The adjustability in two ways with the weights and the hosel is cool, and the face is hot."
M:
"If I were playing in the dark, I could tell you where I hit this and go walk right to it."
HOT:
This Z-Star gets high marks for an adjustable element that is so sophisticated the company has developed a smart-phone app (available this spring) to walk you through it. The innovative face, with its five separate thicknesses and multiple bulge and roll angles, maximizes off-center hits.
NOT:
A driver that requires an app to decode? Really?
TOUR EDGE EXOTICS XCG-4
STREET PRICE:
: $330
WEBSITE:
touredge.com
__LOFTS:__9, 10.5, 12
TECH TALK:
The head features three separate materials: titanium body and face, carbon-fiber crown and sole pieces, and tungsten inserts in the rear sole. The mix of heavy tungsten and light carbon helps lower the CG so players can launch the ball higher with less spin. All parts are joined by a brazing technique that saves weight compared with traditional welding methods. The face has thicker areas shaped like a boomerang to optimize springlike effect and feel.
PLAYER COMMENTS:L:
"Perfect look. Very little sidespin. Tough to miss fairways with this."
M:
"The ball launches high, gets up there, and keeps on going. The look, swingweight, balance and feel are all great. It sounds like a cannon blast. But for this kind of distance, it'd be worth getting used to."__HOT:__Tour Edge's Exotics line keeps pushing the possibilities of material combinations and manufacturing efforts. We applaud the effort to bring a sub-280-gram version with a 46-gram shaft.
NOT:
The sound is clangy for some.