The Biggest Turkeys Of 2012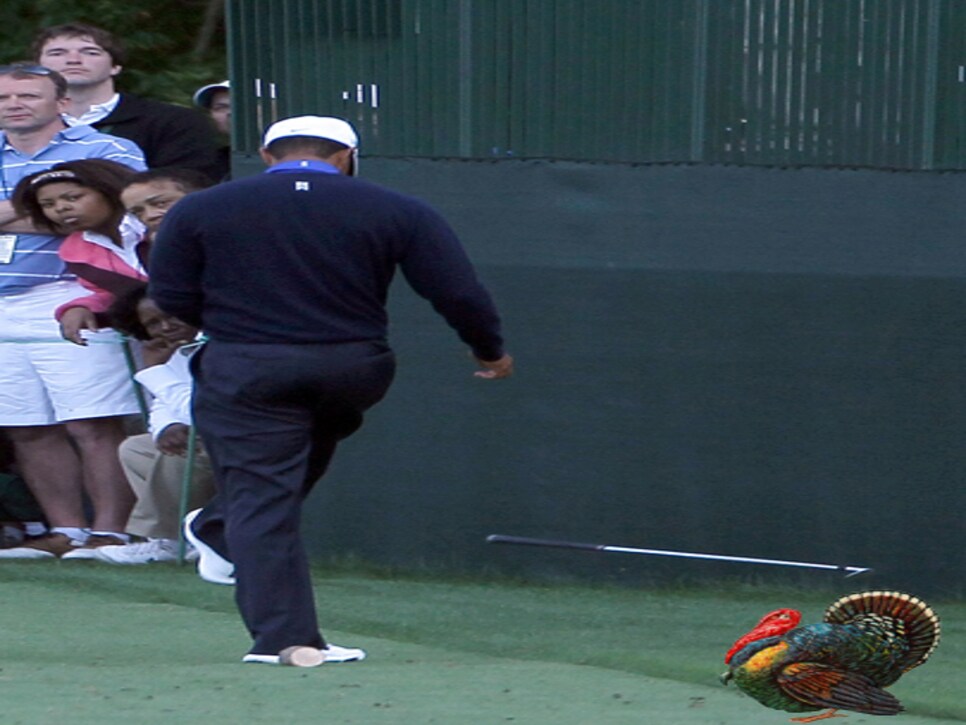 Short-Fused Stars
Being in front of the TV cameras can wear on you over time. Just ask Tiger Woods and Rory McIlroy. From minor
slips of the tongue
, to
burgeoning bromances
, it seems like every detail of their on-the-course lives makes a mark. Which is why we have to give them both the Turkey nod for the momentary lapse in judgment they experienced in 2012. Tiger made waves for kicking his 9-iron on the 16th hole at Augusta. . . .
Short-Fused Stars (Continued)
Greg Norman
The Shark took another bite out of Tiger Woods when he said the 14-time major champion was "intimidated" by Rory McIlroy -- a moment that proved the Woods-Norman relationship is anything but chummy. In his brief attempt to soften his words, Norman set himself up for ridicule by saying, "But I think he knows his time is up and that's normal; these things tend to go in 15-year cycles. Jack (Nicklaus) took it from Arnold (Palmer). I took it from Jack, Tiger from me, and now it looks like Rory's taking it from Tiger." How many majors did you win again, Greg? Tom Watson and a host of other contemporaries of yours might not totally agree with your history lesson.
Former Huntingdon College Golf Coach Matt Mahanic
Does this turkey moment need any more explanation? Do you really need a reason why a Division III coach at a Judeo-Christian university who dropped
a profanity-laden tirade on his team
after a loss, is on this list? Here's one reason: he was fired less than 24 hours after this parade of f-bombs went public.
Luke Donald
We've all been guilty of a tweet or two we regret, but most of us realize it will be seen by other humans before we hit send. Luke Donald apparently missed the memo. After a disappointing second round at the at the Deutsche Bank Championship, Donald
expressed his displeasure with the Gil Hanse-redesigned 18th hole
. An hour later, in what looked like a direct message gone awry, Donald tweeted the simple, yet elegant phrase, "Gil Hanse is a c**k". It was taken down a short time later, but you can fill in the blanks -- and figure out why he made our list.
Johnny Miller
Never one to shy from speaking what's on his mind, Miller made waves by saying he turned down a chance to teach Tiger Woods early in his career: "Not many people know this, but when Tiger had been on Tour for two or three years, his people called and asked if I would give him lessons on short irons," Miller said in an interview. "Jack Nicklaus told him I was the best short iron play ever -- a pretty great compliment." Miller is considered by most to be the best golf analyst on TV, but when it comes to patting himself on the back, he will always be in a league of his own.
Zach Johnson
It's a good thing PGA Tour pros almost always stick to their routines, no matter what the circumstances. Johnson had what appeared to be a meaningless par putt on the 72nd hole of the Colonial to win by three shots, but he looked it over and took his time lining it up before draining it. Good thing. A few minutes later, he was informed that he had putted from where he had moved his ball mark to (to avoid playing partner Jason Dufner's line) and not from the original spot. For a split second, Johnson thought the mistake would disqualify him, but it was only a two-shot penalty, meaning he had still topped Dufner by one shot.
I.K. Kim
Hasn't Kim, the heartbreaking loser of the golf season's first major, suffered enough? Probably, but we'd be remiss if we didn't mention the one-foot putt she missed that would have wrapped up the Kraft Nabisco Championship. Yes, that's ONE foot . . . as in 12 inches . . . as in considerably shorter than your standard Thanksgiving turkey. Sorry, I.K.
Phil Mickelson
It's tough to nitpick a guy who went 3-1 during the Ryder Cup, but that sterling record could have been even better. You know, like if he had played in all FIVE matches. Captain Davis Love III was questioned for a bunch of his tactics, but not playing a red-hot team of Mickelson and Keegan Bradley Saturday afternoon wasn't his call according to Lefty: "When we got to 10, I went to Davis and I said 'Listen, you're seeing our best. You cannot put us in the afternoon, because we emotionally and mentally are not prepared for it." No one on the U.S. side was prepared for Europe's Sunday rally either, and this might have been just the break the guys from across the pond needed.
John Daly
We couldn't have this list without the guy who never fails to dress like a turkey, right? Seriously, other than his style, Daly, while at times playing very solid golf, showed he still has some of his old tricks up his sleeve in 2012. There were the usual WDs once he wasn't going to make the cut after being invited to play as a sponsor's exemption, but there was also a putter throw into a tree in Hong Kong, which prompted a fine by the European Tour. And then there was Vegas, a place where he's been known to have a few meltdowns over the years. Daly fired a second-round 63 only to return Saturday to shoot an 87.
Christina Kim & Brittany Lincicome
Are two LPGA players allowed to argue with one another? Of course. Does the whole world need to follow it in real time? Not necessarily. But that was the case earlier this fall, when a frustrated Brittany Lincicome lamented her poor play in Asia on Twitter, and Christina Kim, who wasn't even eligible for the event, jumped on Lincicome for losing perspective ("There are people that would love to play, and it wouldn't hurt to remember that"). An edgy exchange ensued until both players decided to delete the posts. But not without first allowing the world to see the two in a most unflattering light.
President-bashing Tweeters
Hey, it's a free country, we get it. And it's not as if Charlie Beljan and Pat Perez were the only professional golfers to voice their displeasure with the current Administration. But both apparently took it too far, because Beljan's Twitter account no longer exists after his series of unflattering posts about President Obama. And Perez (left) claimed his account was hacked when his now-deleted profane tweet about Obama hit the Twittersphere. Reverting to 8th grade-level name calling when discussing the President of the United States? That's Turkey territory.
Rory McIlroy
There's so much a player in the Ryder Cup has to keep track of -- the score, the names of your teammates, what color shirt to wear -- perhaps it's too much to also require a player to know what time he needs to show up. So we learned with Rory McIlroy, who in the midst of a monster year that included two money titles and his second major championship almost suffered the humiliation of missing his Sunday tee time at Medinah. In mixing up his time zones, McIlroy thought he had ample time to make his singles match against Keegan Bradley. When he learned the truth, it required a mad dash with the help of a police officer to get him to the golf course just in time. Sure, McIlroy not only made his tee time, he went on to defeat Bradley as part of Europe's epic Sunday comeback. But he still succeeded in giving his team a panic attack first.
Donald Trump
We've long admired Trump for his restraint and modesty, which is why we were surprised to read his boastful claims about his new Trump International Golf Links in Scotland last summer. OK, we weren't really surprised at all. But even with a man who has taken hyperbole to hyperbolic levels, we still marveled at his calling his new venue the "greatest golf course anywhere in the world" -- after only playing the first nine holes! At some point Trump might want to exercise more caution with such statements. Otherwise people won't always take him seriously.
Misbehaving Members
Every golfer has a right to cut loose once in a while, but memberships at two private golf clubs appeared to take this concept to an extreme. First there was a member-guest at the Piedmont Driving Club outside Atlanta, which according to a viral letter from the club president, featured drunken-behavior pastimes like a member "picking up his golf ball with his naked butt cheeks." Then there were reports of an outing at the Tam O'Shanter Club on Long Island that featured strippers and prostitutes. Whatever happened to a good old fashioned chipping contest?
Morgan Pressel
OK, so maybe Pressel was more like a turtle than a turkey, but she still deserves mentioning. The LPGA star was given a rare slow-play penalty on the 12th hole during her semifinal match with Azahara Munoz at the Sybase Match Play. The mistake proved to be rather costly as Pressel would lose the hole and the match. To make matters worse,
she didn't handle it very well
. Three holes later, she accused Munoz -- to no avail -- of touching the line of her putt with her putter.