Henrik Stenson is the toast of golf right now, but it wasn't too long ago that he fell to 230th in the World Ranking. We examine Stenson's comeback and look at some other notable dry spells in PGA Tour history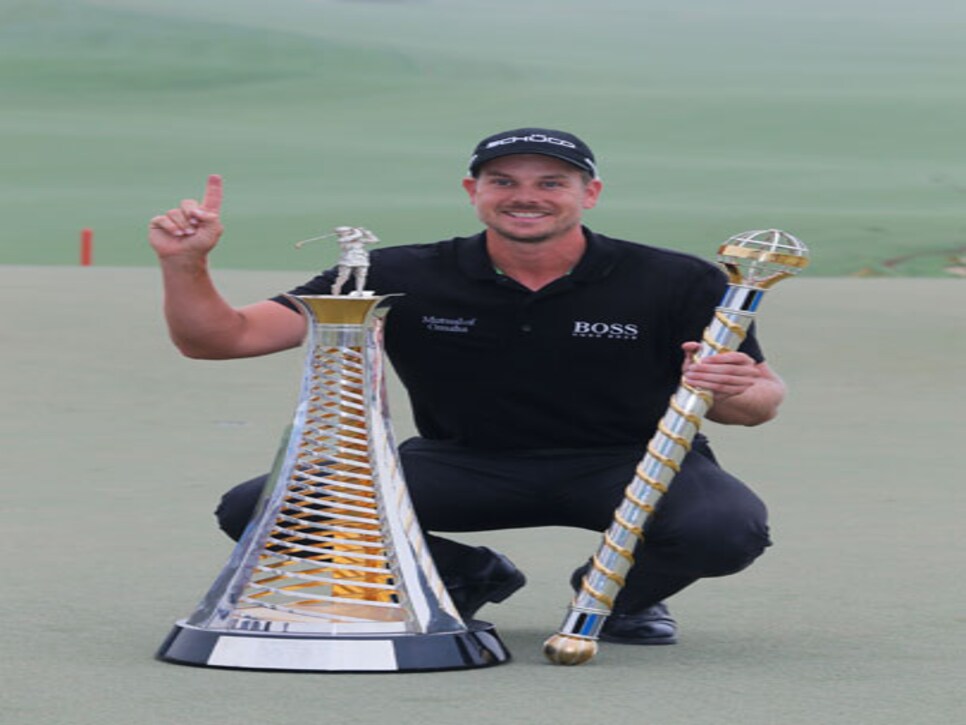 Henrik Stenson
Stenson climbed to No. 4 in the World Ranking with his win at the 2009 Players Championship, but by the start of 2012, he'd fallen to No. 230. Plagued with a bad case of the driver yips, Stenson couldn't even win his own club championship in 2011 after he failed to qualify for the PGA Championship. Two years later, he's the hottest player in golf and the game's third-ranked player. After close calls in 2013's final two majors, Stenson won the Tour Championship and the FedEx Cup. He then won the European Tour's Race to Dubai (
left
),
becoming the first golfer to win both tours'
season-long points titles.
Rory McIlroy
After winning two majors and ascending to the top spot in the World Ranking at 23, McIlroy was expected to have a huge 2013 season. Instead, following a much-publicized equipment change to Nike in the offseason, he failed to win a tournament on either the PGA or European Tours. However, a dramatic win against Adam Scott at the Australian Open in December kept him from getting shut out of trophies in 2013 and ended his year-long lull.
Mike Weir
Following a sixth-place finish at the Bob Hope Classic to start the 2010 season, the 2003 Masters champ didn't have a top 25 in a stroke-play event for the rest of the year. After discovering a torn ligament in his right elbow that August, things got worse. He made two of 15 cuts in 2011 and missed the cut in all 14 PGA Tour events he played in 2012. The 2013 season has been a little better, but his best finish thus far is a T-27 at the John Deere Classic -- a far cry from winning the Masters a decade before.
Tiger Woods
His five-year drought in majors has been getting all of the attention of late, but Woods has had periods of not winning anything at all. First, as he transitioned to his new swing under Hank Haney, Woods won the 2004 World Match Championship, but didn't win any stroke-play events the rest of that season. He bounced back with six wins, including two majors, in 2005. Of course, Woods also went through a two-and-a-half year winless drought after returning from his scandal. He ended that with a victory at the 2012 Arnold Palmer Invitational.
Stewart Cink
Remember when he topped Tom Watson to win the 2009 British Open? Yeah, that seems like a long time ago. Cink's best finish in a major since is a T-25 at the 2013 Masters. After winning nearly 3 million in 2009, he made about half that in 2010. Then, he dropped under a million in earnings in 2011 before bottoming out at $477,173. He's turned things around a bit in 2013, but he's still not nearly the player he was when he won the claret jug.
Padraig Harrington
When Harrington won the 2008 PGA Championship, it capped a remarkable stretch in which the Irishman won three of six major championships. More remarkable? He hasn't won since. Constantly tinkering with his swing, Harrington has had at least three top 10s every year since, but certainly hasn't experienced anything close to the success that made him the world's third-ranked player at one point.
Steve Stricker
Now a mainstay on leader boards, Stricker is no stranger to slumps. In fact, he's had a couple. In 1996, Stricker was a rising star with two wins and seven top threes before having just one top 10 in 1997. He played better the next few years, including a win at the 2001 Match Play Championship, but completely lost his game with just one top 25 in 2003. After a few more rough seasons, Stricker won his first stroke-play event in 11 years at the 2007 Barclays and hasn't looked back.
Mark Hensby
Perhaps the least-known name on this list, Hensby was one of the best players on tour for about a year. He won the 2004 John Deere Classic and made the cut in all four majors in 2005, including a T-3 at the Masters and a T-5 at the U.S. Open. But things started to go south with a car accident early in 2006. He lost his PGA Tour card in 2008 and hasn't made it back on tour.
Craig Perks
The New Zealander was a surprising winner of the 2002 Players Championship, but still, no one could have predicted such a quick fall into oblivion after. Perks had just one top 10 the next five years and made just one cut combined in 2006 and 2007 before retiring. He's been a teaching instructor and a Golf Channel analyst since.
David Duval
In 2001, Duval, a World No. 1 just two years prior, won the Open Championship for his 13th career PGA Tour title in a brilliant four-year span. But outside of random close calls at the 2009 U.S. Open at Bethpage Black and the 2010 AT&T Pebble Beach National Pro-am, Duval has essentially done nothing since. Although injuries have played a role, he's perhaps the most puzzling name on this list. Duval hasn't given up, though, and is still trying to figure out his game.
David Gossett
The 1999 U.S. Amateur champ out of the University of Texas seemed poised for a big pro career when he won the 2001 John Deere Classic. But after a combined five top-10 finishes the next two years, he missed 23 of 25 cuts in 2004, earning just $21,250 to lose his tour card. He has only played in 21 PGA Tour events since, making it to the weekend twice.
Justin Rose
As a 17-year-old, Rose looked ready to take on the world's best when he finished T-4 at the 1998 British Open. But he turned pro the day after and found out things weren't going to be that easy. Rose missed the first 22 cuts of his pro career. As we all know, however, things have since improved.
Chip Beck
Beck became the second PGA Tour player to shoot 59 in the third round of the 1991 Las Vegas Invitational. He qualified for the U.S. Ryder Cup team in 1993. But he had just one top 10 in each of 1994, 1995, and 1996. And then it got worse. Beck missed 46 consecutive cuts on the PGA Tour from 1997-1998 before quitting to go sell insurance. He made a brief comeback with three top 25s in 1999, but 2000 was his last full-time season on tour.
Ian Baker-Finch
The 1991 British Open champ was also a runner-up at the 1992 Players, but he had only one top 10 in 1993 and his last PGA Tour top 10 was a T-10 at the 1994 Masters. Baker-Finch struggled mightily for a few years before he retired from tournament golf after shooting 92 in the first round of the 1997 British Open. It was his 43rd straight PGA Tour event in which he didn't qualify for the weekend. He's played twice since, at Colonial in 2001 and 2009, but missed the cut both times.
Sandy Lyle
Lyle was a five-time Ryder Cupper and a two-time major winner at 30, but his career slowed down after nearly becoming the world's top-ranked golfer in 1988. He never won another PGA Tour event and collected just three more European Tour titles, the last of which came in 1992. Stemming from a combination of having high expectations thrust on him and perhaps playing too much golf, Lyle was never the same. "I got lost and haven't been able to find my way," he said in 1997.
Nick Faldo
Faldo's career got off to a great start when he became the youngest player to appear in the Ryder Cup at 20. He had 11 European Tour wins at 26, but decided to try to take his game to the next level by re-tooling his swing with David Leadbetter. The process took several years and had many questioning his choice until he started getting results. He won his first of six major championships at the 1987 Open Championship and wound up spending a total of 97 weeks as the No. 1-ranked golfer in the world.
Jack Nicklaus
Nicklaus completed the career grand slam for the third time in 1978 by winning the Open Championship at St. Andrews. But 1979 became his first year since turning pro that he didn't win at least one event. Thanks to help on his full swing from Jack Grout and on his short game from Phil Rodgers, though, Nicklaus ended his slump by winning the 1980 U.S. Open and then cruised to a seven-shot win at the PGA Championship later that year.
Johnny Miller
A six-shot win at the 1976 Open Championship capped a brilliant three-year stretch of golf that included 16 wins and two majors. But Miller followed that up with an equally-long span of bad play. Miller developed a case of the yips on the greens, but overcame his putting woes -- and thoughts of quitting -- to get back into the winner's circle at the 1980 Inverrary Classic. He followed that up with three wins worldwide in 1981 to make the Ryder Cup team. His final tour win came at Pebble Beach in 1994 when he putted with his eyes closed.
Lee Trevino
Trevino was struck by lightning at the 1975 Western Open, causing spinal injuries that would plague him for the rest of his career. He would win one event in each of the next four years, but it wasn't nearly the level of play fans were used to seeing from the man who had won five majors over the previous six years. Trevino snapped out of his lull with three wins in 1980 before winning his sixth and final major at the 1984 PGA Championship.
Sam Snead
Snead is the PGA Tour's all-time winner with 82 titles, but that number would be even higher if not for a curious two-year stretch in the middle of his prime. He won six events in each of 1946 and 1949, but in the two years in between, only claimed the 1948 Texas Open. Snead fell victim to the yips, which caused him to try a variety of different putting methods. When these problems returned later in his career, he used a croquet-style stroke before that was banned by the USGA. Snead used a side-saddle method the rest of his life.
Ralph Guldahl
Coming off a season in which he won four tournaments, including the Masters, Guldahl signed a contract to do an instruction book, "Groove Your Golf," in 1939. He won twice more in 1940, but never again after that. Fellow players speculated that he lost his game over analyzing his swing while writing the book. After falling off, Guldahl played sparingly for a few years before retiring to be a club pro -- a remarkable turnaround for a man who had won 16 PGA Tour titles and three majors before the age of 30.
Ben Hogan
Arguably the game's most prolific winner with 64 PGA Tour wins in a career shortened by World War II and lasting injuries from a head-on collision with a bus, it actually took Hogan a decade as a pro to start winning because he had to overcome a debilitating hook. He nearly ran out of money several times early in his career and didn't win his first individual tour event until the 1940 North and South Open at Pinehurst.