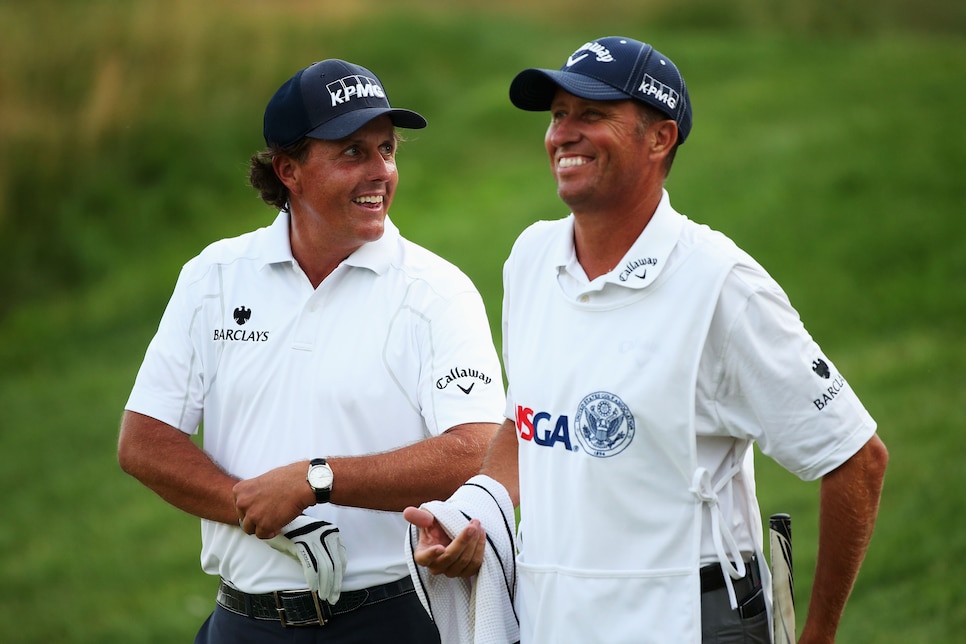 Photo By: Andrew Redington
Photo By: Jeff Gross/Getty Images
Photo By: Stuart Franklin
Phil Mickelson-Jim "Bones" Mackay
After more than 25 years, Phil and Bones parted ways following the 2017 U.S. Open, which Mickelson didn't even play in. "Bones" traveled to Erin Hills to scout the course, but Mickelson never made it to Wisconsin, staying home to attend his daughter's high school graduation. The two won 42 PGA Tour titles together, including five majors, and competed in a record 11 Ryder Cups. The news shocked golf fans, who will miss the pair's lengthy on-course conversations.
Photo By: Andrew Redington
Phil Mickelson-Butch Harmon
After eight years and two major championships together, the split between these two was most notable for its civility. Mickelson, who hadn't won a title in more than two years and said he was ready to hear some new ideas, flew to Las Vegas to deliver the news to Harmon in person. The two men sat for breakfast and said they would remain good friends. "I respect him as a person and as a teacher and as a friend, and just wanted to talk to him in person about it," Mickelson said. "It's not something you do over the phone. He's been good to me long before we ever started working together. That stuff is never easy, but it's what he deserves."
Tiger Woods-Lindsey Vonn
After nearly three years of dating, the Olympic gold medalist skier
announced a "mutual" breakup with Woods
on Facebook. The couple blamed their hectic schedules and careers for the split. That makes sense, but the timing of the announcement still came as a surprise. Just three weeks before, Vonn, Woods and Woods' two kids were all smiles at the Masters Par 3 contest. "We had an absolutely great time," Woods said after that day. "These were memories for a lifetime." Perhaps, but sadly, it appears Vonn won't be a member of the Woods clan for the long haul.
Jason Dufner-Amanda Dufner
After getting married in May 2012, the Dufners soon became one of the PGA Tour's most visible couples thanks in large part to Amanda's big following on Instagram. The two had many memorable moments from their famed "butt squeeze" after Jason won the 2013 PGA Championship, to meeting NBA stars, to this trip to the 2014 Kentucky Derby. Sadly,
Amanda filed for a divorce on March 16, 2015
.
Rory McIlroy-Caroline Wozniacki
McIlroy and the tennis player were a high-profile pairing for nearly three years, showing up often at each other's tournaments and in their Twitter timelines. The two got engaged in Australia on New Year's eve before the start of 2014, but less than five months later -- and just days after their wedding invitations had been sent out --
they called off the engagement
. "It is quite a difficult time for Caroline and myself, and the statement really said it all this morning," McIlroy said prior to the BMW PGA at Wentworth. "It was mutual and we both thought it was the best for us, the best for both of us. Time to move on, and I've said all that I need to say."
Rory McIlroy-Acushnet
After a five-year partnership, Rory McIlroy and Acushnet Co. (maker of Titleist and FootJoy) announced on Oct. 30, 2012 that their contract would not be renewed. The company had previously been McIlroy's equipment provider since turning pro. McIlroy became the latest big-name golfer to walk away from Titleist, presumably for a more lucrative deal. Other recent examples include Tiger Woods in 2000 and Phil Mickelson in 2004. While
Nike is reportedly interested
in the world's top-ranked player -- and now the sport's most-coveted free agent -- no official deal has been announced as of yet.
Rory McIlroy-Chubby Chandler
Much of the 2011 season was spent talking about a potential 'Chubby Slam', but it ended with golf's super agent losing a major chunk of his high-powered list of clients. Reigning U.S. Open champion Rory McIlroy, the heir apparent to Tiger Woods as the game's biggest star, dealt Chandler's International Sports Management a huge blow by breaking away. The company, specifically Chubby, had represented the phenom since he turned pro four years prior. Weeks before, Chandler also lost three-time major winner Ernie Els as a client.
Tiger Woods-Steve Williams
For the second time in his professional career, Tiger Woods parted ways with his caddie. This time, Woods split up with Steve Williams, who was on the bag for 13 of his 14 major championship victories. Williams had caddied three events for Adam Scott, while Woods was sidelined due to injury. What made the move -- which was announced on Woods' website on July 20, 2011 -- more stunning was the apparent close bond the two had formed throughout their 12-plus years together. Woods has yet to announce a replacement or when he'll even return to playing golf.
Ben Wright-CBS
When Wright made comments in an interview with Valerie Helmbreck of the Wilmington News-Journal that "lesbians in the sport hurt women's golf," and that, "women are handicapped by having boobs," his decorated career was essentially brought to a halt. CBS pulled him off the air in 1996 after 23 years with the network, and though he has secured a few small media gigs in the years since, he has never been able to distance himself from his regrettable remarks.
Nick Faldo-David Leadbetter
As one of the first high-profile teachers for a superstar, Leadbetter guided Faldo through a swing overhaul that led to wins in the Open Championship in 1987, 1990 and 1992 and the Masters in 1989, 1990 and 1996. By 1998, the relationship had strained. Faldo said he began to look for another teacher when Leadbetter didn't accompany him to that year's PGA Championship outside Seattle. Leadbetter said he only missed the tournament because of the recent death of his father, and that his dismissal by Faldo was "a slap in the face."
Tiger Woods-Elin Nordegren
Golf's highest-profile pairing went down in the most messy and public way possible. The details are sketchy from Thanksgiving night in 2009, but it appears that the discovery of Tiger's infidelity by his wife prompted an incident that ended with Woods crashing an SUV into a fire hydrant outside the couple's Orlando-area home. In the coming months, as more women came forward to say they had affairs with the golf superstar, it became clear that the marriage couldn't be saved, despite Woods' attempts to show he could change, including a stint in rehab. In August 2010, the two officially divorced, after being married for nearly six years.
Aaron Baddeley-Stack & Tilt
No golfer was linked as closely to the rapid rise of Stack & Tilt as Baddeley, who was featured in a
Golf Digest instruction article
on the method in June 2007, the same month he held the 54-hole lead in the U.S. Open at Oakmont. That lead didn't last, and neither did Baddeley's relationship with Stack & Tilt founders Andy Plummer and Mike Bennett. He returned to his boyhood teacher Dale Lynch, then went on to pick up his first win in four years at the 2011 Northern Trust Open.
Tiger Woods-Butch Harmon
Butch Harmon didn't create Tiger Woods as a golfer, but he certainly elevated him to a level of dominance perhaps never seen before. As a team, the two won eight majors, including a mind-blowing stretch of seven in 11 attempts from 1999-2002. Woods wasn't satisfied, however, constantly trying to tweak his game and when Harmon didn't seem to want to make sweeping changes, he moved on. Through the 2003 season, the two tried to keep their breakup quiet, but it was apparent Woods had found a new instructor before long.
Tiger Woods-Hank Haney
With Harmon out of the picture, Woods eventually settled into working with Hank Haney. Despite plenty of success -- six majors and 31 wins -- this teacher-instructor combo
didn't last for the long haul, either
.
Phil Mickelson-Titleist
Having recently won his first major championship in the 2004 Masters, it seemed like odd timing for Phil Mickelson to end his relationship with Titleist several months later. What made it even odder was the fact that he did it just two weeks before another of golf's biggest events, the Ryder Cup. It's fair to say Titleist executives weren't feeling to bad for Phil as he hacked it around Oakland Hills and played a large role in a lopsided loss by the Americans to Europe. Lefty would have the last laugh, though, as he has done pretty well as Callaway's top playing pro.
Augusta National-Gary McCord and Jack Whitaker
The two CBS announcers separately fell out of favor with Augusta National for attempts at colorful descriptions. Whitaker referred to a Masters gallery as a "mob" during a 1966 telecast, while McCord in 1994 famously made reference to the Augusta National grounds crew "bikini-waxing" the greens. The club has denied banishing both announcers, but it's probably not a coincidence that neither broadcast the tournament for the network after their on-air missteps.
Tiger Woods-Mike "Fluff" Cowan
After a two-and-a-half-year run that included a monumental 12-shot victory at the Masters, the pair broke up for unspecified reasons in March 1999, although speculation centered on Fluff's growing profile (doing interviews and even starring in commercials). What is known, is that both moved on (Woods with Steve Williams, and Cowan with Jim Furyk) and found success without the other.
Greg Norman-Chris Evert
It made for a most romantic storyline at the 2008 British Open -- Norman on his honeymoon with Evert, contending for the claret jug at age 53. He walked away without the trophy, but he still had Chrissy, at least for a little while. "They're goofy in love...You don't want to be around them in a private setting," Evert's brother, John, told Sports Illustrated in April, 2009. Alas, the love affair was as tenuous as a Norman lead in a major. Evert and Norman divorced in October, 2009, with everything from his kids to her kids to where they wanted to live listed as a potential reason.
Cypress Point-PGA Tour
Beginning in 1947, the majestic Cypress Point was, along with Pebble Beach and Spyglass Hill, one of three venues to host the AT&T Pebble Beach National Pro-Am. But when the Shoal Creek controversy led to a PGA Tour policy of not holding tournaments at exclusionary clubs, Cypress Point's all-white membership became a sticking point, as it was for the all-male Western Open host Butler National. Rather than have their hand forced by the tour, both clubs opted to discontinue hosting tour events.
Tiger Woods-Scotty Cameron putter
For more than a decade, Woods seemed to will putts into the hole on command with his trusty putter -- none more famous than the 15-footer for birdie on the 18th hole at Torrey Pines to force a playoff at the 2008 U.S. Open -- on his way to winning 13 of his 14 major championships and 63 of his 71 PGA Tour titles. But when the putts stopped dropping at the end of 2009, in particular during his loss to Y.E. Yang at the PGA Championship, doubt started to creep into Woods' mind and a Nike Method crept into his bag at the 2010 British Open. Breaking up was hard and Woods took another spin with his ex, but he seems to have moved onto his new Nike, for now.
Sean O'Hair-Marc O'Hair
Marc O'Hair always wanted his son, Sean, to be a successful PGA Tour golfer. He got his wish, but at a huge price. The elder O'Hair forced Sean into a grueling practice schedule as a child and made him turn pro before his senior year in high school. In 2002, when Sean was 19, he married his girlfriend, Jackie, and ran away from his father. In 2005, Marc faxed a letter saying he would release Sean from contracts he had signed that agreed to pay his father 10% of his future earnings. That may have been one less thing for Sean to worry about, but it didn't lead to a reconciliation. The two still don't speak.
Photo By: Jeff Gross/Getty Images
Phil Mickelson-Rick Smith
It was Smith who helped Mickelson to his first three major championships, but in the wake of Lefty's 72nd-hole collapse in the U.S. Open at Winged Foot, the player sought a simpler approach. When Smith was overloading a struggling Mickelson with information on the driving range at the 2007 Masters, Mickelson testily replied, "Can you just give me one thing?" Smith couldn't, and shortly after that tournament, Mickelson announced he was leaving Smith for Butch Harmon. "Now is the time to go in a new direction with Butch Harmon on my long game," Mickelson said. The new direction paid early dividends, with Mickelson picking up a win in the Players only a few weeks later.
Ben Hogan-MacGregor Company
The Hawk always had a somewhat rocky relationship with his equipment manufacturer, feeling it favored friend and competitor, Byron Nelson. But in June of 1953, the partnership ended for good when the company couldn't convince Hogan to use its top ball in competition. As the story goes, Hogan went to MacGregor's Cleveland headquarters to test out balls, including seeing their robotic golf machine, named "Iron Byron," in action. We'll keep it clean and just say the blunt nine-time major champion wasn't impressed. He stuck with the Titleist ball he had recently switched to and won the U.S. and British Opens to complete his "Hogan Slam." He then started his own equipment company that fall.
Sergio Garcia-Morgan Leigh Norman
A year earlier, Garcia won the Players and nearly won the PGA Championship at Oakland Hills, but when he was dumped by Greg Norman's daughter in March, 2009, his career fell into a tailspin. He hasn't won since, and has fallen out of the top 50 in the world ranking. "It hurt," García told reporters about the end of his relationship. "It was probably the first time I have been really in love. It took me a while to get over it."
Peter Kessler-Golf Channel
The baritone commentator was the face and voice of the Golf Channel in its modest early years, but his outsized personality there may have led to his downfall. Among Kessler's missteps was his criticism of Arnold Palmer during the controversy surrounding Palmer's endorsement of the non-conforming Callaway ERC II driver. Palmer, in addition to being arguably the most popular figure in golf, was also a Golf Channel co-founder. "I was told that I didn't appreciate company policy and that company policy was that no matter what, you never criticize Arnold Palmer," Kessler told Peter McCleery in a Golf Digest interview in 2002. Sure enough, before long, Kessler had left the network, only to return as host of his own show on satellite radio.
Carolyn Bivens-LPGA
There was no sugarcoating this one with an "it's not you, it's me" speech. As far as the LPGA was concerned, its struggles during Bivens' four-year run as commissioner rested squarely on her shoulders. Amid a tenure that included thinning schedule of events, a media boycott, senior staff resignations, failed policies and angered sponsors, Bivens was finally pushed out in July of 2009. She may have technically stepped down, but it came after a group of players, including Lorena Ochoa and Paula Creamer, gave a letter to the LPGA Board saying the "vast majority" of LPGA members were "extremely dissatisfied" and asked for her "immediate resignation." Her departure left the LPGA on precarious footing when Mike Whan officially took over in 2010.
PGA of America-PGA Tour
Sometimes a split really is best for both sides. With TV revenue coming in for broadcasting golf thanks to stars like Arnold Palmer, touring pros wanted to see the money used to increase tournament purses. They broke away in 1969 to form what eventually would become the PGA Tour, but it wasn't all bad for those club professionals left behind. They now could compete among themselves on the local level and they still ran two of the biggest events in the game: the PGA Championship and the Ryder Cup.
Greg Norman-Bruce Edwards
Edwards is best known as Tom Watson's longtime caddie and for his fight against ALS, but he did have a three-year affair on the bag of Greg Norman. It didn't end well. After blowing another final-round chance at a major championship in the 1990 Masters, Edwards said Norman made some comment about how it's "better to be lucky than good," referring to Nick Faldo. Edwards replied, "I just want to caddie for someone who has heart." He went back to Watson the next year and stayed with him until he succumbed to ALS in 2004.
John Daly-Callaway
When Callaway signed Daly to an endorsement contract in May 1997, it was under the provision that Daly not drink or gamble. Daly's Callaway bag even featured the slogan, "Keep It Straight, John." Two years later, Daly couldn't live up to the agreement, and the equipment manufacturer announced it was releasing him from the contract. "Regrettably, we cannot continue to have John as a company representative when he is not prepared to take the future steps that we feel are necessary to deal with the alcohol and gambling problems facing him,'' company chairman Ely Callaway said.
Lee Trevino-Augusta National
Trevino never felt comfortable at Augusta National, both because of his colorful personality and his golf game that was dominated by a low, left-to-right ball flight. After competing in 1968 and 1969, he vowed never to play the Masters again. He would return, but he played sparingly, skipping the tournament in 1970, 1971, 1974 and 1977. If he didn't always make the trip to Augusta in his prime, it shouldn't be surprising that he has stayed away and remained critical of the famed track as he has aged. In a 2011 interview with Lorne Rubenstein, he said "Great tournament, great venue, great history. But it's not a great course."
during the final round of the 142nd Open Championship at Muirfield on July 21, 2013 in Gullane, Scotland.
Photo By: Stuart Franklin