U.S. Open
Golf's Biggest Bouncebacks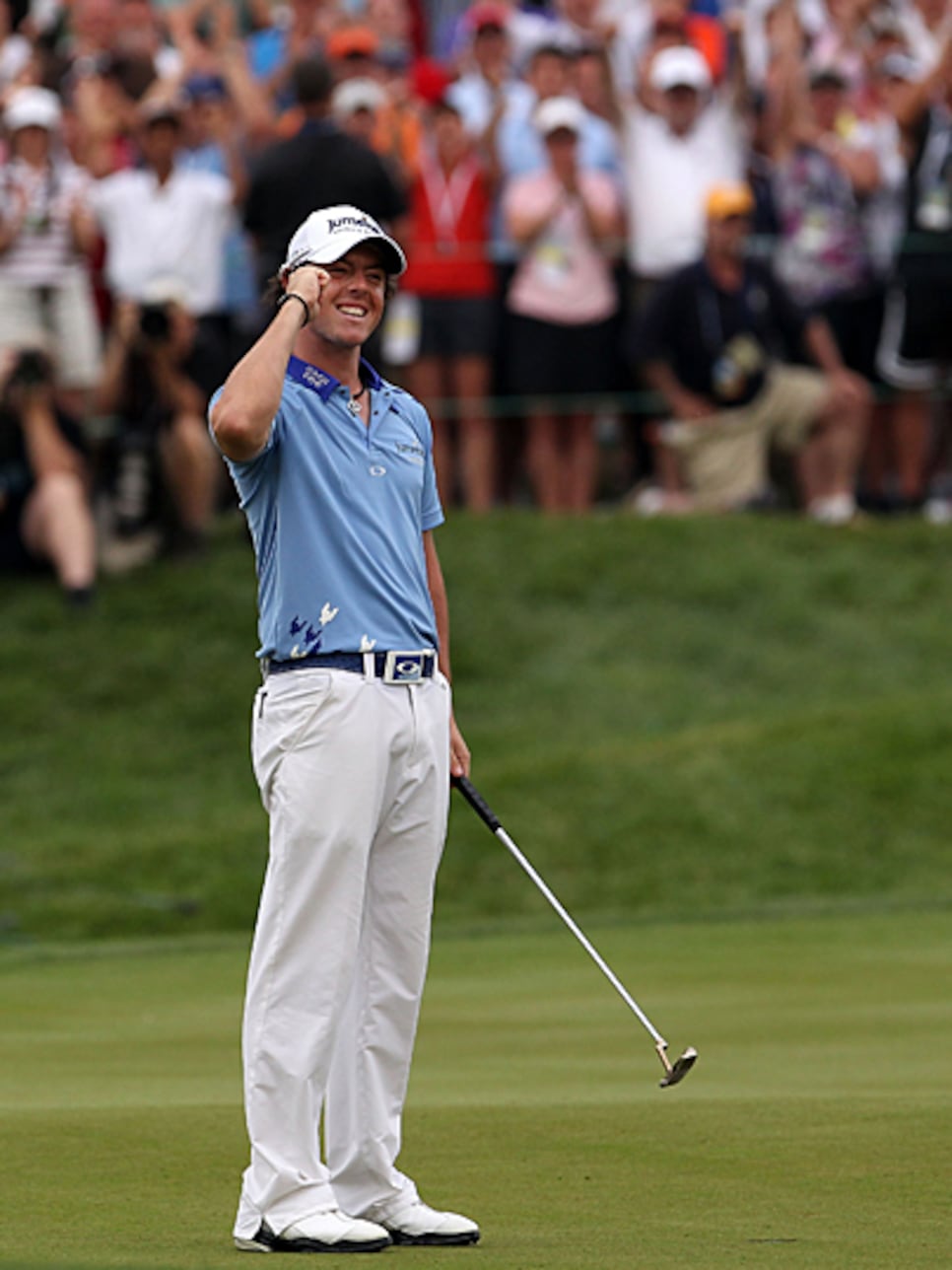 Photo By: Andrew Redington/Getty Images
Photo By: Ross Kinnaird/Getty Images
Photo By: Harry How/Getty Images
Photo By: David Cannon/Getty Images
Photo By: David Cannon/Getty Images
Photo By: David Cannon/Getty Images
Photo By: Paul Wagner/AP Photo
Rory McIlroy (2011 U.S. Open)
The latest example is perhaps the most impressive when factoring in age. Just a couple months after
one of the biggest Masters meltdowns in history
, a final-round 80 to blow a four-shot lead and finish T-15, the 22-year old from Northern Ireland didn't just win his next major, he did it in historic fashion. McIlroy blitzed the field at Congressional to set the 36, 54 and 72-hole U.S. Open scoring records to win by a whopping eight shots. His milestone victory gave him a first major title and showed he wouldn't let the recent memories of Augusta haunt him in what promises to be a long and successful career ahead.
Photo By: Andrew Redington/Getty Images
Tiger Woods (2006 British Open)
Unlike the others on this list, Woods' disappointment wasn't caused by his own play, but by a heavy heart. His missed cut at the 2006 U.S. Open at Winged Foot was the first of his professional career in a major. Not coincidentally, it came just weeks after his father, Earl, passed away. For the first time, golf fans saw that Woods wasn't an emotionless machine, but he didn't take long to show he would return to his dominant form. He won the year's next major, the British Open -- breaking down crying in the arms of caddie Steve Williams (left when it was over -- and then took the PGA Championship as well.
Photo By: Ross Kinnaird/Getty Images
Payne Stewart (1999 U.S. Open)
A perfect drive ending up in a divot led to a late final-round bogey in the 1998 U.S. Open at Olympic Club and a one-shot loss to Lee Janzen. But Stewart put himself right back in contention at his most cherished tournament the next year at Pinehurst. Playing in the final group with Phil Mickelson, the two battled all the way to the last hole before Stewart drained an 15-footer for par and his own one-shot victory. Sadly, that would be the three-time major champion's last win of any kind, as he died in a tragic plane crash four months later.
Photo By: Harry How/Getty Images
Davis Love III (1997 PGA Championship)
Like Tom Lehman, Love lost by a stroke to Steve Jones at the 1996 U.S. Open at Oakland Hills, missing a three-foot par putt on the 72nd hole. When Lehman won the ensuing British Open, the title of "best player never to have won a major" fell squarely on the long-hitting southerner. But Love would fulfill his major promise a little more than a year later when he claimed the PGA Championship at Winged Foot. He still has never claimed the national championship he covets, but having a major title of any kind at least helped ease the pain of his closest call.
Photo By: David Cannon/Getty Images
Tom Lehman (1996 British Open)
For a third straight year (he would make it four the next June), Lehman found himself walking away from the U.S. Open without a trophy despite playing in the final pairing. He blew a three-shot lead on the back nine and missed out on a playoff with Steve Jones by bogeying No. 18. This time, though, he got over his major hangover quickly when he went to Royal Lytham & St. Annes the following month. Lehman didn't make it easy with a final-round 73, but he held off Ernie Els and Mark McCumber by two to help heal his U.S. Open scars.
Photo By: David Cannon/Getty Images
Bernhard Langer (1993 Masters)
Langer's disappointment technically didn't come in a major, but to many players, the Ryder Cup is an even bigger deal. The German missed a six-footer for par on the 18th hole at Kiawah Island in the 1991 edition, known as the "War by the Shore" to give the Americans the win and go into golf lore as having missed one of the biggest putts of all time. But he bounced back with the flatstick to tame Augusta's greens 15 months later and claim his second green jacket.
Photo By: David Cannon/Getty Images
Arnold Palmer (1962 British Open)
Many call Palmer's playoff loss to Jack Nicklaus at the 1962 U.S. Open at Oakmont as a changing of the guard in golf. For Palmer, it meant a lot more on a personal level. Born in Latrobe, Penn., Arnie was devastated to be beaten by golf's new star on his home turf in front of his rabid fans. He shook off that disappointment quickly, though, by capturing the next major, the British Open at Royal Troon. The win showed the golf world that he was still the King -- at least for the time being.
Photo By: AP Photo
Jack Nicklaus (1962 U.S. Open)
This may be a bit of a stretch based on his age at the time, but Nicklaus, even as a 20-year-old amateur, had high hopes of winning the famed 1960 U.S. Open at Cherry Hills and had the lead on the back nine the final day until he was doomed by two late three putts. Playing partner Ben Hogan said after the round that Nicklaus should have won by 10 shots and that he would have won if he "knew what he was doing." Two years later, the Golden Bear answered any doubts about his ability to close out a major championship, making the 1962 U.S. Open his first professional win and his first of a record 18 major titles.
Photo By: AP Photo
Sam Snead (1949 PGA Championship)
This was by no means the most painful of Snead's four U.S. Open runner-ups, but his one-shot loss to Cary Middlecoff in 1949 at Medinah added to his frustration in the national championship nonetheless. After this loss, however, the Slammer recovered in quick fashion to claim the second of his three career PGA Championships a couple months later at Hermitage Country Club.
Photo By: AP Photo
Ben Hogan (1946 PGA Championship)
By 1946, it wasn't a matter of if, but when Hogan would win his first major. Two incredibly painful losses, though, made many believe it might take a little longer than thought. At both that year's Masters and U.S. Open, the Hawk had birdie putts inside of 20 feet to win outright, but instead three-putted to lose. In match-play format at the PGA Championship later that summer, however, Hogan didn't allow the tournament to come down to any pressure putts. Playing good friend Jimmy Demaret in the 36-hole final at Portland Golf Club, Hogan grabbed a 6 up lead after 18 and then fired a 31 to start the afternoon and win 10 and 9. Of course, his biggest comeback came four years later when he won the 1950 U.S. Open at Merion just 16 months removed from a life-threatening car accident.
Photo By: Paul Wagner/AP Photo