PGA Championship
Who were the winners and losers on Friday at the PGA? Let's take a closer look with our halfway edition of birdies and bogeys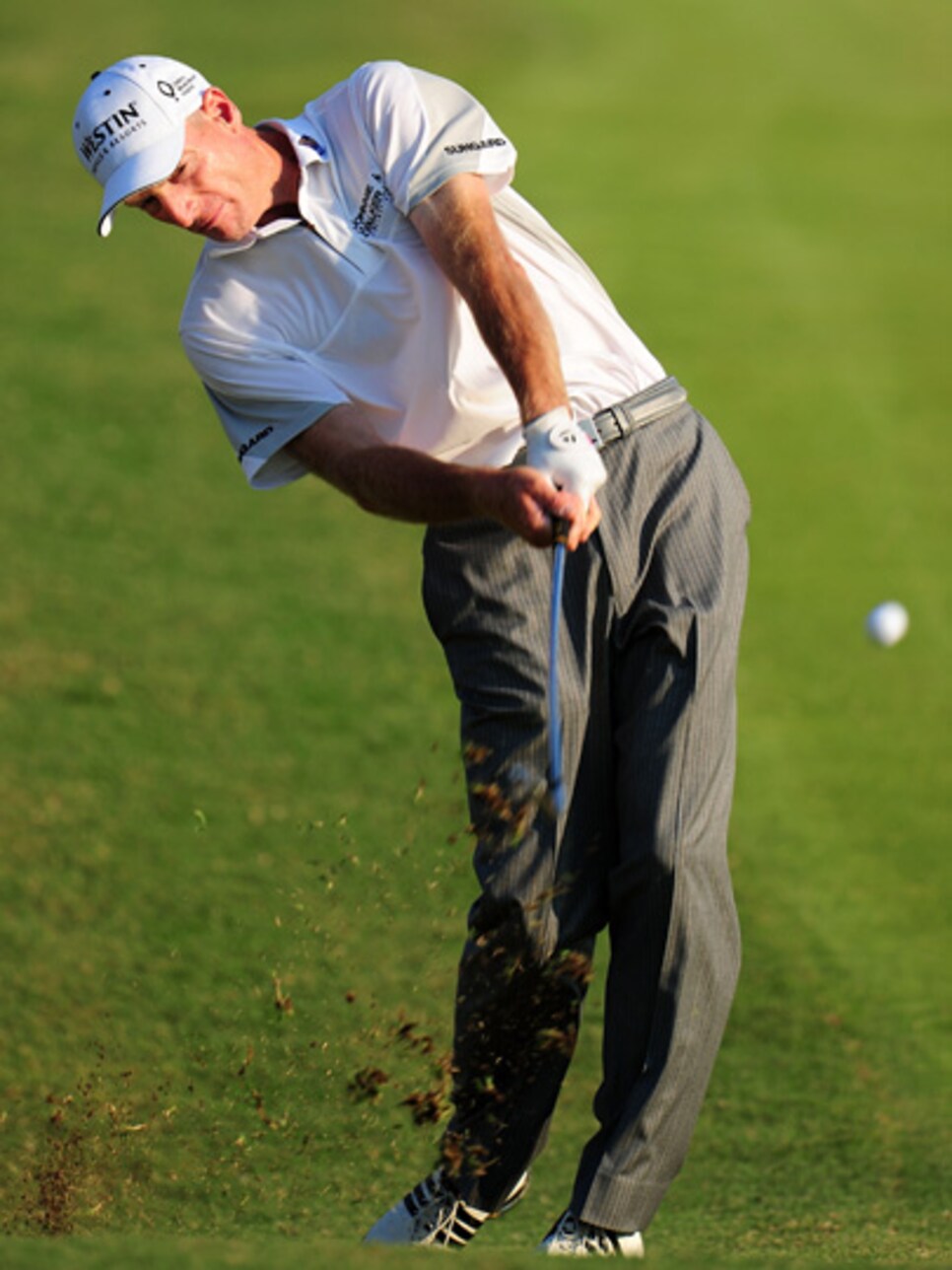 Photo By: Stuart Franklin/Getty Images
Photo By: Stuart Franklin/Getty Images
Photo By: Andrew Redington/Getty Images
Photo By: Andrew Redington/Getty Images
Photo By: Andrew Redington/Getty Images
Photo By: Stuart Franklin/Getty Images
Photo By: Stuart Franklin/Getty Images
Photo By: Sam Greenwood/Getty Images
Photo By: Andrew Redington/Getty Images
Birdie: Jim Furyk
Never mind that he's the defending PGA Tour Player of the Year and FedEx Cup champion, the 42-year-old Furyk is still a most unlikely player to be contending at Atlanta Athletic Club. Immersed in one of the worst seasons of his career, he has just two top 10s to his name and has been a non-factor in each of the season's first three majors. But after a recent switch to a belly putter, Furyk has found his form. On a leader board lacking in major championship pedigree, Furyk is one of the few players who has proven himself on the big stage.
Photo By: Stuart Franklin/Getty Images
Bogey: Tiger Woods
How bad has it gotten for the former world No. 1? So bad that that a lackluster day scraping it around in 73 was actually a dramatic improvement. The good news is Woods now has some time to right himself. The bad news is it's because he won't qualify for the FedEx Cup playoffs. We might not see him play again on this side of the Atlantic for several months. Whether we ever see him play like the Tiger Woods we once knew is a whole other question.
Photo By: Stuart Franklin/Getty Images
Birdie: Rory McIlroy
The early-morning intrigue was worth the price of admission alone. Rory nowhere to be found an hour before his tee time, then 45 minutes before his tee time. Would he play? Would he WD? The speculation was all put to rest when McIlroy showed up at 8:07 for his 8:35 starting time and was able to swing the club without severe pain -- even if it meant wearing a balky wrap around his wrist. Rare does a practice session make for such compelling theater, but McIlroy's on Friday was its own spectacle.
Photo By: Andrew Redington/Getty Images
Bogey: Rory McIlroy
Which is not to say McIlroy's day was a complete success. After moving to one under with a birdie on the uphill par-4 16th hole, his day unraveled when he found the water off the tee on 17. A triple bogey gave way to a second-round 73, in all likelihood dashing his chances of a second major in 2011.
Photo By: Andrew Redington/Getty Images
Bogey: Golfers As Athletes
We've come so far in distancing golf from its prissy image (see our compilation of the
10 best athletes on tour
). Then McIlroy hits a tree root on Thursday, and in some eyes, it was like he was juggling with knives by teeing it up. If golf wants to be taken seriously as a sport, then a player's ability to play through pain has to be a part of it.
Photo By: Andrew Redington/Getty Images
Bogey: Brandt Snedeker
If McIlroy got points for at least showing up on Friday, the affable Snedeker couldn't even get that right. Although his playing partners motioned to him to rush to the tee, Snedeker still showed up two minutes late. He was assessed a two-stroke penalty, and went on to miss the cut. "What I can I say, it's embarrassing," Snedeker said. "I feel like I'm a 2-year-old showing up late for class."
Photo By: J.D. Cuban
Birdie: Lee Westwood
After a disappointing showing at the Open in his native England, the world's No. 2 -- neck and neck with Steve Stricker for the title of Best Player To Never Win A Major -- worked his way back into contention here with a two-under-par 68. In taking up with noted sports psychologist Dr. Bob Rotella, Westwood's new approach means a curious paradox: trying not to care about the results, but hoping like hell that that pays off.
Photo By: Stuart Franklin/Getty Images
Bogey: Darren Clarke
Not that you couldn't see this coming. Soon after his popular win in the Open Championship, Clarke was back defending his bon vivant lifestyle when he fared poorly in the Irish Open. Then came the brutal heat of Atlanta, and a player who's never been confused with a fitness model was doomed from the start, finishing at 14-over par.
Photo By: Stuart Franklin/Getty Images
Birdie: Long putters
Between the newly-converted Jim Furyk's belly putter and Adam Scott and Keegan Bradley's broomsticks, longer putters can no longer be scoffed at as last-resort novelties. It doesn't matter how bad players look on TV with it. Hey, at least they're playing well enough to be on TV.
Photo By: Sam Greenwood/Getty Images
Bogey: PGA leader board
This might not be the worst leader board ever in a major, but give it time. Jason Dufner. Keegan Bradley. D.A. Points. John Senden. All are solid, even very good, professional golfers. But unless you're members of their immediate family, they're not the guys who are going to force you to rearrange your weekend.
Photo By: Andrew Redington/Getty Images