News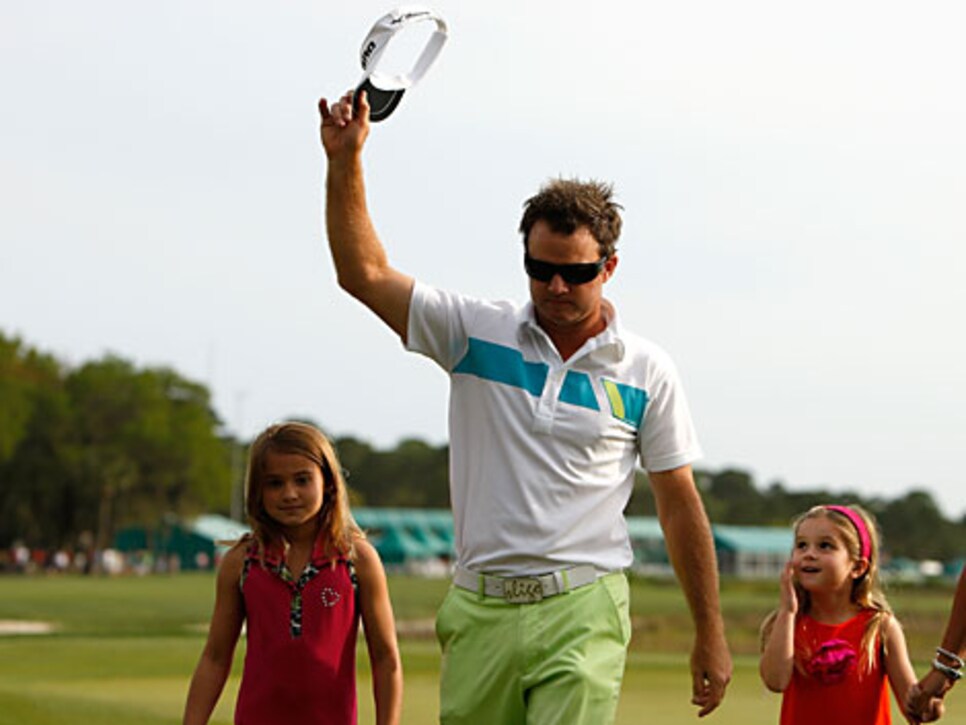 In winning the Verizon Heritage in record-setting fashion, Brian Gay impressed more than his daughters.
Birdie: To Brian Gay for his 10-stroke win in the Verizon Heritage. He bogeyed only two holes all week, the fewest in the tournament since 1983, and earned his first trip to the Masters.
Bogey: To Charley Hoffman, who slipped from a tie for 26th to 75th with a final-round 80.
Birdie: To Sergio Garcia, for apologizing to Augusta National and fans after criticizing the course and conditions following his final round of the Masters.
"They can do whatever they want," Garica said after a final-round 74 that earned him a tie for 38th. "It's not my problem. I just come here and play and go home."
Bogey: To Garcia, who during his apology referred to Augusta as one of the most "iconic" golf courses in the game. Okay, seriously, does anybody really believe he used the word "iconic" or even knows what it means?
Birdie: To Brendon Todd, who made Nationwide Tour history by acing the par-3 17th hole in the Athens Regional Foundation Classic two consecutive days.
"It's just pure disbelief," said Todd. "It was a stroke of good luck, twice in a row. I guess it's like catching lightning in a bottle."
The last player to ace the same hole twice in a tournament was Graham Marsh in the first and third round of the 2004 Senior British Open on the 11th hole at Royal Portrush GC in Northern Ireland.
Bogey: To David Bransahw, who doubled the 17th hole on Friday and lost four shots to Todd.
Birdie: To 58-year-old actor/comedian Bill Murray, for playing in the Champions Tour's Outback Steakhouse Pro-Am at TPC Tampa Bay on Friday.
Bogey: To Murray, for hitting a woman spectator with a wicked hook off the ninth tee. She was taken to a local hospital for treatment.
"She was overjoyed when she saw me because she said she had come out to see me and her husband had just said, 'I hope he hits it over here.' " said Murray.
Birdie: To Fredrik Jacobson, who shot 76 in the first round of the Verizon Heritage, then rebounded with a 68 to make the cut on the nose.
Bogey: To Bill Haas, who opened with a 68 and followed with a 77 to miss the cut.
Birdie: To the California Senate for making it illegal to stage events that force participants to speak English, a move triggered last year by the LPGA Tour. The measure now goes to the Assembly.
Bogey: To the LPGA, for opening discussion on the subject.
Birdie: To actor Michael J. Fox for playing in the Outback Steakhouse Pro-Am with professional Tim Simpson. Fox suffers from Parkinson's Disease, but was a great sport and a big hit with fans.
Bogey: To John Daly. While playing in the Monday After The Masters Pro-Am in Myrtle Beach, S.C., Daly was asked what he has been doing during his suspension on the PGA Tour. Said Daly, "(Jon) Gruden and I are starting a website for suspended golfers and fired football coaches."
Birdie: To Nick Price, for winning the Outback Steakhouse Pro-Am -- his first victory on the Champions tour in 39 starts. An 18-time winner on the PGA Tour, including three major titles, Price offset three double bogeys with seven birdies on Sunday in what only can be described as a very popular win, his first since the 2002 MasterCard Colonial.
Birdie: To Todd Hamilton, for showing signs of regaining form the last two weeks. The 2004 British Open champion tied for 15th at the Masters, his best showing since a tie for 10th at the 2006 John Deere Classic, and tied for fourth at the Verizon Heritage.
Bogey: To Colin Montgomerie for yelling at a photographer and TV cameraman at the Volvo China Open in Beijing last Friday. Rabbit ears at work again.
Birdie: To Hal Sutton, for cracking the top 10 for the first time in seven starts on the Champions Tour. Sutton shot 64-69 on the weekend to tie for third, his best finish since placing third in the 2003 MCI Heritage.
Bogey: To J.C. Snead, who closed with 83 at the Outback Steakhouse Pro-Am.
Birdie: To Curtis Strange, who after shooting 80-79 at the Outback Steakhouse Pro-Am, closed with a 67 on Sunday.
Bogey: To youngster Rory McIlroy of Northern Ireland, who failed to earn a top-20 finish for the first time in six PGA Tour starts this year. He tied for 58th.
Birdie: To Lanny Wadkins and Jose Maria Olazabal. Rumor has it both have been selected to the World Golf Hall of Fame.
Mark Soltau is a contributing editor to Golf Digest and the editor of TigerWoods.com.