News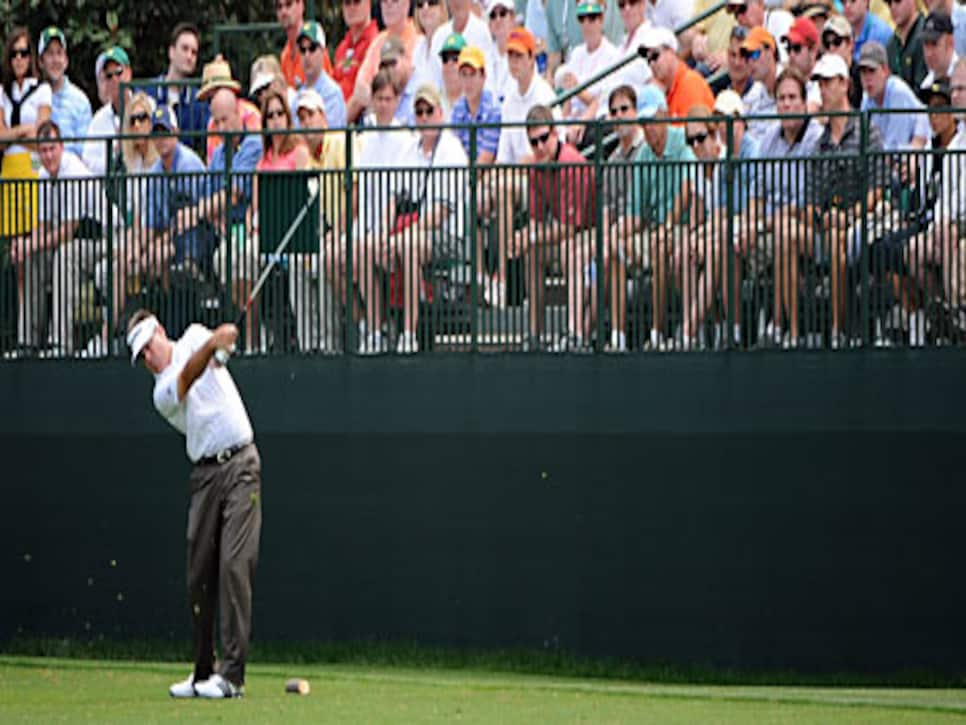 As he pursues his first major title, Kenny Perry says he draws on lessons from his father.
AUGUSTA, Ga. -- The second round of the 73rd Masters is now in the books. Who flourished? Who faltered? Let's take a closer look with our rundown of birdies and bogeys.
BIRDIE: Co-leader Kenny Perry said he was pushed hard by his father growing up and is grateful for it.
"I'm burning inside, wanting to kick everybody's butt," said the 48-year-old Perry, after his bogey-free 5-under-par 67. "I've got a will inside of me; my dad taught me, he beat on me so bad as a kid and any kind of game, sport, whatever, he beat on me so bad, cried all the time. And he would laugh in my face as he was doing it.
"You know, he was a smart man. He taught me a lot. At Ryder Cup when he came up to me and gave me that hug, you know, I told him, that was the greatest gift I could ever have given him. That was pretty special for us as father and son."
BOGEY: Well, you could say lots of bogeys, actually. There were some big numbers Friday posted by former Masters champions: Tom Watson, Ben Crenshaw and 73-year-old Gary Player shot 83s; and Zach Johnson shot 80. The highest score was an 84 by Prayad Marksaeng of Thailand. U.S. Amateur champion Danny Lee followed up a first-round 74 with an 81 and missed the cut.
BIRDIE: Player, competing in his final Masters -- No. 52 overall -- received a rousing and extended standing ovation when he reached the 18th green. Although he three-putted for a bogey, the fans saluted him again when he left the green and was congratulated by tournament director Billy Payne and several South African players, including defending champion Trevor Immelman and Rory Sabbatini.
BOGEY: After looking like a contender Thursday with a two-under 70, Greg Norman faded Friday with a 77. The 54 year-old Shark shot a 40 on the back nine. Following an admirable birdie at the par-3 12th, he double-bogeyed the par-5 13th and never recovered.
BIRDIE: Heavyweights. No, we're not referring to Angel Cabrera's waist size. Instead almost all of the game's marquee players are within reach of the lead through 36 holes, including Tiger Woods (seven shots back), Phil Mickelson (six), Padraig Harrington (seven) and Sergio Garcia (five). Presumably the folks at CBS are OK with this.
BOGEY: Harrington's tough luck on the 15th, when his ball moved shortly after addressing a birdie putt from six feet. After conferring with two rules officials, Harrington gave himself a one-stroke penalty. He then dropped the putt for a par, but he is still two under after 36 holes.
BIRDIE: Rory McIlroy, not for skirting the Rules of Golf, but for having the good fortune to still be playing this morning after yesterday's prolonged rules dispute.
BOGEY: Amateurs -- These guys, with their "classes" and their "full-time jobs" have to get their priorities in order. None of the amateurs in the field made the cut, marking the fourth straight year that only pros were playing on the weekend.
John Marvel, Mark Soltau and Sam Weinman.