News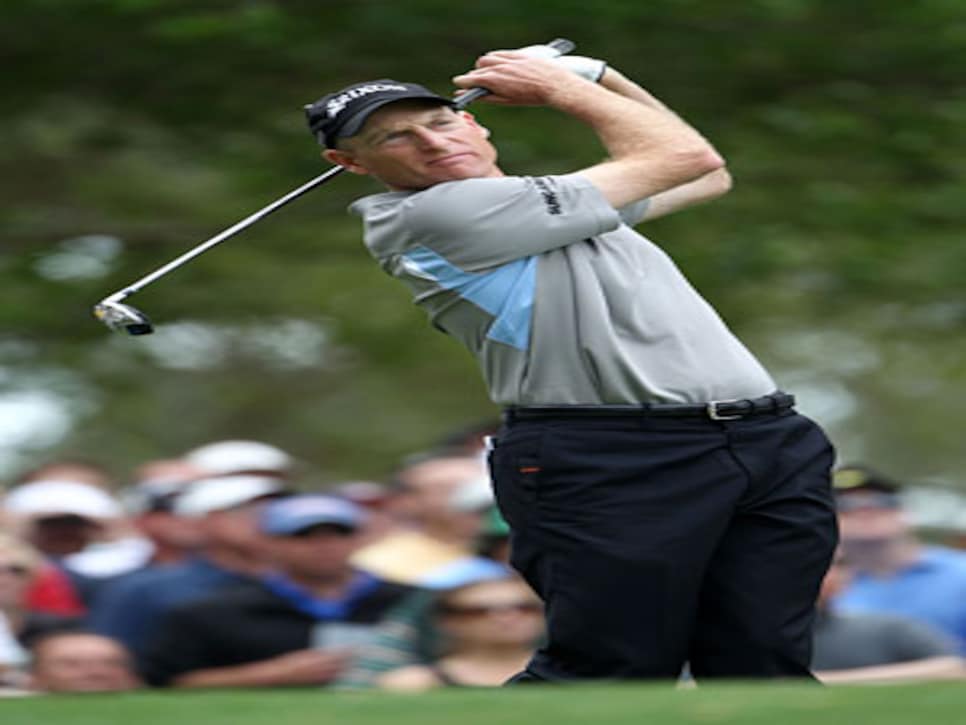 Jim Furyk gets a bogey for not coming close to making the cut this week.
Another Masters weekend is approaching and if the first two rounds are any indication, we should be in for a good one. Who were the winners and losers Friday at the Masters? Let's take a closer look.
BIRDIE: CBS -- The world No. 1 not only makes his return to the premier event in golf, he will be playing in the penultimate group, and in the heart of the network's Saturday telecast. Hey, Jim Nantz, you're going to have a lot of eyes on you for those Butler Cabin interviews. You might want to make sure you don't have anything in your teeth.
BOGEY: Pace of play -- The good news is many people who have never been exposed to golf will be watching the Masters this weekend. The bad news is they may again be subjected to painfully slow, wake-me-when-he-hits rounds. Not sure "Play Golf, It Takes All Day" is the slogan the game is going for.
BIRDIE: Augusta National Golf Club -- Yesterday was a little too generous for our tastes, but today was more like it. Low scores were possible, but players had to earn them. Unlike Thursday where there were 44 scores of par or better, Friday there were just 25. When the scores can go either way, you've set up the course properly. Then again, this place usually gets things right.
BOGEY: Pre-tournament favorites -- Did you have Jim Furyk in your office pool? How about Paul Casey? Three-time major winner Padraig Harrington? If so, you lose! Furyk's 36-hole total of 155 was better than only four players -- and two of them were over-50 past champions Craig Stadler and Ian Woosnam. Casey wasn't much better with a lovely 78 Friday for a 153 total. Harrington may have been the biggest bust of all, with nines of 37-37-38-37 for 149. We've seen better scores in club championship qualifying.
BOGEY: Ernie Els -- The Big Easy was at his teasing, frustrating best Friday. An early birdie got him to 2 under, then a pair of bogeys put him back to even. But after birdies at 10 and 12 got him back to 2 under, it looked like Els might become a factor. Forget it. At the 15th he looked like a mid-handicapper, making double bogey by hitting it in the middle of the pond from the middle of the fairway, then skulling two pitch shots. He even nearly dropped a ball when one hadn't gone in the water, a mental mistake that only the cries from fans in the nearby grandstands managed to stop. Sorely disappointing.
BIRDIE: Matteo Mannassero -- The 16-year-old Italian amateur ended a five-year drought for amateurs at the Masters. At four over par, he'll be the first non-professional to play the weekend since Luke List and Ryan Moore in 2005. The second low amateur honors for Mannassero at a major -- he accomplished the feat at last year's British Open at Turnberry -- will also be his last. Mannassero is set to turn pro after the tournament.
BOGEY: Senior set -- Sandy Lyle imploded, Fred Couples fizzled, and while 60-year-old Tom Watson is still hanging around after a 74, he lost some of the momentum from his magical start. As any old guy will always tell you, things just aren't like they used to be.
BIRDIE Ricky Barnes -- You may not know a thing about what he does the other weeks out of the year, but Barnes is slowly emerging as a big-game player, adding a Masters run to go with last year's runner-up in the U.S. Open.
BOGEY: Creative pilots -- A day after a plane towing taunting messages for Tiger Woods could be seen above Augusta National, the FAA put a halt to the flights. Just when you thought there has to be a limit to the green jacket's influence, you were reminded they have friends in high places -- this time literally.