Media
Behind the Camera at the Players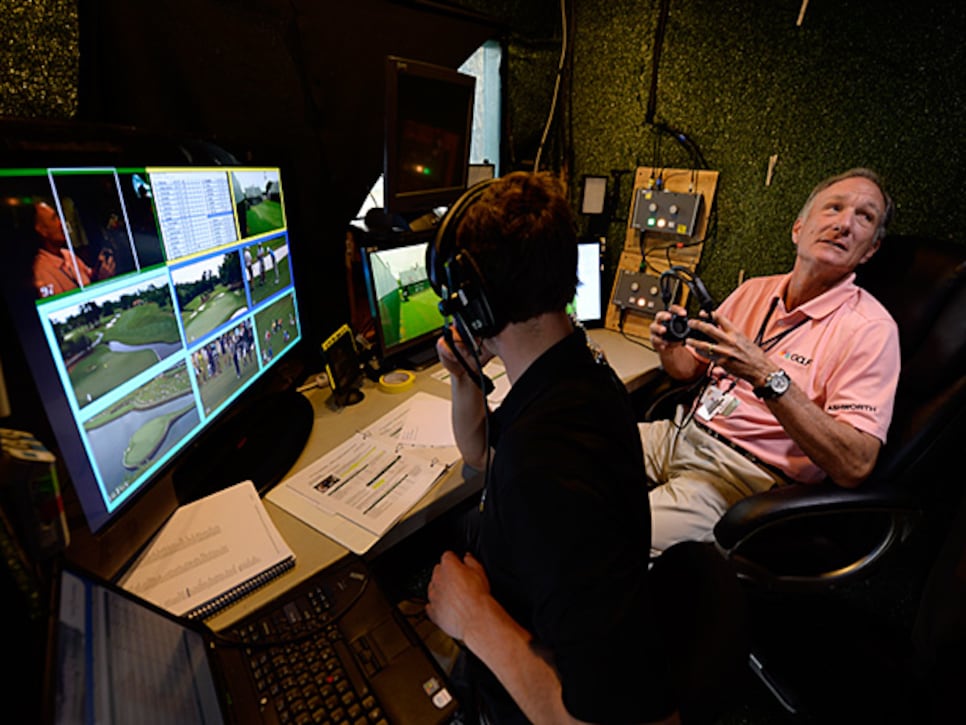 Gary Koch mans the 17th tower. In 2015, the tower's location moved from near the 17th tee to behind the famed island green. Now his view is a lot "better than most."•
More on the 17th tower
Koch works closely -- literally -- with his stat guy, Harrison Root. The two spend most of their time in elevated, cramped quarters monitoring the action on 17 and five other locations on the course.
You know that "other island" you see at TPC Sawgrass? That's cameraman Brian Phraner's home away from home every year at the Players. Here, Brian takes the boat to his work station.•
More on life on TPC Sawgrass' "other island"
With nine other cameras always devoted to shots being hit on golf's most famous hole, Phraner's main job is getting those slow-mo reaction shots you see of golfers as they nervously watch their golf ball and as they walk to and from the tee. Life on the "other island" is lonely and hot, but Phraner has a shady area under his perch if he needs to take a break.
Phraner can spin 360 degrees on his island to get shots on No. 16 as well. The moment he remembers most at the Players? Filming the bird picking up Steve Lowery's ball and dropping it into the water.
Safety comes first if you're going to go on the crane 120 feet above the most famous hole in golf. Cameraman John Boeddeker puts a harness on me before we ascend.•
More on the "office in the sky"
"This is the most picturesque spot in golf," Boeddeker says. Tough to argue with that. In fact, he published
a book of photos
he's taken from high above golf courses all over the country.
Only once in 20 years has the wind scared Boeddeker enough to have him request to be lowered early. "I sat down until I was back to the ground. I didn't go back up the rest of the day."
This is the main production truck where producer Tommy Roy and co-producer Tom Randolph run the show. Think of this as the brain that controls all aspects of the broadcast you see on TV.•
More on the busiest place at TPC Sawgrass
Another angle of the busiest place at TPC Sawgrass during the Players.
On the set of Golf Channel's "Live From The Players," the lively golf conversation never stops -- even during commercial breaks.•
More on "Live From The Players"
With that view of No. 17 behind them, it's easy for the "Live From" gang to enjoy themselves. Ear pieces and monitors below the surface of the desk (host Ryan Burr is looking at one here) keep the crew from being distracted by crowd noise, which is often directed at its members.
Stage manager Julie Hoddy counts down as this particular edition of the show that will air for approximately 50 hours during the week winds down. "I wish I could say it always runs smoothly. . . " Hoddy says. "It's always different."
If you want to see the rest of TPC Sawgrass,
riding around with Roger Maltbie
is the best way to do it. This week, Jason Randolph has the difficult task of navigating the huge crowds -- and tree roots. "You've been four-wheelin' with Rog!" Maltbie exclaims at one point.
"I've either played a game for a living or talked about playing a game for a living," Maltbie beams. "I've cracked the code."•
More on riding with Rog
Maltbie can be called upon to assess a situation and provide play-by-play at a moment's notice. "I'll hear (on my headset) 'We're going out to 4' and you know you're on 4," Maltibe says and then chuckles. "Well, you should know."
The fans love Roger -- and Roger loves interacting with them. How are you doing, Roger? "Can't complain. I'm still looking down at the divots!" It's Roger Maltbie, in the flesh! "How 'bout it? Can you imagine all this in one place?"
"I like to see the shots hit, I like to hear the reactions," says Maltbie, who won five times on the PGA Tour. "The best part of the job is watching these guys like Tiger. To see them face a shot that only a couple people could pull off and when they do, you just go 'Wow.' It's very cool."
TV Viewers don't realize how little Johnny Miller and Dan Hicks -- pictured here with managing editor/researcher Gil Capps -- are actually seen on air despite their nearly continual commentary. They also don't realize
Johnny does most of his broadcasts in bare feet
because of his Compartment Syndrome.
Miller and Hicks are the longest-tenured TV booth partners in golf history. "I'm so confident with him, I know if I'm gagging or something, if I wanted to take a 10-minute break, nobody would even know," Miller says of Hicks.
Quick! Shift change! Nick Faldo and Terry Gannon take over for Miller and Hicks. "This could not happen without liking each other off the course," Hicks says of NBC/Golf Channel's broadcasts. "It's a close-knit group."•
More from the 18th hole TV booth