The Loop
Behind the camera: The golf conversation never stops on Golf Channel's "Live From"
We're spending the week embedded with NBC/Golf Channel at the Players. Here's Part 3 in our series.
Golf Channel's "Live From The Players" is in a commercial. But it quickly becomes clear there are no real breaks on live TV.
Host Ryan Burr, readying for the next segment, asks, "Why was Tiger just in China? Nike?"
"Money," replies Brandel Chamblee, drawing laughs from Burr and the rest of this particular show's gang, David Duval and John Feinstein.
Chamblee doesn't look up for the entirety of this break, but instead looks down at a computer below the desk and takes notes. He's constantly checking stats and trying to make sense of them. Three hours earlier, he was doing the same thing, making final preparations for the upcoming show.
"It's never ending. You never, ever stop. Trying to predict who is going to win a golf tournament is one of the hardest things in sports," Chamblee says. "You're always asking yourself why they have a particular stat. The stats tell you what somebody did, but they don't tell you why they did it."
On the next break, however, Chamblee looks away from his laptop to tell a story to his colleagues about how Chris Como "resurrected Tiger Woods' short game at the 11th hour." All the while, this TV foursome is unfazed by noise from a big crowd on TPC Sawgrass' 17th hole, which serves as a backdrop to the set. There are cheers and groans for shots to the island green, but there are also shouts directed at the crew.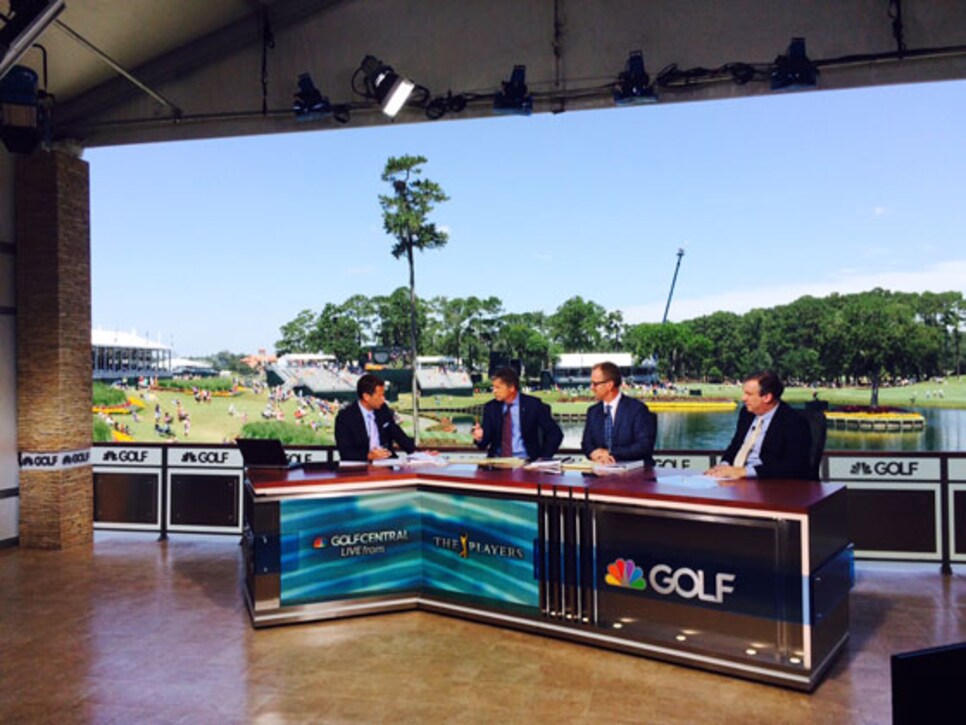 "DUVAL!!!" a particular rowdy fan yells.
They come back from break and Duval talks about TPC Sawgrass. "At this course, you have to bring it all." He speaks authoritatively -- as he should as a former Players champ -- but much more quietly than his cohorts.
Feinstein has no problem providing volume and strong opinions. As the show winds down, he talks about Phil Mickelson getting away without doing a pre-tournament press conference because he's always "gone out of his way to build up goodwill with the media" -- unlike Tiger Woods.
The final segment wraps up and Chamblee leans in and compliments Feinstein for his point about Mickelson/Woods. Then the gang continues the conversation on player-media relations. "Some guys don't get how much it can help them," laments Chamblee.
After a few minutes, they finally start to clear the desk. Julie Hoddy, the show's stage manager, seems pleased.
"I wish I could say it always runs smoothly. . . " Hoddy says. "It's always different."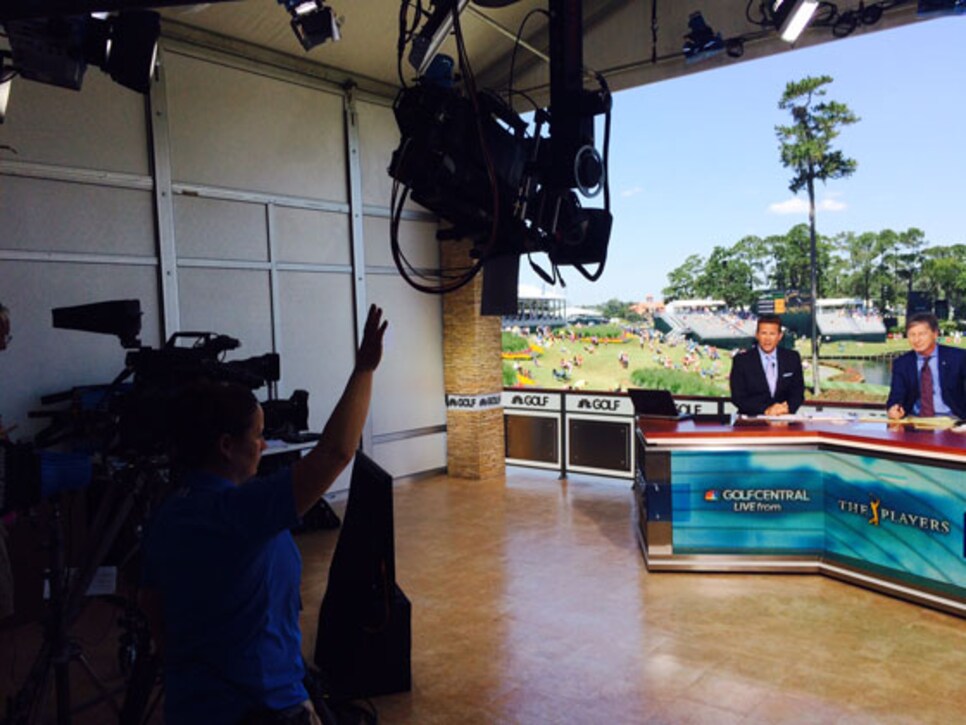 Part of that variability stems from the spontanaeity of the show. Each member of the cast has an earpiece for possible instructions from the producer and a monitor below the surface of the desk to help keep track of what's happening, but none of the lively conversation is scripted and the participants often just make eye contact with each other to indicate who they think should speak next.
But now the conversation is over -- at least, for a the time being. The network will air approximately 50 hours of "Live From" throughout the week.
Hoddy looks at Burr. "We've got a live hit at 1:15," she says. "Everyone else can go."