The Comedy Issue
The Funniest Tour Players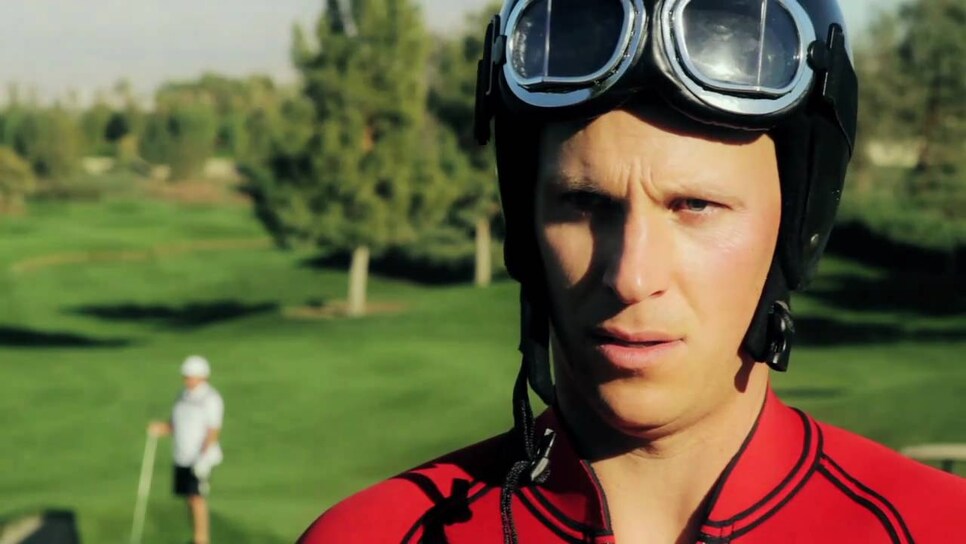 Photo By: Photo by Matt Sullivan/Getty Images
Photo By: Photo by Adrian Dennis/AFP/Getty Images
Photo By: Photo by Richard Heathcote/Getty Images
Photo By: Photo by Donald Miralle
Photo By: Photo by Sam Greenwood/Getty Images
Photo By: Photo by Christian Petersen/Getty Images
Photo By: Photo by Bob Croslin
By Tim Rosaforte
BEN CRANE
He's considered by many the funniest man in golf for his workout video (almost 1.4 million hits on YouTube) and role as creator and
star of The Golf Boys' hit "Oh Oh Oh
." "The whole thing is an accident," Crane says. Anticipate the band getting back together. "I have more ideas I want to express," he says. "I've got to help people."
CHESSON HADLEY
After flunking Q school in 2010, the Georgia Tech grad needed a sense of humor when he found himself back home in Raleigh, N.C., waiting tables. Teammate Roberto Castro describes him as a cartoon character. Best example:
getting Bubba Watson's autograph at this year's Players.
"It's off the cuff, random. I kind of like to make it awkward," Hadley says. "I'm not afraid to make fun of myself. I'm a moron, and I know it.
Photo By: Photo by Matt Sullivan/Getty Images
MATT KUCHAR
Most people think of Kooch as the last man to crack wise, but that's his reputation on Ryder Cup and Presidents Cup teams. He's especially in Phil Mickelson's kitchen, and not just in table tennis. "Kooch is pretty quick-witted," says British Open champion Zach Johnson. "He likes to jab—some of it premeditated, some of it on the spot." One of Kuchar's easy targets is Keegan Bradley, who says, "You're kind of shocked at what he says, because he's got that big smile."
Photo By: Photo by Adrian Dennis/AFP/Getty Images
LEE WESTWOOD
British humor is the best way to describe the sarcastic wit of this former No. 1 player. It comes through not only on Twitter but in day-to-day life, whether on the course or at the dinner table. "Very quick and very dry," says his business manager and longtime friend, Chubby Chandler. "Sometimes he surprises me how quick he is." On Twitter, Westwood goes after his Ryder Cup teammates and critics alike. "I've always had a pretty good sense of humor," he says, "but it's hard to show it on the course.
Photo By: Photo by Richard Heathcote/Getty Images
BOO WEEKLEY
He established himself in the team room at the 2008 Ryder Cup with his hilarious story about fighting an orangutan, and then his Happy Gilmore impersonation after launching a monster tee shot to open his singles match. The Europeans didn't think it was funny, but everybody else did. Weekley described his idea of going back to an old psychologist as "buying a 12-pack of beer, drinking it, and then discussing it with myself." Figures that he's buddies with Larry the Cable Guy.
Photo By: Photo by Donald Miralle
By Ron Sirak
MARINA ALEXGrowing up near New York City gives a big-city bite to her humor. This Jersey girl by way of Vanderbilt University is sneaky funny, the humor often delivered in the form of a sarcastic one-liner about the difficulties of golf or the travails of travel. Earlier this year she tweeted: "Hey @Qantas do you know your US reservations number is an automated sex hotline?... Just a heads up. Might want to look into that"
Photo By: Photo by Sam Greenwood/Getty Images
TIFFANY JOH
Anyone who alternately dons onesies of a shark, an alligator and a unicorn is, well, wacky. A classically trained pianist out of UCLA, Joh also makes parody music videos under the
YouTube account "cupofjoh."
Check out "What's Up With Lexi?" and "Grip It" with the bass cranked. Also look for her pithy photo captions on Instagram. After the U.S. Women's Open, she tweeted: "Bye lancaster! Amish you already!"
Photo By: Photo by Christian Petersen/Getty Images
CHRISTINA KIMThe lady has absolutely no edit button. At a cold, damp tournament someone commented on the weather, and she grabbed her breasts with both hands and said, "I've got my girls to keep me warm." As one of her best friends says, "It's pretty much verbal diarrhea." As soon as the ball leaves her clubface she's either yelling instructions or colorfully admonishing it.
JESSICA KORDAAnyone who fires her caddie at the turn in the third round of the U.S. Women's Open is an odd duck. In 2013 at Sebonack Golf Club, she did just that when she replaced Jason Gilroyed with her boyfriend, Johnny DelPrete. "I knew I needed to switch and just have a little bit more fun out there," Korda said. It worked, as the free spirit played the back nine six shots better. Another time she tweeted: "Well today Sucked, at least my socks are cool #Adidas #3"
Photo By: Photo by Bob Croslin
MICHELLE WIEFour years at Stanford University helped the phenom find her voice and the confidence to be unselfconsciously herself. "She's such a dork," says one close friend. "She never ceases to amaze me with her terrible, terrible taste in movies." She also remains a proud daughter of Stanford's Nerd Nation. During the NCAA women's golf final she tweeted: "Was supposed to head to the proam party an hour ago but I can't leave the TV until it's done!!!! #nerdnation"