Equipment
The Tour Players' Secret To Better Golf
Every week, professional golfers walk miles and miles on the course as part of their jobs, and for many, the most-treasured piece of their golf gear is their shoes. Wearing comfortable golf shoes enhances performance and keeps their feet energized throughout a round.
That's why Skechers Performance GO Golf shoes are so popular among younger and older tour players alike. The company's growing list of elite athletes includes the likes of Matt Kuchar, Billy Andrade, Colin Montgomerie and Russell Knox—the latter of whom is the brainchild behind the new Skechers GO Golf Focus 2 model for men. Knox worked with the company's design team to create this performance shoe that gives golfers confidence and stability when they play. Another PGA Tour player who was quick to switch to the shoe is Wesley Bryan. "Skechers Performance's commitment to innovative design and performance has me really excited about what we can accomplish together on the golf course," says the 28-year-old South Carolina native who became a social media sensation in 2014 as a trick-shot artist before earning his way to the top league.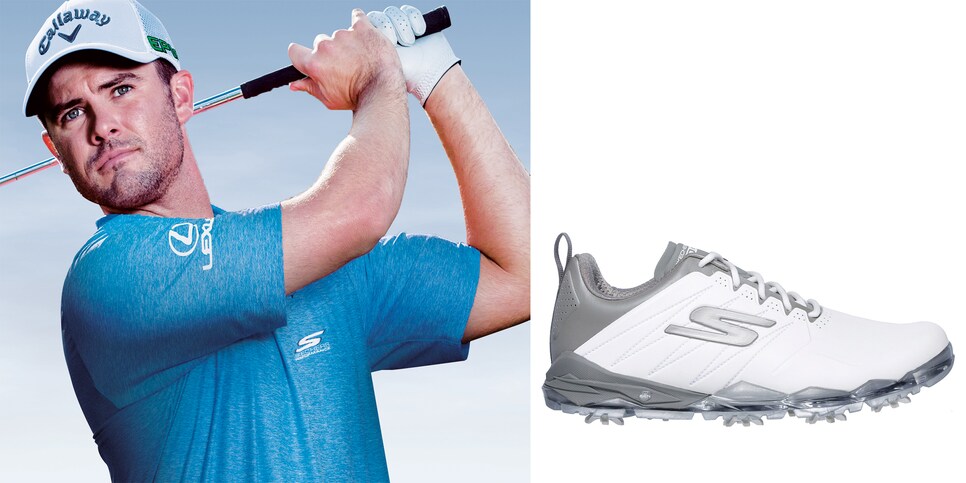 Wesley Bryan, who's making his Masters debut this week, wears the Skechers GO Golf Focus 2.
Known for his colorful final-round outfits, Bryan likes the GO Golf Focus 2's smooth styling, with a nearly seamless upper and 3D synthetic print overlay. It's comfortable throughout, with a soft fabric lining and a high-performance, cushioned insole. A waterproof, breathable barrier keeps the inside cool and dry cool. It also weighs just 14.2 ounces, so feet stay fresh right through the 18th hole, while aggressive swingers can be confident that the TPU outsole cradle provides outstanding ground support. "It's the perfect combination of performance and comfort, which is essential for any golfer," says Bryan. "Not only are the GO Golf Focus 2 the most comfortable shoes I have ever competed in, the technical design helps me play at my best."
Skechers Performance golf shoes aren't just for the guys. LPGA Tour phenom Brooke Henderson says she's confident that her Skechers GO Golf shoes can handle any course and weather conditions. "I switched over to Skechers Performance in 2016," says the 20-year-old five-time LPGA Tour winner. "I loved them right away. They really support my swing and they're super-comfortable." Henderson says other shoe brands used to give her blisters and other pains, "but once I switched to Skechers Performance, I never got them anymore, which is really a great feeling."
Henderson's Skechers GO Golf Elite 2 Adjust is a classic leather lace-up model with soft, next-generation cushioning and support inside, soft lining fabric, plus a padded collar and tongue. Weighing in at a mere 7 ounces, the shoe ensures that her feet never get tired on the course. The Skechers H2GO Shield water protection also keeps her feet dry, while the cleatless TPU outsole grips the turf with each step. "There's definitely enough traction with them for my game," says Henderson. "But if you're used to walking mountainous courses, there are also cleated Skechers GO Golf models with lots of traction also available." Perhaps best of all, Henderson loves that the shoes "match a lot of my outfits" with their contrasting colors and fun prints. "There's just so many different Skechers Performance styles that you can find the perfect one for you," says Henderson.

LPGA Tour star Brooke Henderson plays the Skechers GO Golf Elite V_2 shoe.
To shop Wesley and Brooke's favorite golf shoes and to see the entire Skechers GO Golf collection, visit goskechers.com. For the latest updates from Skechers GO Golf, follow @SkechersGOGOLF on Facebook, Instagram and Twitter.