Golf & Music
25 Musicians on the Course
Selections from Golf Digest's Top 100 In Music Rankings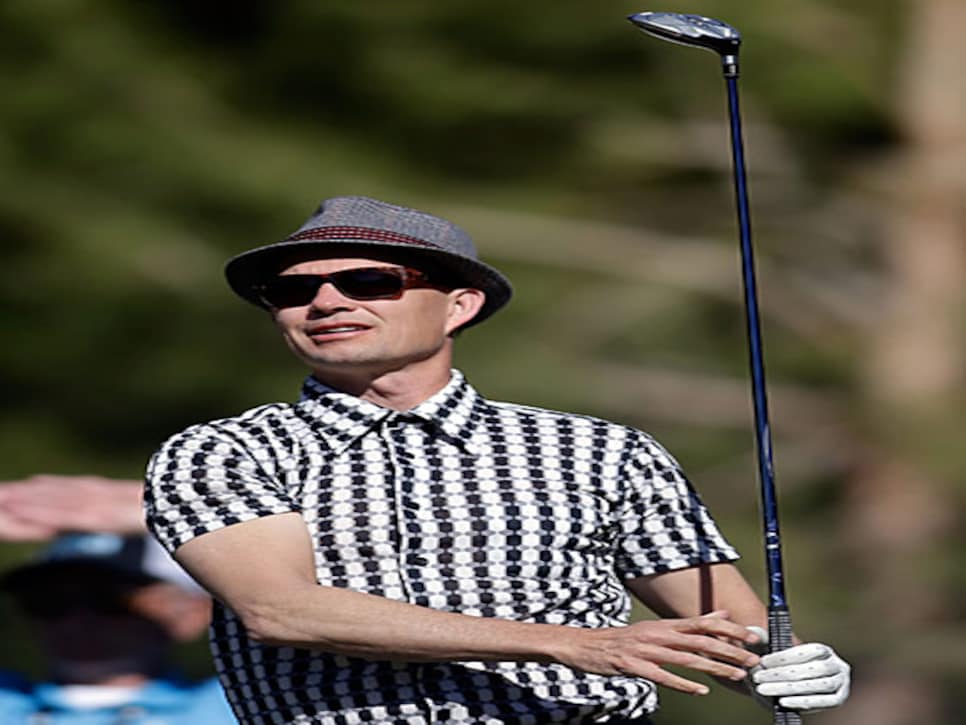 ADRIAN YOUNG
Handicap: 1.8No Doubt drummer plays seriously—and in a lot of celebrity events.
TAYLOR HICKS
Handicap: 13Former "American Idol" winner is glad to be home at Shoal Creek after Vegas stint.
KID ROCK
Handicap: 18Got only 16 strokes with pal John Daly at AT&T Pebble Beach National Pro-Am; observers say he needs a lot more.
DARIUS RUCKER
Handicap: 6.7Best golfer in Hootie & the Blowfish has also made it big as a solo artist.
JUSTIN TIMBERLAKE
Handicap: 4.2Consistently breaking 80 when home in California at Lakeside Golf Club in Burbank.
JERRY CANTRELL
Handicap: 18Alice in Chains singer/guitarist has been spotted practicing backstage.
COLT FORD
Handicap: 0Country singer played briefly on the then-Nationwide Tour as Jason Farris Brown.
JOE DON ROONEY
Handicap: 6Rascal Flatts guitarist/vocalist has good golf rep with fellow musicians.
STEVE AZAR
Handicap: 4.9Index for this Mississippi singer is on the way back down after recent rounds.
JOE DIFFIE
Handicap: 16Country singer is back in the spotlight after being named in Jason Aldean song.
ALICE COOPER
Handicap: 5.5Hall of Fame rocker is almost as well known for his golf addiction.
BRANFORD MARSALIS
Handicap: 11.7Saxophonist/band leader is super avid in Durham, N.C.
KENNY G
Handicap: 2Jazz saxophonist hasn't been posting scores but was a 2-handicap at the AT&T Pebble Beach National Pro-Am.
ADAM LEVINE
Handicap: 15Maroon 5 frontman and judge on "The Voice" benefited from Hank Haney's tutelage.
HUEY LEWIS
Handicap: 7Left his Montana home to spend the summer touring with The News.
CHARLES KELLEY
Handicap: 3.2Lady Antebellum singer/songwriter's awards include six Grammys.
CLAY WALKER
Handicap: 5.8Singer best known for "She Won't be Lonely Long" plays at the Golf Club of Tennessee.
JAKE OWEN
Handicap: 3.4Award-winning country singer was derailed from a pro-golf career by injury
KIX BROOKS
Handicap: 14.7Longtime partner of Ronnie Dunn is now solo and a radio host.
JOHN MICHAEL MONTGOMERY
Handicap: 10Country singer's baritone still draws fans.
TICO TORRES
Handicap: 8.4Bon Jovi drummer, ranked among greatest of all time, plays at La Gorce in Florida.
MARK BRYAN
Handicap: 12.5Hootie's lead guitarist plays at Bulls Bay Golf Club near his South Carolina home.
DON FELDER
Handicap: 15Former Eagles guitarist is a regular at Malibu Golf Club and plays the Alfred Dunhill Links.
VINCE GILL
Handicap: plus-0.3Country legend has been a scratch player since high school and practices more than he competes at the Golf Club of Tennessee. "Take any of the top 25 on this list, and any of us can beat the other," says Gill, laughing at the news he's our No. 1. "Now everyone's gonna be gunnin' for me. I'm toast!"
WILLIE NELSON
Handicap: 20At his Texas course, "par is whatever Willie shoots," says the pro.