News & Tours
Popular Search Results For Your 25 Favorite Names In Golf
Search engines can produce interesting, and sometimes surprising, results. Which got us wondering: What does the Internet have to say about the golf world? We plugged in 25 popular characters from the sport. Here are the verdicts: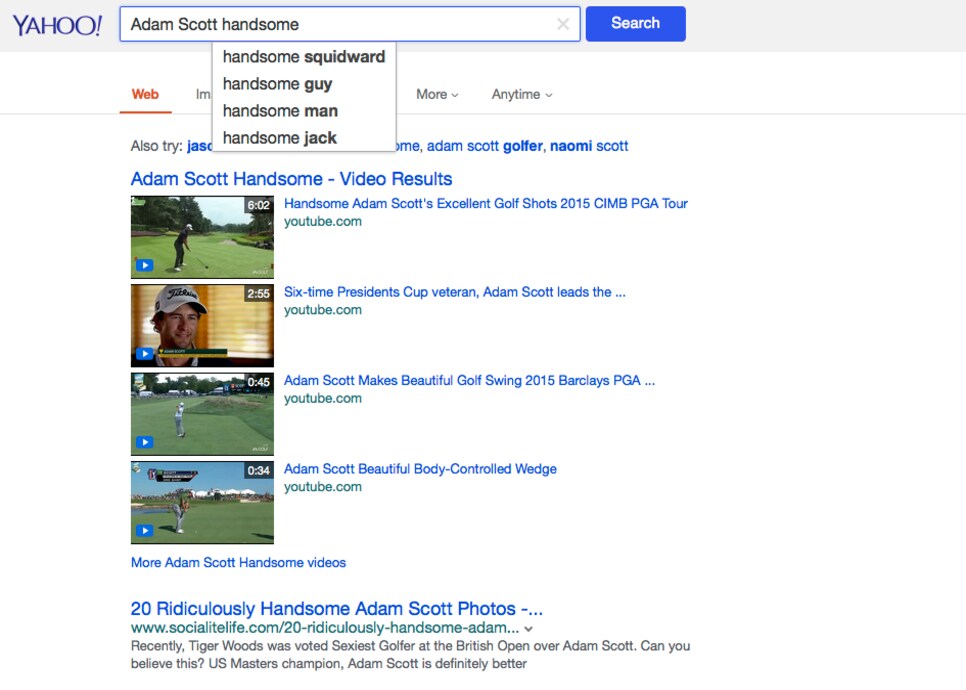 "Adam Scott handsome"
No argument here. Game recognizing game: Scott's a good-looking man.
"Arnold Palmer drink"
Forget that he won seven majors or brought the sport to the common man. According to Yahoo, the King is similarly relevant in liquid form. This is why old people hate my generation.
"Louis Oosthuizen double eagle"
In case there was any question regarding the most important tournament in golf, Shrek's double eagle on the second hole at Augusta National during the final round of the 2012 Masters -- an event in which he finished second -- takes precedence over Oosthuizen capturing the claret jug at St. Andrews.
"Bubba Watson hovercraft"
Frankly, I don't want to live in a world where owning a hovercraft is deemed normal. Side note: What the hell is Antonio Banderas doing under "related searches"?
"Dustin Johnson Paulina Gretzky"
Wait a second; the Internet is interested in a pretty girl? Get out of town.
"Ernie Els putt"
Poor Ernie. He's won four majors and is a Hall of Famer, but as search engines give present news priority, Els'
recent woes
are promoted.
"Gary Player workout"
This is how you know Player is a bad man: We have a multitude of health resources in books, programs, and diets...yet we are looking to the wisdom of an 80-year-old to get in shape. And with good reason: He could still kick our butts in a triathlon.
"Ian Poulter car"
It's one thing to have a car collection. But a car museum? That's living life right, my friends.
"Henrik Stenson strips"
Can you imagine if you're Stenson's kids? Whenever you want to see your dad's name in the news, you have to swim past your computer's suggestion to see him in his underwear. Dark times.
"Jack Nicklaus ice cream"
Maybe this result is doing his expansive golf resume a disservice. I, however, am taking a different approach: To rank above 18 majors and all of his course designs, this must be some damn-good ice cream.
"Jason Day son"
I know you have to be at least 35 to run for the White House, but given the acidic, schismatic nature of this year's campaigns, can't we put that aside and let Dash Day run for President? He may be the only person that can bring this country together.
"John Daly drive"
This search encapsulates Daly: "Drive - distance, over stadium seats, off of beer can, out of woman's mouth." Long live JD.
"Jim Nantz Masters"
I actually have a Google alert set, with Dave Loggins' "
Augusta
" notifying me of a Nantz-Masters news item in my mailbox.
"Johnny Miller comments"
True story: Type in "Johnny Miller controversial..." and Google messages reads "OVERLOAD ERROR."
"Jordan Spieth swing"
Personally, a tad shocked; Spieth's swing isn't picturesque by any means. I mean, I guess I could see why one would emulate the 22-year-old, if you put any weight into that whole "winning six times in the past 12 months" thing...
"Matt Kuchar Skechers"
Is it because people find Kuch's shoe ads hilarious, or hilariously awful? The answer is...yes.
"Patrick Reed shush"
That Reed trolling the European gallery didn't reignite the Revolutionary War shows that peace on Earth has a chance.
"Phil Mickelson backwards shot"
Anyone can pull off one backwards shot. That Lefty has multiple entries shows the man is a master of the wedge game. And a bit nuts.
"Rickie Fowler orange"
Adam Scott owns the tour's best swing, Jordan Spieth the best short game, Dustin Johnson and Bubba Watson the longest drives. But Fowler owns a color. That is power.
"Rory McIlroy throws"
C'mon, McIlroy doesn't have an explosive temper. Only explanation: Caroline Wozniacki works a side-gig as a Yahoo engineer.
"Tiger Woods return"
Not going to lie, the "2017" date made me wince.
"Zach Johnson caddie"
Damon Green is one of the more charismatic caddies on tour. And clearly Johnson loves him, evidenced by letting Green take the
claret jug
home for Thanksgiving.