Presidents Cup
We Rank All 25 Swings Of The 2015 Presidents Cup Teams
We'll know who scored the most points for the American and International Presidents Cup teams. But how do the swings that earned those points stack up? We asked two top teachers to rank the swings on each team from best to worst. Analyzing the Americans is Michael Jacobs, the No. 4 teacher in New York state and former Metropolitan PGA Teacher of the Year. He's based at the X Golf School in Manorville, Long Island. Breaking down the World team is Golf Digest 50 Best Teacher Brian Manzella, who is based at English Turn Golf & Country Club in New Orleans. He's also a two-time PGA section teacher of the year.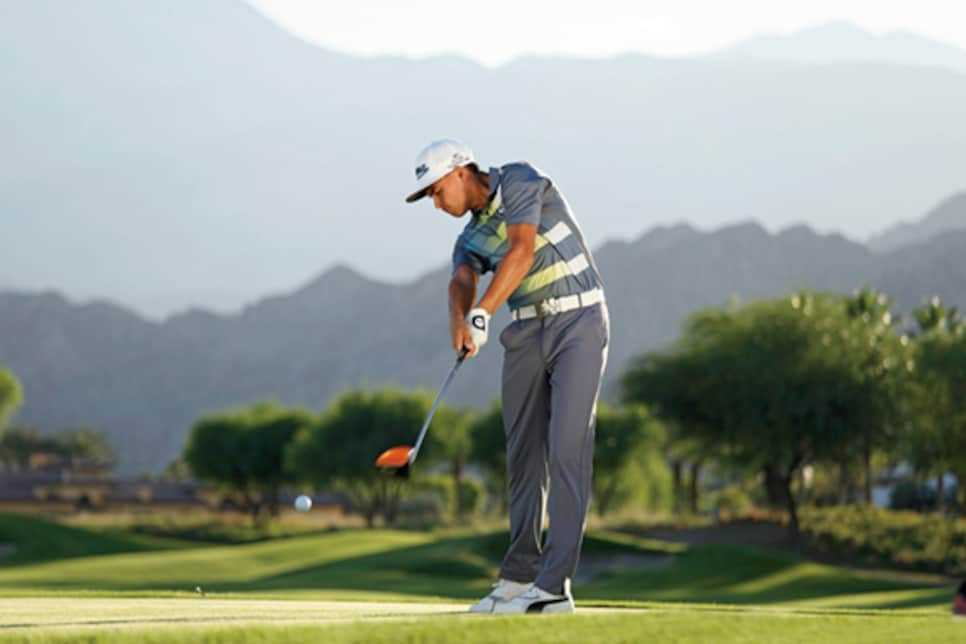 Photo By: R&A via Getty Images
Rickie Fowler - (No. 1)
It's one thing to be Dustin Johnson-sized and bomb it. Rickie Fowler is 5'9 and 150 pounds. He gets more bang for his buck than anybody on the American team. And his swing has only been getting more efficient over the last two years. His initial forcing of the club on the downswing is what sets him up for a big power surge down by the ball.
Jordan Spieth - (No. 2)
So far, so good. He never looks like he's pressing or doing something different when it counts. Making putts and getting up and down all the time also makes a golf swing look pretty good. It's amazing to think he's only 22.
Phil Mickelson - (No. 3)
He's known for making full swings on short game shots, and there's a reason he's so confident doing that. The whole time, he's making a flowing, swinging action. Most people have heard they have to keep the hands forward, so they start pushing toward the ball. Make a big swing doing that and you'll hit it into the gallery.
Dustin Johnson - (No. 4)
He's able to have his clubhead travel a long way back—which gives him more time and space to pump energy into the club. Downswing sequence is fantastic. Most people do a top-down downswing. He's the opposite. He starts with his legs and ends with the clubhead.
Matt Kuchar - (No. 5)
The bottom of his arc, from hands thigh high to thigh high, looks pristine. There are all kinds of different looking swings. What matters in the execution phase, and he puts the club in great position at impact.
Patrick Reed - (No. 6)
Everybody's about the foot thing…Don't let the left foot fool you. The contribution from the body has already been transferred to the club by the time you see that foot action. A lot of pop instruction is that both feet have to stay on the ground. Not the case at all. If you're generating a lot of momentum on the club, sometimes you have to leave the ground to change the direction of the club to turn the corner into impact.
Bill Haas - (No. 7)
The path that leads to the height of the handle at the top of the backswing is a key for him—and any player. A lot of times people talk about how far the club goes back, but the point of focus should be the height of the handle. If you take the club back too inside, you don't have a chance to get the handle very high and you'll have to reroute your swing.
Bubba Watson - (No. 8)
This is the definition of freedom. In an era of video analysis in everybody's pocket on a smartphone, a lot of people want to match up to positions and moments in time. He has as much of a freewheeling action as you can possibly see, and it's literally impossible to copy—even for him.
Zach Johnson - (No. 9)
This swing might not look like a lot of those on the PGA Tour, but if you look at the most important parts, it's terrific. Great transition and sequencing. Regardless of what his body is doing, the club is doing a lot of the right things. A swing the average person could actually pull off.
Jimmy Walker - (No. 10)
The handle comes through impact higher than most players, but one thing you can emulate is the consistency of his setup. From down the line, he's got one of the best looks on tour.
Jim Furyk - (T-11)
He's an easy target, but there's something to be said for sticking with your style no matter what, and focusing on what you do well. No matter what this looks like, he can repeat it. In an era of swing coaches and constant changing, he looks the same as he did in 1994, when he started on Tour. All he has to do is point to the all-time money list.
J.B. Holmes - (T-11)
Even though he has a shorter backswing than most, he makes it work by keeping the club inside the path of his hands longer in the downswing. That's where all the power comes from. It doesn't look like the classic "tour" move, but it's actually a better one for average players to copy because most people can't make that long, full backswing.
Chris Kirk - (No. 12)
Another example of a good swing that sometimes gets obscured by the way he moves his body. If you just look at the way the club moves from chest high to chest high, it looks like a lot of other players on the PGA Tour. But it's easy to get distracted by the way his head is tucked to his left shoulder at the top.
Jason Day - (No. 1)
The big thing he does, he has a lot of lower body movement to the right but without taking his upper body with it. He doesn't slide into the downswing, though. He sets it like a baseball player and rips through it. Phenomenal lower body movement.
Louis Oosthuizen - (No. 2)
Perfect posture. Perfect plane. Only thing he doesn't have is real extended arms through the ball. He's really long for his size, and doesn't look like he's jumping off the ground to do it.
Charl Schwartzel - (No. 3)
Great upper body position at the top. He's a real lean guy, and he makes a big turn. He keeps his chest closed for a long time, like Hogan, and that bent left wrist through impact. He doesn't force the finish at all. He just lets it take itself though.
Adam Scott - (No. 4)
Obviously it's really pretty, but the thing that gets missed is that his hands get a little steeper through transition. He doesn't lay the club down much. He turns his chest through more than anybody, so he doesn't get stuck like Tiger did with this same swing.
Danny Lee - (No. 5)
He probably is the best in golf at shallowing the club on the downswing. He's shallowing it and tumbling it at the same time, with no steer at all. He's a dangerous man, and will only get to be more so.
Sang Moon Bae - (No. 6)
He looks like he's going to be too much inside out, but he keeps his hands in and saves it. He has the second most dynamic hips in this group, after Day. Perfect finish—best in the group.
Hideki Matsuyama - (No. 7)
The obvious move everybody sees is this pause. He gets away with it because his upper body and lower body are as perfectly positioned for a push off as they can be. He can come to a stop and still push off an go. When he goes, the velocity of his torso and hips are a blur. If he had a normal transition, he might not be able to control it.
Thongchai Jaidee - (No. 8)
He has a little lift move he makes away from the ball to set it. He also has more knee flex than is the style right now. Nice, free finish.
Photo By: Getty Images
Steven Bowditch - (No. 9)
He takes it outside and lays it off a lot. A lot of players who do that get steep right away, but he lays it off even more. He goes hard at it low and left and freewheels through it. There's no way that clubface is ever going to close on him.
Photo By: R&A via Getty Images
Marc Leishman - (No. 10)
For a player as upright as he is at the top, he gets his left arm to come straight down, not away from his body. It's an unusual swing, but all the pieces work together.
Branden Grace - (No. 11)
The weird thing you see with him is that he widens his elbows on the takeaway. And even though he's steeper on the downswing, he keeps the face open and swings left from there. Very unusual move. Haven't seen a tour player do that in a long time.
Anirban Lahiri - (No. 12)
In and closed takeaway, which promotes him to go flat and across the line at the top. He actually adds lift to his arms and lays it down on the transition, and gets into a normal position. From there, he's very standard.
Photo By: Getty Images