Outside looking in
Ryan Fox is learning how it feels to be the odd man out on the International Presidents Cup team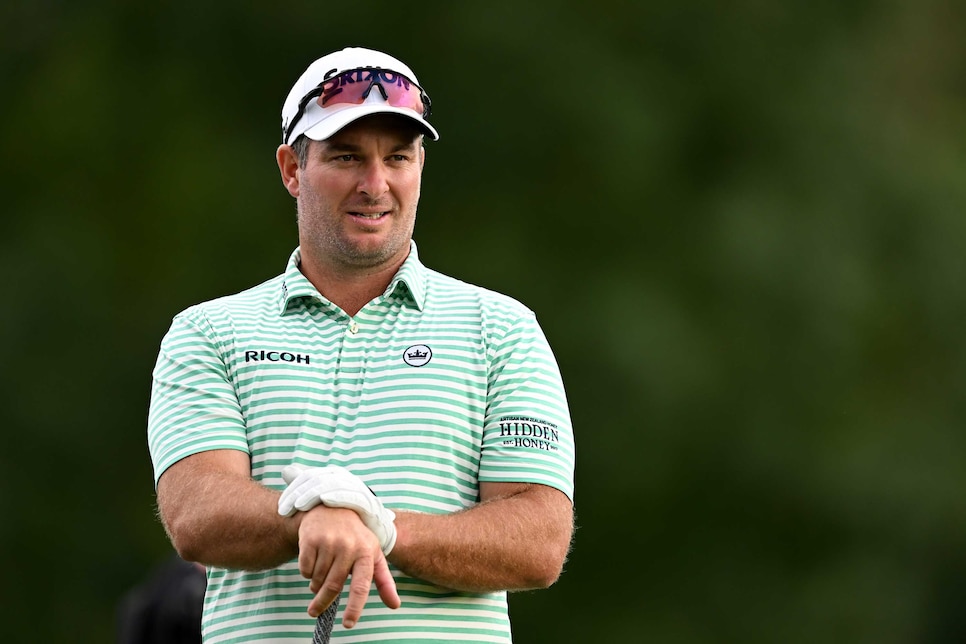 New Zealand's Ryan Fox was hoping to play for the International Presidents Cup team later this month at Quail Hollow, but he did not get a captain's pick.
Stuart Franklin
VIRGINIA WATER, England — At first glance, and even second, it is an interesting decision. When the International Presidents Cup team lines up at Quail Hollow later this month, Ryan Fox will not be there. Despite being ranked 47th in the world—higher than five of Trevor Immelman's six captain's picks (and Mito Pereira, one of the automatic qualifiers), the 35-year-old New Zealander was passed over by the former Masters champion.
It is a decision that has provoked puzzlement on the DP World Tour, where Fox plays most of his golf and is considered one of the tour's most amiable and likeable members. Adding to that befuddlement is the sure knowledge that the big-hitting Kiwi owns a game that is, in many ways, perfectly suited to the cut-and-thrust of match-play golf. "He makes birdies for fun," says Nicolas Colsaerts, fellow DP World Tour player.
More specifically, this year on the Old World circuit, Fox sits 11th in driving distance, 18th in putts per green in regulation and second in stroke average. As well as victory in Ras Al Khaimah, he has six other top-10s since January. All of which speaks to a sustained high level of performance as he prepares to play in this week's BMW PGA Championship, the DP World Tour's flagship event.
But not high enough. And, by Fox's own admission, not high enough when it perhaps mattered most.
"I've been a little off recently," Fox said. "The PGA Tour had a lot of big events in the run-up to the team selection. But I had front-loaded my schedule and played a lot of golf until the Open Championship. I haven't played a lot since then, on top of missing the cut in a couple of big events. That probably hurt me a lot. Plus, the event itself is pretty PGA Tour-centric. I completely understand that. While I'm disappointed, I can see what Trevor was thinking."
Specifically, Fox acknowledges he didn't play well at the U.S. Open, Scottish Open and Open Championship, then was not playing in the PGA Tour's FedEx Cup Playoffs to try to make a strong last impression. "I am a little bit 'out of sight, out of mind.' … Plus, if you don't qualify automatically, this sort of thing can happen," he said. "I get that, too. I'm disappointed, but I left myself open to being left out."
While show admirable equanimity, Fox does think he could have brought something to the team. "I'm long off the tee obviously. I've won a match-play event in my career. I tend to make a lot of birdies, which works well in head-to-head matches. If the picks had been made six weeks earlier, it would have been really hard to leave me out. But in those six weeks I didn't play much golf and that made me a little bit of an unknown I guess, especially in comparison to the guys playing in the U.S."
It can be safely assumed Fox will not be hanging his head in the wake of what many see as something of a snub. Like his father Grant—an all-time great member of the All Blacks rugby union team—he is a competitor, even if the tree-lined Wentworth lay-out is not best suited to a man ranked 161st on tour when it comes to driving accuracy.
"I'm not going to sulk about this," he insists. "But it has affected me. I found out I had been left out when I was in Switzerland two weeks ago and didn't do too well there. There was some rust involved there, too, though. Hopefully this week [at the BMW PGA] I can show Trevor what he is missing. I'll be trying to do that, but there are a lot of really good players here for that to happen. And this is generally not a place where I've done too well in the past. I think I've only ever had one top-20. But this year I do have some extra motivation. I'll be doing my best to at least give Trevor some second thoughts."
Unfortunately for Fox, his trepidations about Wentworth Club were warranted as he opened with a one-over 73 on Thursday to sit nine shots back of the lead mid-way through the first round.
"Regardless, I wish the team all the best," Fox said. "It's going to be a big uphill battle for them. The U.S. has a pretty amazing looking team. But everyone loves an underdog story. So let's hope the Internationals can at least make it interesting."