VIRGINIA WATER, England — Amidst the on-going battle between professional golf's establishment and the upstarts that are LIV Golf there has never appeared to be much common ground, or, heaven forbid, someone who could happily co-exist in both camps. One man gave it a brief try though. Pablo Larrazabal played in the first LIV event at the Centurion Club back in June because he wanted to see what the fuss was all about, then decided not to play any more LIV events.
"I had a deal with the DP World Tour to play in London [Centurion]," says the Spaniard, who won $360,000 in LIV Golf's debut event. "They agreed. So I did. I've never been a LIV player; I've always been a European Tour player, for almost 400 tournaments, in fact. I've never had any type of contract with LIV. I only played one event. I never left the European Tour. I never wanted to leave the European Tour. I never had the chance to play any more LIV events. I never had a contract on the table from them. So there is nothing more to talk about."
If that sounds a little like Larrazabal regrets his dalliance with the Saudi-backed circuit, join the club. Indeed, to say that he had a "deal" in place with the DP World brass might be a bit of an exaggeration. No one is saying so officially or on the record, but Larrazabal was told that he could of course choose to play in the maiden LIV tournament, but there would be consequences. Specifically, he would be fined $100,000 and have to serve a two-week suspension from a DP World Tour where he has won seven times—including twice this year—and amassed prize money of €10,888,308.
As it happens, in common with every other DP World Tour member who has made the leap to LIV, Larrazabal has not paid his fine. That, along with every other aspect of the on-going dispute between the two parties is stayed until matters are argued in a court of law in February.
"I'm not a big gambler, but if someone gives you some free money to go play in the casino and have a chance to win $4 million in one week, you have to at least think about it," says Larrazabal, re-focusing on his original decision. "I decided to take that chance. I thought there was no reason not to. I didn't play in the Scottish Open. I had to deal with that. I really wanted to play but things were like they were."
In fact, Larrazabal could technically have teed-up at the Renaissance Club one week before the Open. The appeal to stay the suspension of LIV players came through only on the Monday, well after the close of entries. But, even so, Larrazabal could have taken advantage of the situation and played. It was his decision not to do so.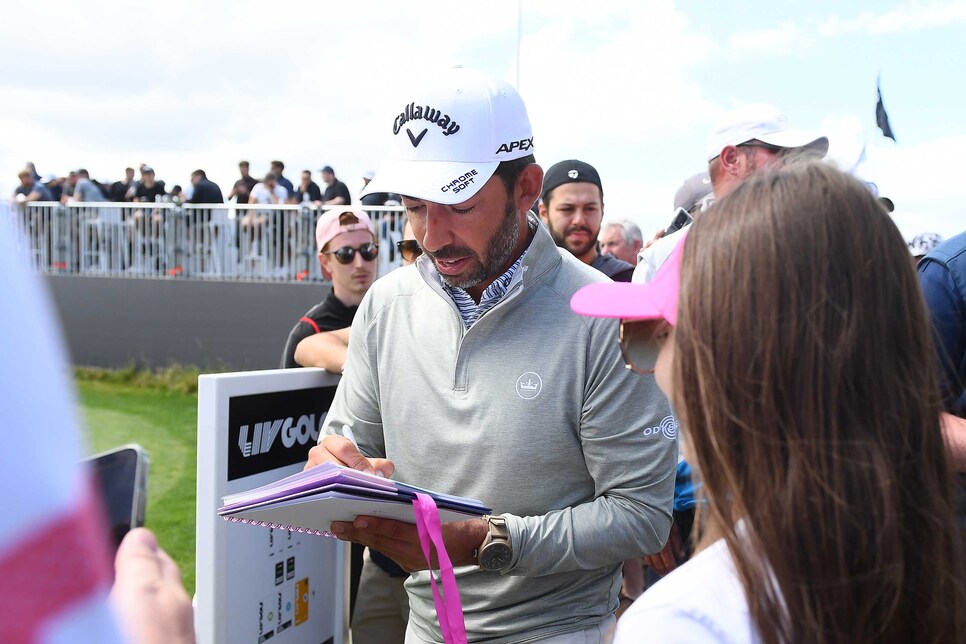 Pablo Larrazabal signs autographs ahead of the final round of the LIV Golf Invitational - London at The Centurion Club, the lone LIV event the Spaniard played.
Joe Maher/LIV Golf
That oblique reference to relations with the DP World Tour hints at what appears to be something of a crisis of conscience for the 39-year-old, who is currently ranked 69th in the world. But also with an acknowledgement of the temptations involved.
"Growing up, my dream was to play the European Tour," he says. "Now I am close to 400 events [actually 393]. I always wanted to succeed out here. But the best thing that LIV has brought to us is that we are independent contractors. I'm a Callaway guy until the end of next year. They are the best in the business. But if someone comes and puts another zero on that contract, you have to think about it."
After missing the cut in the Open Championship at St. Andrews, Larrazabal disappeared back to his homeland for almost two months, only reappearing at last week's Made in Himmerland event in Denmark, where he missed the cut.
"I was part of the tournament in London," Larrazabal reiterates for the second time. "I hadn't signed any papers with the tour. It was only words. I believe in people. I believe in words. I believe what people say to me is the truth. But my name was with the other LIV players, which is why I took six weeks off golf. Just to clear things up.
"I never left the European Tour," he protests (perhaps too much and too often). "I never wanted to leave the European Tour. I never had the chance to play any more LIV events. I never had a contract on the table from them. So there is nothing more to talk about. I'm here to do my best and win golf tournaments. Here we are to start the Ryder Cup points, which is one of the few things I have never reached in my golf career. I'm here to try and make Luke Donald's team. And here to feel younger every day."
Sounds a lot like Larrazabal is trying to move on. But also that he hasn't quite got there yet.