DP World Tour
Billy Horschel calls out LIV golfers in BMW PGA field: 'Why are you here?'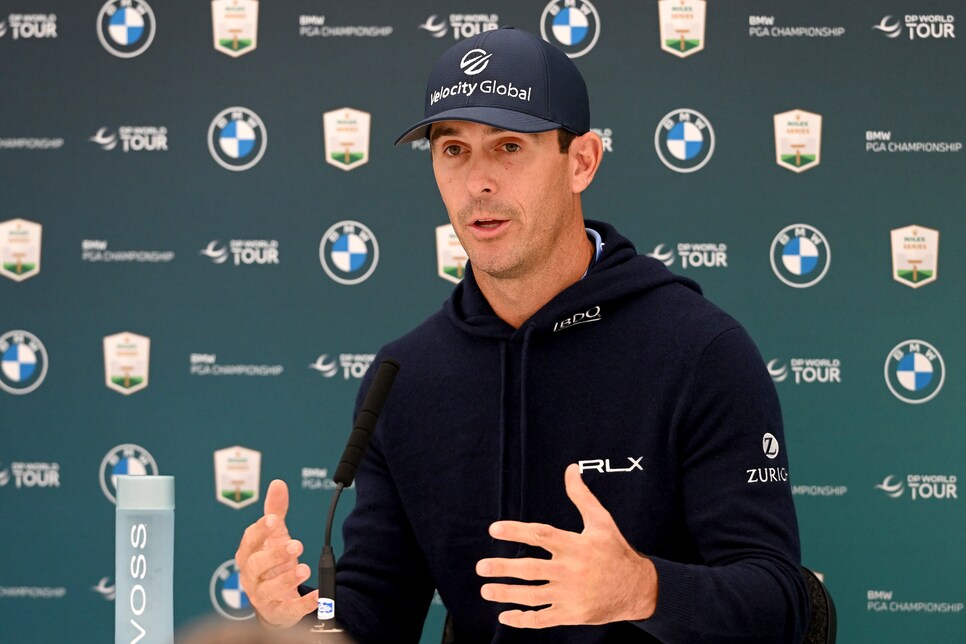 Billy Horschel addressed the media on Tuesday as the defending champion at the BMW PGA Championship and had a lot to say about the LIV golfers in the field.
Ross Kinnaird
VIRGINIA WATER, England — Tuesday on the range at Wentworth was busy, but quiet. No one was keen to talk about what everyone in golf is talking about this week at the DP World Tour's flagship event: The controversial presence of 15 LIV Golf players in the field.
Certainly, at least two of those interlopers were taking care to stay close to silent.
"Nothing to talk about," said a smirking Ian Poulter.
"I'm in 'no comment' mode," was Graeme McDowell's only response, on the record at least.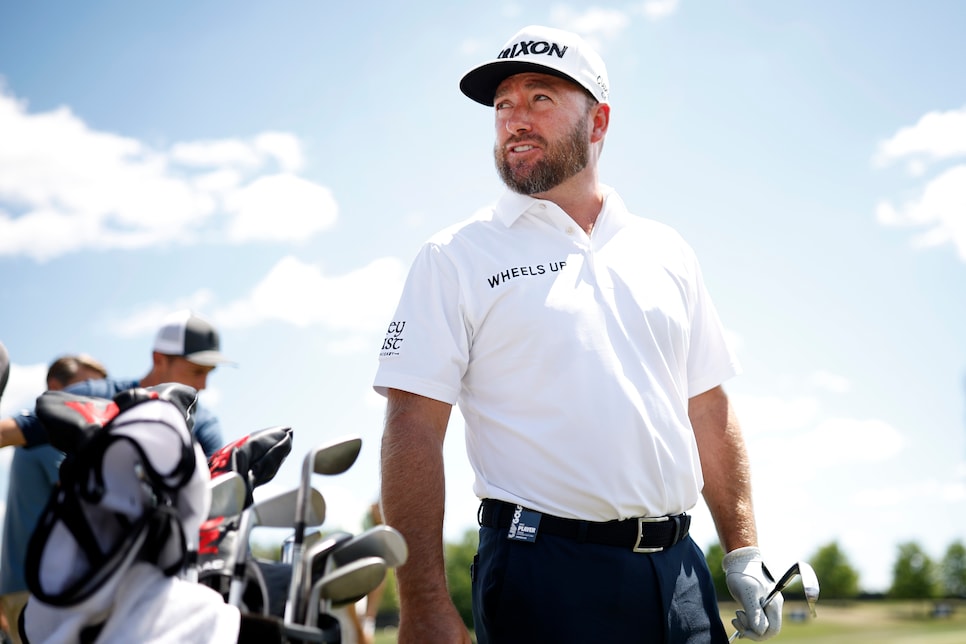 Still, that reluctance to enter the fray did not extend to the media center. And it certainly did not apply to Billy Horschel. Defending champion this week, the 35-year-old American—already a high-profile critic of just about all-things LIV, most recently when he played in July's Genesis Scottish Open—was in no mood to hold back when the subject came up at his pre-tournament press conference. Although he did start diplomatically.
"There are mixed feelings out here," Horschel said. "Some guys don't think the LIV guys should be here. There are some guys that are sort of in the middle. Then there are guys who feel that, 'Hey, these guys have helped build the DP World Tour, been part of Ryder Cups and helped the European Tour be successful.' So they are OK with it."
Oh, but that was just Horschel's equivalent of a pre-round warm-up involving a few half-wedges. Soon enough, he moved into full-blooded drive mode.
"Even though Lee Westwood and Ian Poulter have been stalwarts for the European Tour, I don't think those guys really should be here," Horschel said. "I honestly don't think that the American guys who haven't supported the PGA Tour should be here. Abraham Ancer, Talor Gooch, Jason Kokrak [who withdrew from the event], you've never played this tournament, you've never supported the DP World Tour. Why are you here? You are here for one reason only and that's to try to get World Ranking points because you don't have them [on the LIV Tour].
"That's hypocritical because of what some of these guys have said this week," Horschel continued. "When they said they wanted to play less golf. It's pretty hypocritical to come over here and play outside LIV when your big thing was to spend more time with family and want to play less golf. So that's my stance on it. I can see where other guys may differ and have a different opinion. But, like I said, it's tough. If we were on the PGA Tour, I would be hard-lined as I've always been."
To be fair, Horschel isn't alone in having strong opinions when LIV is mentioned. Former U.S. Open champion Jon Rahm was next into the media center and picked up on the same theme. While the Spaniard had no problem seeing the likes of Poulter, Lee Westwood and Sergio Garcia on the range, men who have "spent 20-odd years on the European Tour," he placed himself squarely alongside Horschel when it came to his view of some other LIV golfers.
"What I don't understand is some players that have never shown any interest in the European Tour, have never shown any interest in playing this event, are being given an opportunity just because they can get World Ranking points," said Rahm. "A good friend of mine, Alfredo Garcia-Heredia, is the first one out on the entry list right now.
"It bugs me that somebody who has played over 20 DP World events this year cannot be given the opportunity to play a flagship event," Rahm continued. "Others are being given an opportunity when they couldn't care any less about the event. They don't know. They don't care. They don't know the history of this event. They are only here because they are trying to get World Ranking points and trying to finish in the top-50. That's clear as day."
Moving right along, Horschel wasn't apportioning all blame to the players for the current situation that allows LIV golfers to compete on the DP World Tour at least until February 2023, when a U.K. court will determine whether LIV players can be prohibited from playing in DP World Tour events. At least in the Floridian's mind, the agents representing those players are at least as culpable.
"Some of these agents led their guys down a bad road," said Horschel, warming to his theme. "And when I say a bad road, they didn't give them the entire information, they didn't play devil's advocate the way they should have. I guarantee if I was in their seat, my agent would have played devil's advocate. Or I would have played devil's advocate. Or my wife would have played devil's advocate. In fact, we did play devil's advocate at the beginning of this year. What if LIV did come to us? What are the pros and cons?
"We made a list. There were a lot of cons on that LIV Golf side, and very few on the PGA Tour and DP World Tour side. There were a lot more pros on that side. I think the agents saw dollar signs and wanted to cash in on their side of it as well. Some of those agents did, I would say, give bad information. I know some players regret listening to agents."
Horschel wasn't done there. Not even close. Next to appear in his crosshairs was Garcia, the man who has scored more Ryder Cup points than any other player on either side of the biennial contest. In June, the Spaniard had sounded off in the locker room at the BMW International Open in Germany. At least according to Horschel, only some of the derogatory comments aimed at the DP World Tour made it into the public domain.
"Sergio had a kickoff in the locker room, and he said certain things that actually didn't make it out into the public," Horschel said. "Obviously some did, but he said some other things. I'm not going to say what he said because I wasn't there. So this is second-hand information. But some of the players who were there told me. I was pretty shocked at what Sergio had to say."
Horschel was lost for words only once during 20 minutes of what was nearly a monologue. If a LIV player were to edge him out down the stretch come Sunday afternoon, would he be able to stomach such a thing?
"That's a great question," he said with a smile. "I've thought about that. I've tried to think about as much stuff as possible, so I don't get stumped and have a response. But that one, I just don't know how to respond. I'll be shaking his hand. I will shake anyone's hand. I will congratulate him and say 'well played.' I'm not a sore loser at all.
"But let's just say, it wouldn't help the situation we're in right now. It would not be good if it happened. Simple as that."
And with that, he was gone. Still talking as he left.