Equipment
The 10 Biggest Equipment Stories of 2012
From a miraculous wedge shot to the ban of the anchored style of putting, equipment was very much part of the conversation this year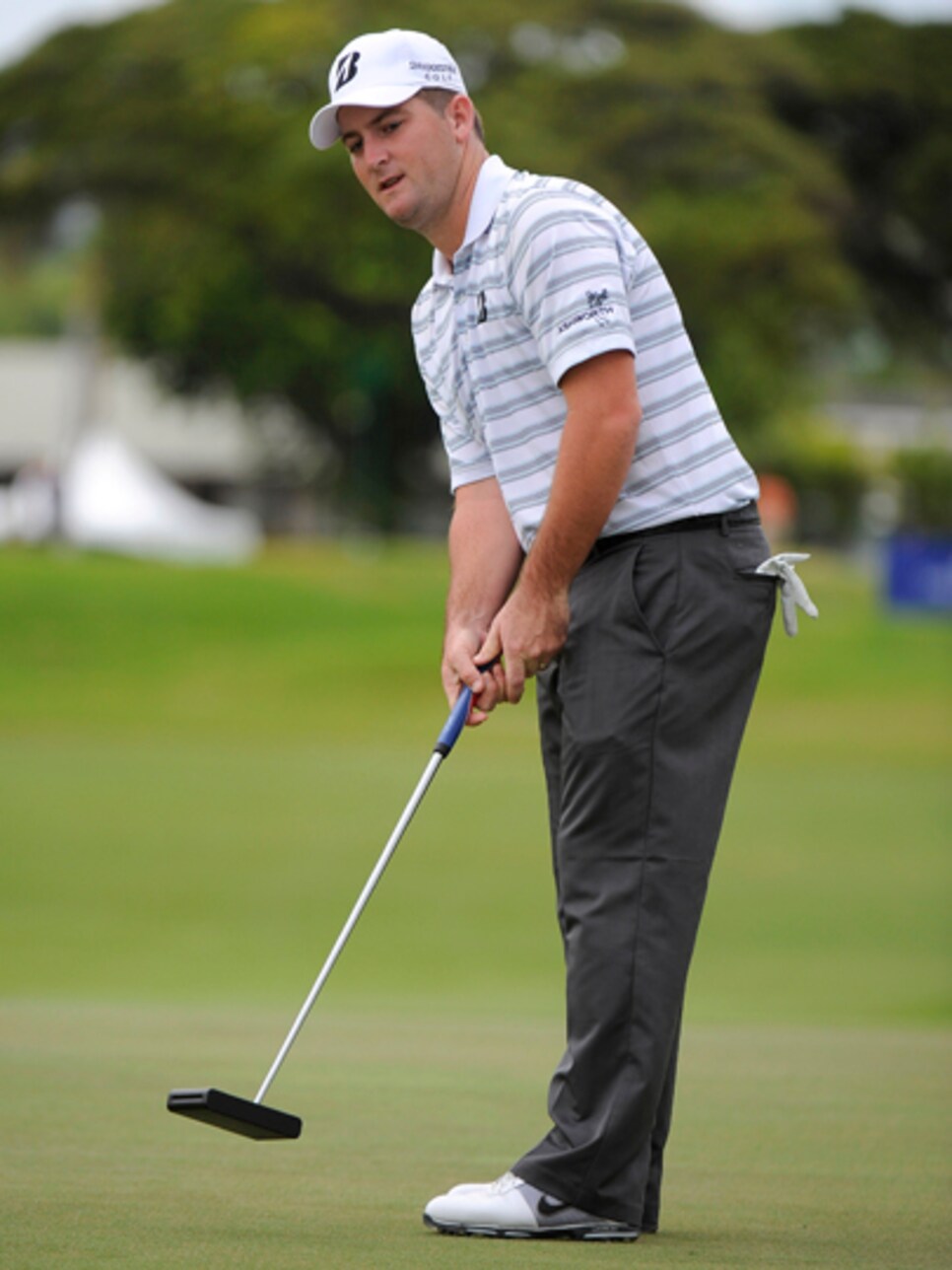 Photo By: Illustration by Eddie Guy
Photo By: Illustration by Eddie Guy
Photo By: Illustration by Eddie Guy
Photo By: Illustration by Eddie Guy
Photo By: Illustration by Eddie Guy
Photo By: Illustration by Eddie Guy
Photo By: Illustration by Eddie Guy
Photo By: Illustration by Eddie Guy
Photo By: Illustration by Eddie Guy
Photo By: Illustration by Eddie Guy
Matt Every's Orion putter
It was difficult not to notice Matt Every's putter at the Sony Open in Hawaii. The large-headed, rectangular-shaped putter is named Black Hawk from a company called Orion Golf. The putter weighs 440 grams (normal is between 340 and 365 grams). The idea behind the heavier weight and large head is to increase stability. Judging from Every's results the theory was working—at least for that one week. Every ranked 21st in the field in strokes gained/putting en route to finishing T-6. Success, however, was short-lived. He gave up on the putter a few months later.
Photo By: Illustration by Eddie Guy
Bubba Watson's shot at the Masters
One question from the Masters kept coming up: How did Bubba Watson hook a ball 40 yards with a 52-degree wedge from 144 yards with a modern golf ball? The answer is the shot that won Watson the Masters was actually easier than most people think. Although many claim the modern golf ball has taken shotmaking out of the game, Watson proved otherwise. Helping also make the shot possible is that although the loft on Watson's wedge read 52 degrees, he delivered the club to the ball at something closer to 46 degrees, or that of a pitching wedge. Still, Watson felt the pressure of the shot. "On a 1 to 10 scale, playing with buddies, to get it on the green, it would only be about a 3. But to get it that close, in that situation, was a 9 or 10."
Photo By: Illustration by Eddie Guy
TaylorMade's best-selling RocketBallz woods
It was launched with a striking technology, a funny name and a seemingly outrageous distance claim, but TaylorMade's RocketBallz fairway woods may have been more talked about in the first six months of the year than any single player in the game. TaylorMade's staff of players wore hats and shirts with the number "17" emblazoned on the front, indicating the guaranteed distance advantage of the new club. More than 100 players on the PGA Tour switched to RocketBallz fairway woods early in the year, and even at one point late in the season, Callaway's flagship endorser Phil Mickelson played a few tournaments using a RocketBallz 3-wood. At retail, the appeal was no less comprehensive with RocketBallz fairway woods often outselling not only all other fairway woods but all other drivers as well, month after month.
Photo By: Illustration by Eddie Guy
Brandt Snedeker's lost clubs
When Brandt Snedeker got off the airplane in Spain for the Volvo World Match Play tournament, he was missing some prized luggage: His golf clubs. And with his opening-round match against Thomas Bjorn coming up he went into scramble mode, cobbling together a makeshift set of 10 clubs. "I just thought to myself all I can do is to go out there and try and beat him playing with what I had," said Snedeker. What Snedeker had was John Senden's backup TaylorMade R11-S driver (with 10.5 degrees loft -- Snedeker's gamer is 9 degrees), a TaylorMade Ghost mallet putter he purchased in the pro shop for $100 and a set of Bridgestone J40 irons, a model similar to the set he normally plays but three-quarters of an inch shorter than his own irons. Amazingly, Snedeker won his match against Bjorn.
Photo By: Illustration by Eddie Guy
TaylorMade buys Adams
Once Adams Golf announced last January that it was "examining strategic alternatives," there was speculation about what would happen to the brand. Eventually rumors that TaylorMade was interested in acquiring Adams circulated. Those rumors became reality in March when TaylorMade announced it had reached an agreement to acquire all of the outstanding shares of Adams Golf for $10.80 per share in cash, or roughly $70 million. The sale culminated a whirlwind few weeks for the company. CEO Chip Brewer left Adams for Callaway Golf on Feb. 28 with company founder Barney Adams taking over as interim CEO. With the purchase, TaylorMade acquired some intriguing intellectual property in the area of slots in clubheads and Yes! Golf's C-Groove technology. Further, Adams has often won the hybrid count on the PGA Tour in recent years, making the two hybrid leaders part of the same company. In other words, the rich got richer.
Photo By: Illustration by Eddie Guy
Short ball experiment in Sweden
Golf's ruling bodies announced in 2005 they were studying a shorter ball, but for the most part those tests have been conducted without media scrutiny. Not until this summer was there a very public event using a prototype ball designed to fly shorter. The test by the R&A was held at a pair of courses in Sweden in June and involved average golfers and a ball reportedly designed to fly "8 percent shorter." Not surprisingly, the R&A said little about the results of the test, barely acknowledging that it took place, but one participant perhaps told us all we need to know. "I've gotten used to giving it all on my par 5s, and that's a fun part of the game that would unfortunately disappear," Mattias Brannholm, a 2-handicap Swede wrote in Golf World in June. "I wouldn't jump up and down with happiness if they changed the ball, but I also wouldn't protest. Others might feel differently, but it's not going to make or break the game for me."
Photo By: Illustration by Eddie Guy
Chip Brewer takes over at Callaway
When Callaway Golf, struggling to compete with chief rival TaylorMade for much of the last decade, began its search for a new CEO after the resignation of George Fellows in mid-2011, a company spokesman said, "We feel that a passion for the game is a valuable characteristic." In February they chose Adams Golf CEO Chip Brewer to take over the helm, and while he managed to fulfill the passion requirement, Brewer spent much of his first year on the job making his new company leaner (more than 10 percent of its global workforce was cut) and activating passion in those who remained. He told Golf World in July, "The team here is really passionate and has a lot of commitment to this company and the business. They have hated losing. They are smart people. Getting your ass kicked in the golf business is no fun. Getting this behind us and getting focused on kicking a little ass of our own is going to be energizing, and that's the next step for us."
Photo By: Illustration by Eddie Guy
Belly putters win majors, anchoring ban
It had nothing to do with both of the signature events of golf's ruling bodies being won by players using belly putters (Webb Simpson in the U.S. Open and Ernie Els in the British Open), but when the USGA and R&A announced a proposed rule change that would ban anchoring the club to the body while making a stroke, current events were clearly a crucial factor. So was the ancient past. "This decision gets back to the USGA and R&A feeling that fundamentally golf for 600 years has been about picking up the club, gripping it with two hands and making a free swing away from the body," USGA Executive Director Mike Davis said in November when announcing the proposed change. But Davis also said that anchored strokes appearing more frequently at the junior level caught the attention of rulemakers. "That caused us to say, 'Is this what we really want the game of golf to be in the future?' We came to the conclusion that fundamentally that's not part of golf." The announcement immediately brought questions from elite and amateur golfers, and even the PGA of America expressed concern that the rule change would lead to reduced participation. The ruling bodies are expected to make a final decision on the proposed change by March.
Photo By: Illustration by Eddie Guy
TaylorMade's RocketBladez irons
The logical follow up to its uber successful line of RocketBallz woods, TaylorMade's RocketBladez irons followed a similar formula -- keep the product ultra-secret till its debut; provide a cool, visible technology and promise consumers extra distance. When the club -- which features a polymer-filled slot in the sole to enhance the flexibility of the face -- debuted on tour in Las Vegas, people noticed. When Sergio Garcia won late in the year with it, it gained credibility. The company is touting the club as "this little thing" but there's little doubt it was a big story in 2012 -- and is likely to be even more so in the coming year.
Photo By: Illustration by Eddie Guy
Oakley sues McIlroy and Nike
When Rory McIlroy birdied five straight holes to win the DP World Tour Championship in November, it not only was an epic finish to a historic season for the No. 1 player in the world, it also was likely his last round using the clubs and ball that propelled him to the money titles on both the PGA Tour and the European Tour. McIlroy and Acushnet, the parent company of Titleist and FootJoy and the McIlroy's primary club, shoe and ball company since he turned pro in 2007, announced in October their contract would end at the end of the year. The announcement fueled speculation that McIlroy would sign a high-dollar endorsement deal with Nike, speculation further fueled when McIlroy's current apparel company Oakley filed a breach of contract lawsuit against McIlroy and Nike. There was no official announcement of a McIlroy-Nike deal as of late December, but McIlroy isn't worried about the transition to new sticks: "I think all the manufacturers make great equipment nowadays and it's all very similar -- a lot of them get their clubs made at the same factories. I don't think it will make any difference."
Photo By: Illustration by Eddie Guy