PGA Championship
Thursday's Birdies and Bogeys
Who were the winners and losers on Day 1 at Valhalla? It's time to take a closer look with another edition of birdies and bogeys.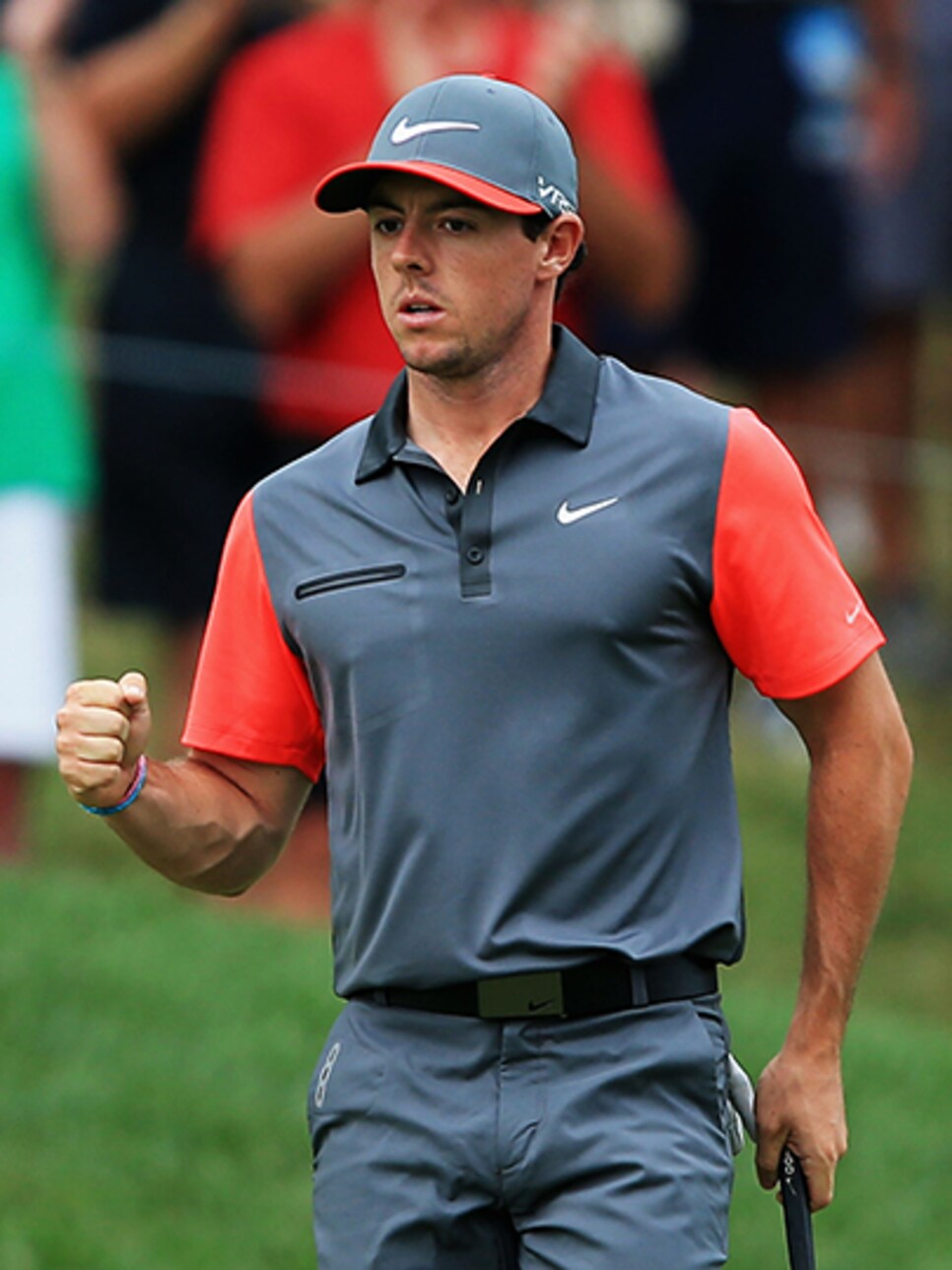 Birdie: Rory McIlroyJust when you thought the luster had faded -- a double-crossed 3-wood out of bounds on 10, a three-putt on No. 11 -- McIlroy rallied on Thursday. "Walking on to the 12th hole, I was muttering a few things to myself," he said. Was one of those things, "That's OK, I'll just birdie the next four holes"? Because that's what McIlroy did, and when he narrowly missed an eagle putt on No. 18, he had a 66, just one shot off the lead. The round was McIlroy's 11th consecutive round under par, with 13 of his last 14 in the 60s. "It just shows where I am mentally these days that I was able to do that," he said. --Sam Weinman
Photo By: Getty Images
Birdie: Lee WestwoodThis is right around the time when we'd mention Westwood's shortcomings in majors. His 67 starts without a win is the most among active players. The difference is Westwood has had such a dreadful summer -- missing the cut in both the U.S. and British Opens -- it didn't seem relevant. Well, now it is. After a closing 63 Sunday in the Bridgestone Invitational, Westwood carried the momentum into Thursday with an opening 65, matching his best-ever score in a major. Maybe he'll fall just short again this week. But at least now it looks like he'll have a chance. --SW
Photo By: Getty Images
Bogey: U.S. Ryder Cup TeamTiger and Phil are a mess. DJ is out. And now Matt Kuchar (back) and Jason Dufner (neck) have withdrawn from the PGA because of injuries. Attention all club pros. Please leave your contact information with Captain Tom Watson before exiting Valhalla. He's running out of options. --SW
Photo By: Getty Images
Birdie: Tiger Woods' backOn the bright side, Woods was at Valhalla for the season's final major and he made it through an entire round without exhibiting any signs of physical pain. Not bad for someone who was abruptly carted off the course and looked to be having trouble walking/sitting/tying his shoes/etc. just four days before. Winning remains Woods' ultimate goal at Valhalla, but just making it through this week without getting hurt again would have to be considered a small victory at this point. --Alex Myers
Photo By: Getty Images
Bogey: Tiger Woods' playWhile Woods' injury-free round was an encouraging sign, there weren't many positives to draw from his golf. Woods hit his share of wild tee shots. When he found the fairway, he hit clunky approaches. And he didn't exactly light it up on the greens with his one birdie coming on a holed pitch shot. His four bogeys in 18 holes nearly matched the five he made in 75 holes during his win at Valhalla in 2000. His opening 74 means he'll need a low round Friday just to make the cut this time. --A.M.
Photo By: Getty Images
Birdie: Rickie FowlerThis is getting to be a habit. Fowler entered the week with top fives in each of the year's three majors, and he's positioned himself well for a fourth -- or perhaps even better than that. A two-under 69 left him four shots out of the lead and gave him a remarkable eighth round in the 60s in his last nine rounds. Few players are riding as much confidence currently as Fowler. The question now is if he can do something with it. --S.W.
Photo By: Getty Images
Bogey: Keegan BradleyBradley was an essential part of both the 2012 Ryder Cup and 2013 Presidents Cup teams. He's currently 11th in the standings and seems an obvious pick for the U.S. team next month, but he's not exactly making Tom Watson's job any easier. Bradley hasn't won on any tour since 2012, and his opening 74 left him outside the top 100 after 18 holes. He'll have a good chance of making the cut and stumbling onto the Ryder Cup squad, but a player of Bradley's caliber should really be expecting more. --Luke Kerr-Dineen
Photo By: Getty Images
Birdie: Kevin ChappellChappell was certainly the biggest surprise on Day 1 at Valhalla -- especially since he was surprised to even be in Louisville. Despite being mired in a disappointing season and falling outside the top 100 in the Official World Golf Ranking, Chappell received an invitation from the PGA of America last Monday to play, and he responded with an opening 65 to grab a share of the lead. It's tough to expect a guy playing in his first major of the year and with one top 10 all season (a T-10 at Colonial) keeping this up, but he does have a T-3 at the 2011 U.S. Open to draw confidence from. A few more rounds like today and he won't have to worry about being invited next year. --A.M.
Photo By: Getty Images
Bogey: Angel CabreraAn opening 82 put Cabrera dead last among PGA Tour pros in the field. The scary part? It could have been worse. Cabrera was 11 over through his first 12 holes at Valhalla on Thursday. The round was particularly surprising considering Cabrera's win at the Greenbrier Classic last month and a final-round 67 at the British Open. Then again, maybe we shouldn't be too shocked by Cabrera's struggles. The PGA remains the one major in which golf's ultimate cameo performer has never contended. --A.M.
Photo By: Getty Images
Birdie: Jim FurykAt this point, Tom Watson's U.S. Ryder Cup team is nearing a full-on crisis. But one player who's proving to be a rock for Watson, it seems, is Furyk. He may not be winning, but so far this season Furyk has racked up six top fives, including three runner-up finishes. His bogey-free, five-under 66 Thursday quietly puts him T-4 and in a solid position to avenge last year's second-place finish to Jason Dufner. --L.K.D.
Photo By: Getty Images
Bogey: Adam ScottScott has said it himself: Right now is the time for me to win majors. He almost always puts himself in the mix -- he's finished T-14, T-9 and T-5 in the first three of 2014 -- but his putting has let him down on each of those occasions. That was the case again Thursday. Scott missed a number of short par putts and a handful of makable birdie putts en-route to an even-par 71. If he's hoping to make a serious run at the Wanamaker Trophy this week, that's going to have to change. --LKD
Photo By: Getty Images
Birdie: Ryan PalmerPalmer may be a combined 51 over in his previous six majors, but he's actually been putting together a solid year so far. His five top 10s in 2014 have him in the conversation for a Ryder Cup spot, and his seven-birdie first-round 65 has the three-time PGA Tour winner on his way to seriously contending for the first time at a major. --L.K.D.
Photo By: Getty Images