PGA Championship
Thursday's Birdies and Bogeys
Who were the winners and losers on Day 1 at Whistling Straits? It's time to take a closer look with another edition of birdies and bogeys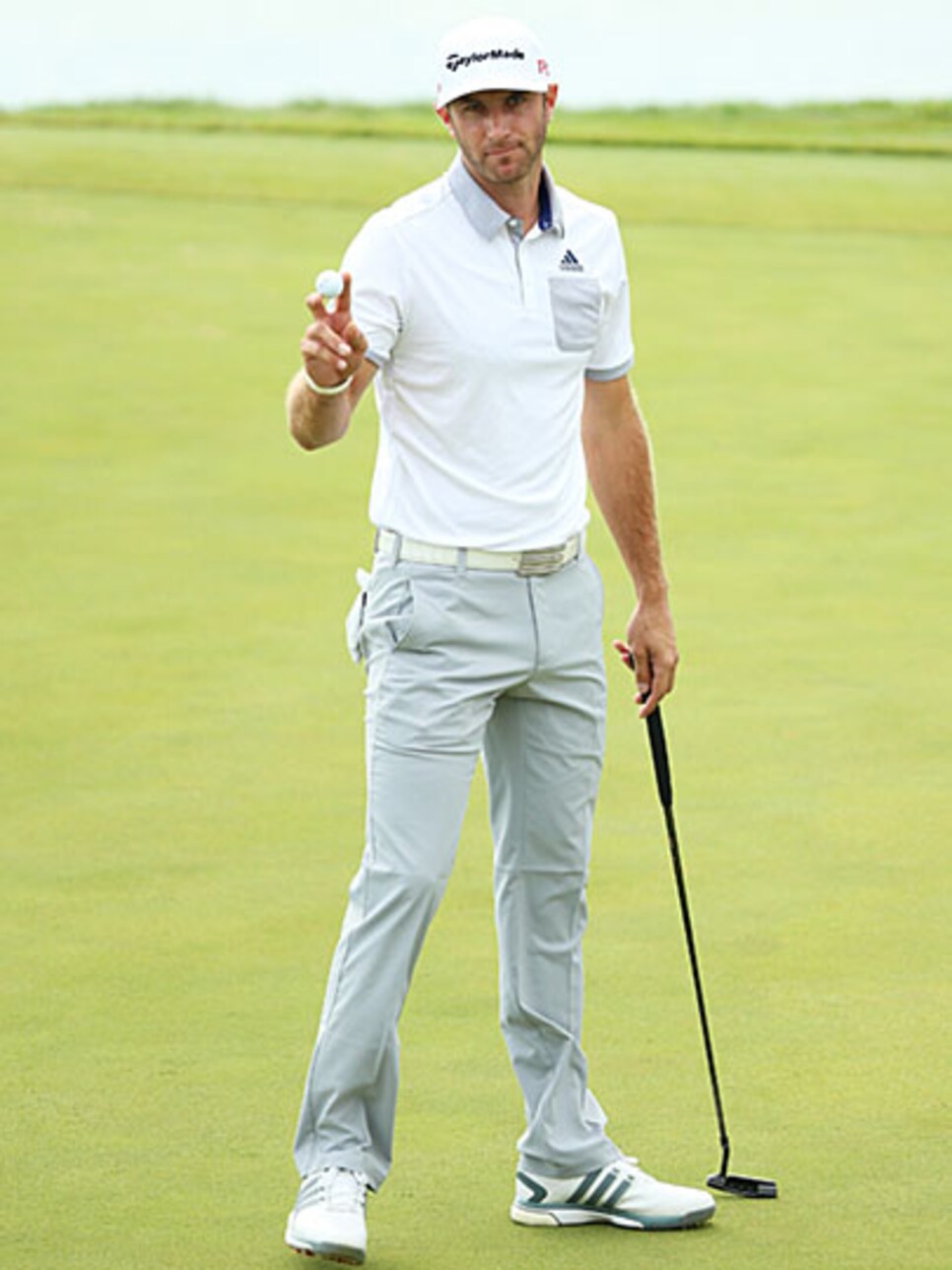 Photo By: Andrew Redington/Getty Images
Photo By: Jamie Squire/Getty Images
Photo By: Tom Pennington/Getty Images
Photo By: David Cannon/Getty Images
Photo By: Kevin C. Cox/Getty Images
Photo By: Andrew Redington/Getty Images
Photo By: Richard Heathcote/Getty Images
Photo By: Kevin C. Cox/Getty Images
Photo By: Richard Heathcote/Getty Images
Photo By: Andrew Redington/Getty Images
Photo By: Richard Heathcote/Getty Images
Photo By: Kevin C. Cox/Getty Images
Photo By: Julio Cortez/AP Photo
Birdie: Dustin Johnson
No one has ever accused Johnson of Thursday no-shows. After opening with 65 at the U.S. and British Opens, he returned to Whistling Straits for the first time since his 2010 bunker gaffe and fired a first-round 66 to take the early lead. True, for Johnson, Saturday and Sunday have been the historical obstacles. But through Day 1, he's put himself in a spot to make those rounds count. -- Joel Beall
Photo By: Andrew Redington/Getty Images
Birdie: Rory McIlroy
Rory McIlroy's ankle looked fine. His sly grin returned at Whistling Straits. And the long drives and piercing iron shots we're accustomed to watching were on display again as Rory opened up with a one-under 71 in his first competition since his post-U.S. Open ankle injury on the soccer pitch. He managed a par from a pond at No. 5. But he left a bunch of putts out there. Despite a closing bogey at the brutally tough 18th hole, Rory shot under-par in his first round back, which is encouraging and reason to walk off content with his return. -- Stephen Hennessey
Photo By: Jamie Squire/Getty Images
Bogey: Tiger Woods
The good news for Woods? He hit the first seven greens in regulation. The bad news? He was only even par at that point. A rockier back nine gave him a 75 and another rough start at a major championship. The main culprit? Shaky iron play that led to few great birdie chances and a few bad bogeys. Woods still has plenty of time to find his game, but it looks like he'll be in his 40s when he next has a chance to end his major championship drought. -- Alex Myers
Photo By: Tom Pennington/Getty Images
Birdie: David Lingmerth
How good was the Swede's opening 67? Aside from grabbing solo second place after Day 1, Lingmerth posted the best score of the afternoon and was one of only two players (Scott Piercy) with a late Thursday tee time to crack the top 15. It continued a trend of recent great play by Lingmerth. After missing four cuts in five starts, he won the Memorial in June and then finished third at the Quicken Loans National and added a pair of T-6s at the Greenbrier and at last week's WGC-Bridgestone Invitational. Announcers should get ready to say his name a lot more the rest of the week. And just remember, the 'h' is silent. -- A.M.
Photo By: David Cannon/Getty Images
Birdie: Jordan Spieth
After 10 straight pars to start, a short missed putt on the 11th hole dropped Spieth to one over -- but it seemed to get the young star fired up. Spieth avoided using a rare cold putter altogether on the next hole by chipping in for his first birdie and he wound up shooting a one-under-par 71. Not his best, but also pretty solid, especially since he played during the more difficult afternoon wave. It was good enough to keep Spieth's hopes of becoming just the third player to win three professional majors in one year alive and it brought him to an incredible 38 under par in 13 major rounds this season. -- A.M.
Photo By: Kevin C. Cox/Getty Images
Birdie: Jason Day
According to the Westgate sports book in Las Vegas, no golfer in this week's field was bet on more times than Day. And after Day 1 at the PGA, those gamblers are certainly holding onto their tickets. The mainstay on major-championship leader boards got off to another strong start with a 68. Day has finished in the top 10 in nine of the 20 majors he's played in his career. But while the close calls are close, nothing short of a win at Whistling Straits will be considered a success. -- A.M.
Photo By: Andrew Redington/Getty Images
Bogey: Rickie Fowler
One of the favorites coming in, Fowler put himself in great position at three under through 11 holes. Then he found one of Whistling Straits' 1,012 bunkers on his 12th hole (No. 3) and needed four shots just to get out. The ensuing quadruple-bogey 7 dropped him off the leader board and reminded everyone in the field how quickly Whistling Straits can fight back. The hole wiped out most of the good things Fowler did during his six-birdie round, and he finished with a 73. -- A.M.
Photo By: Richard Heathcote/Getty Images
Birdie: Matt Kuchar
Entering Whistling Straits with just one top 10 in the last 10 majors, Kuch put himself in prime position at the PGA Championship. Despite closing with two bogeys in his last five holes, Kuchar turned in an opening-round 68. Could the fan favorite finally add a major title to his otherwise impressive resume? -- J.B.
Photo By: Kevin C. Cox/Getty Images
Bogey: Victor Dubuisson
Dubuisson was one of 2014's breakout stars, placing T-9 at the British Open, T-7 at the PGA Championship and racking up a 2-0-1 record at the Ryder Cup. For whatever reason, Dubuisson has not transferred that fortune to 2015, missing the cut in the first three majors, with Thursday's 76 at Whistling Straits likely leading to another early exit. Dubuisson, at 25 years old, still has a bright future, but this season has been a giant step back. -- J.B.
Photo By: Richard Heathcote/Getty Images
Birdie: Danny Lee
Quick, who has been the hottest golfer on the PGA Tour since the beginning of July? If you answered Lee, it would be difficult for anyone to argue your choice -- and you've obviously been following pro golf closely. Lee picked up his first PGA Tour win at The Greenbrier Classic then missed a playoff at the John Deere by one shot before adding a T-4 at the Quicken Loans National at a T-6 at his first World Golf Championship last week. That recent success led many to pick the 25-year-old former U.S. Amateur champ as a sleeper this week. A few more days like this, though, and he'll be a household name. -- A.M.
Photo By: Andrew Redington/Getty Images
Bogey: Keegan Bradley
The course was angry at Bradley, my friends. After birdieing his first two holes, Bradley limped in with an opening-round 76, one of the highest scores among the morning tee times. He's only 29 years old, but it's starting to look like Bradley is a one-hit wonder. Since winning the Wanamaker Trophy in 2011, Bradley has only one PGA Tour victory. Worse, he has just two top-20 finishes in his past 15 major appearances since his PGA Championship conquest. -- J.B.
Photo By: Richard Heathcote/Getty Images
Bogey: Brooks Koepka's Front Nine
A dark-horse pick heading into Thursday, the 25-year-old's Wanamaker aspirations looked over before they could begin, as he turned the front in 40. Koepka looked so uncomfortable and disjointed in his wind-bashed surroundings that we half expected a "Brooks Was Here" sign on the first tee on Friday. -- J.B.
Photo By: Kevin C. Cox/Getty Images
Birdie: Brooks Koepka
But Brooks bounced back from a rough front nine in style. Five birdies in a row, highlighted by two chip-ins (holes 10 and 13), propelled Koepka into red numbers momentarily. Two bogeys coming in left him at one over for the round, but after going out in 40, that five-hole birdie stretch in difficult winds was one of the amazing feats of Day 1. The big-hitting 25-year-old hasn't finished outside the top 20 in his last five events, including a T-10 at St. Andrews. Now, onto cutting out those big numbers. --S.H.
Photo By: Julio Cortez/AP Photo