The Masters
Thursday's Birdies And Bogeys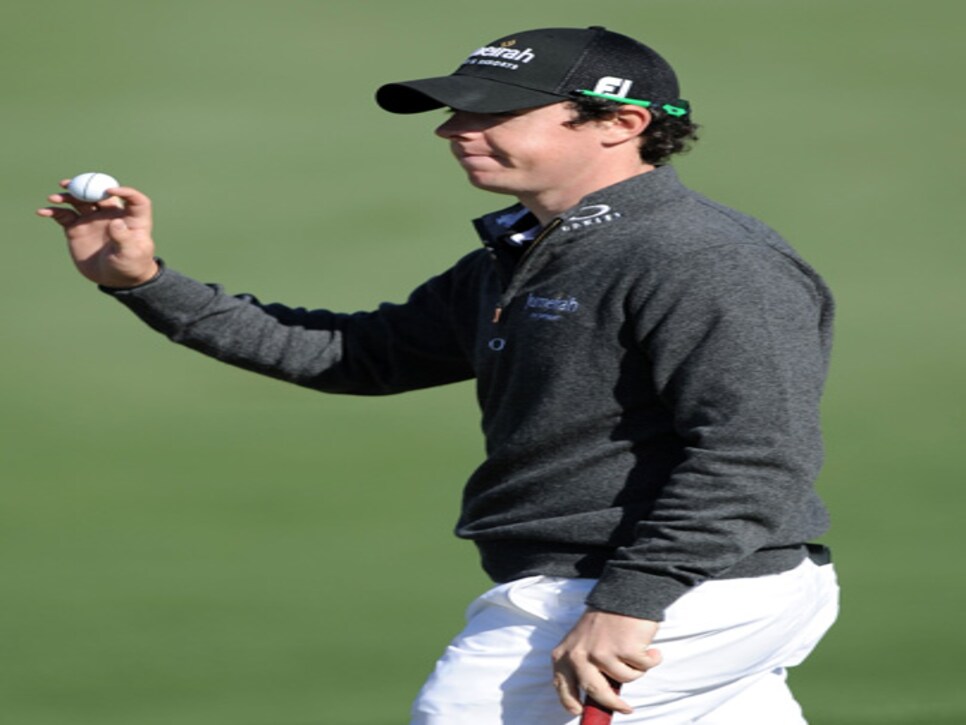 Birdie: Rory McIlroy
A quiet start to the season, maybe, but McIlroy is developing a habit for making noise on the grandest stages. An opening-round 65 reminded the golf world that it's only a matter of time before the 21-year-old McIlroy starts winning the big ones in bunches. Tied with Alvaro Quiros at seven-under par, he is the youngest first-round leader in Masters history, and gives Europe a chance to end a 12-year winless streak in the Masters.
Bogey: Bad Memories
Then again, perhaps McIlroy shouldn't plan the Champions Dinner menu just yet. Recall that he took the first-round lead at another vaunted layout with an opening 63 last year at the Old Course, only to stumble the next day with a second-round 80. Sure, the wind was howling that day, but it also raised questions of whether the kid can go the distance.
Birdie: Big hitters
Between co-leader Quiros, Ricky Barnes (five under) and Gary Woodland (three under, with a 31 on the back nine) the success of some of the field's long hitters on Thursday might give the green jackets reason to think about another lengthening. Remember, these guys have Fazio on speed dial!
Bogey: Ian Poulter
Unfair or not, Poulter invited greater scrutiny when he said Tiger Woods had a slim chance of competing this week. On Thursday, Poulter had plenty of problems of his own, bogeying his last four holes to shoot 74, three shots behind you-know-who.
Birdie: Jack Nicklaus
A quarter century after he caused the ground to shake at Augusta National, the 71-year-old Nicklaus smacked his ceremonial opening tee shot down the center of the first fairway, some 30 yards past Arnold Palmer's drive. As meaningless shots go, it was plenty clutch.
Bogey: Aaron Baddeley
Not everyone enjoyed such a smooth ride down the first fairway. Baddeley pulled his opening drive left and into a lady's lap. No one was hurt, unless you're counting Baddeley's pride. He opened with a 75.
Birdie: Tiger Woods
Sure, he's six strokes off the lead. But Woods at least patched together a decent round right when it looked like he was unraveling. After bogeys at 10 and 11, he made a key par putt on 12, then birdied his next two holes. It might only be a moral victory, but that's what Woods has to settle for these days.
Bogey: Martin Kaymer
The last major champion might be one of the first people out the door at Augusta. Kaymer, who could be supplanted by any one of five different players atop the world ranking this week, did little to help his cause with an opening 78. He has never made the cut in the Masters, and has only broken par once in seven career rounds.
Birdie: Thursday's weather
Clear skies, a gorgeous golf course in full bloom, thousands of fans basking in their good fortune strolling golf's sacred ground in the clutches of springtime. Was it possible to be in a bad mood? Well, yes...
Bogey: Sergio Garcia
Even after an encouraging opening round of three-under par 69, Garcia wasn't caught up in th the splendor of the day. In a nearly-five minute sessions with reporters following his round, he used the word "unfortunately" eight times to describe his day.