U.S. Open
Thursday's Birdies and Bogeys
Who were the winners and losers on Thursday at Olympic Club? It's time to take a closer look with another edition of birdies and bogeys.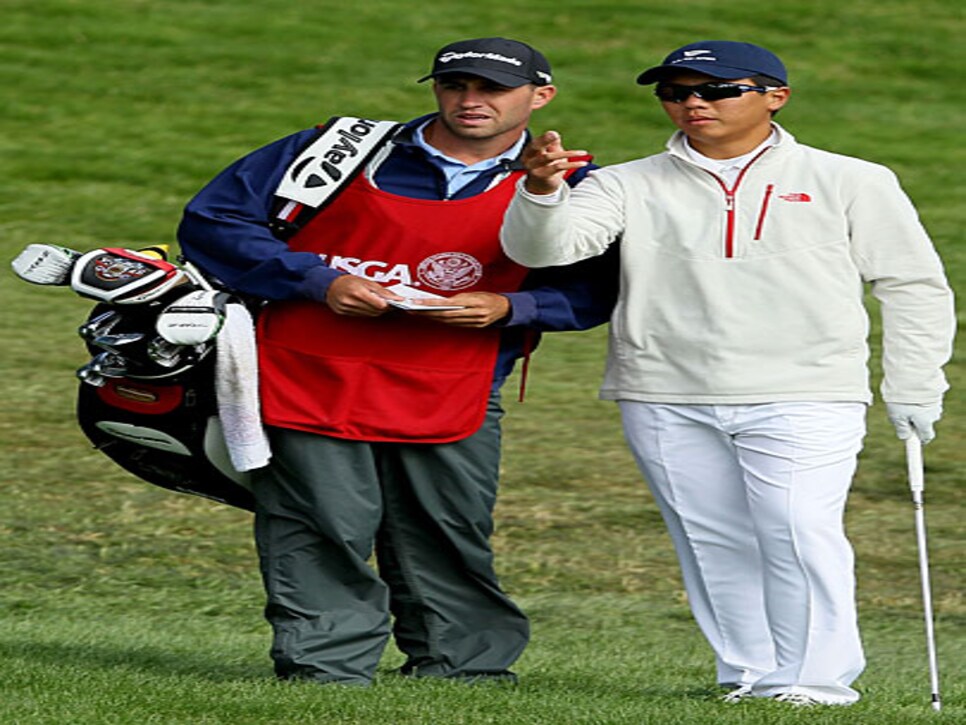 Birdie: Andy ZhangOK, so he could have done just about anything on Day 1 and we would have applauded. He's 14, people! While most people his age are still finishing up middle school, Zhang was taking his first major exam in golf -- and he definitely didn't fail. After starting the day eight over through five holes, the youngest competitor in U.S. Open history played the final 13 at one over and he broke 80 by sinking a 15-foot birdie putt on No. 18. Don't think that's a big deal? Jack Nicklaus shot 80-80 in his U.S. Open debut in 1957. And he was 17.
Biridie: Tiger WoodsIt's been four years since Woods won his last major at the 2008 U.S. Open at Torrey Pines. But if he plays like this for three more days, that drought could end. Woods' 10 fairways and 11 greens in regulation hit don't do his ball-striking justice on a day when he seemed in complete control of his long game. A couple of sloppy bunker shots and perhaps a couple of hard bounces kept a 69 from being even better, but he'll take any score in red numbers -- especially considering how the two other players in the marquee group fared...
Bogey: Phil MickelsonRemember how Phil said he welcomed the pairing with Tiger Woods? It didn't seem that way on Thursday, not in a round that began with Mickelson landing his first tee shot in a tree, and ended with him holing out for 76, seven shots behind his archrival. All those heartbreaking close calls for Phil in the U.S. Open actually seem pretty good right about now. At this rate, Mickelson will be lucky just to play four days.
Birdie: Michael ThompsonIn the day's most compelling case of local knowledge providing an advantage, Thompson -- a runner-up at the U.S. Amateur here in 2007 -- jumped to the top of the leader board with a 66. He hit just nine greens in regulation, but also made seven birdies, and needed just 22 putts. Who says the U.S. Open is all about fairways and greens?
Bogey: Bubba WatsonWatson spoke earlier in the week about certain elements of the Olympic setup not making sense. In Open-speak, that translates roughly to, "I'm not going to play well, and here's why." Sure enough, the Masters champion and third member of Thursday's glamour pairing appeared hamstrung by the tight layout, finishing with a 78. Unlike at the Masters, when Watson's bold shotmaking often bailed him out of trouble, at Olympic it just dug him bigger holes.
Birdie: Michael AllenThe 53-year-old Olympic member and Bay Area native, already with two wins on the Champions Tour this year, had made qualifying for this Open a focus for 2012. Perhaps he didn't set his sights high enough. Allen's one-over par 71, complete with a holed approach for eagle on No. 14, puts him on the first page of the leader board after the first round. Never mind playing in an Open at your home club. How about winning one?
Bogey: Dustin JohnsonFresh off his win in Memphis last Sunday, Dustin Johnson put on an impressive display at AT&T Park before the Giants game Wednesday night, hitting drives from home plate deep into McCovey Cove. Which was great, except when it came time for the actual game, Johnson lasted only a few innings before bailing. No biggie. All he missed was Giants ace Matt Cain throwing the 22nd perfect game in major league history. The bad karma extended to Thursday, when Johnson opened with a five-over 75.
Birdie: Nick WatneyAt three over through his first six holes, Watney's fortunes turned with one swing on the 505-yard par-5 17th hole. From 190 yards, Watney's 5-iron approach found the front of the green, then raced toward the flag before disappearing into the cup. Move over Louis Oosthuizen? Not quite. Oosthuizen's albatross, remember, was in the final round of the Masters, and it gave him the (temporary) lead. Watney has a long way to go, but his double eagle was enough to jumpstart his round. He finished at one under, three shots behind Michael Thompson. "The shot on 17 is something I'll always remember," he said.
Bogey: The Big ThreeWhen the three top-ranked players are paired together, at least one of them has to give the large crowds following their every move a good show, right? Wrong. The trio combined to play the first hole in four-over par and it didn't get better after that. It's tough to say whose performance was most surprising, with Luke Donald (79) and Lee Westwood (73) winners of the last tournaments they played in, and with Rory McIlroy (77) being the defending champion. What's not hard to say is which group provided the day's biggest letdown. McIlroy, for one, didn't handle the disappointment well, initially refusing to speak to reporters after the round before eventually submitting to a short Q&A.
Birdie: Beau HosslerWith all the attention lavished upon the 14-year-old Zhang, it might be easy to overlook Hossler, who at 17 might as well be carrying an AARP card. But Hossler's appearance in the field is no accident. After qualifying last year for Congressional, he becomes the first teenager in more than 60 years to play in back-to-back Opens. He took advantage of that Open experience by shooting 70 in the opening round, good for a tie for seventh.
Birdie: Casey MartinMartin put his chances of winning this week at less than one percent. After a 74 Thursday, that sounds about right. But for a guy who has played almost no competitive golf in the last five years, the score was remarkable. The University of Oregon golf coach, who qualified for the 1998 U.S. Open at Olympic as well, beat Mickelson by two and Bubba Watson by four, and now has a realistic chance of making it into the weekend.
Bogey: Players complaining about No. 16A number of golfers, most notably Phil Mickelson and Bubba Watson, made it clear they weren't big fans of the super-sized par 5 before the tournament started. But while their predictions that the 670-yard hole -- the longest in U.S. Open history -- would play as one of the toughest on the course were proven correct (it ranked, behind No. 1, as the second-hardest hole on the course), we ask "what's wrong with that?" Tour pros tear up par 5s on a weekly basis, but the U.S. Open is supposed to be the year's toughest test. There's nothing wrong with the par 5s following suit.