U.S. Open
Thursday's Birdies and Bogeys
Who were the winners and losers on Day 1 at Chambers Bay? It's time to take a closer look with another edition of birdies and bogeys.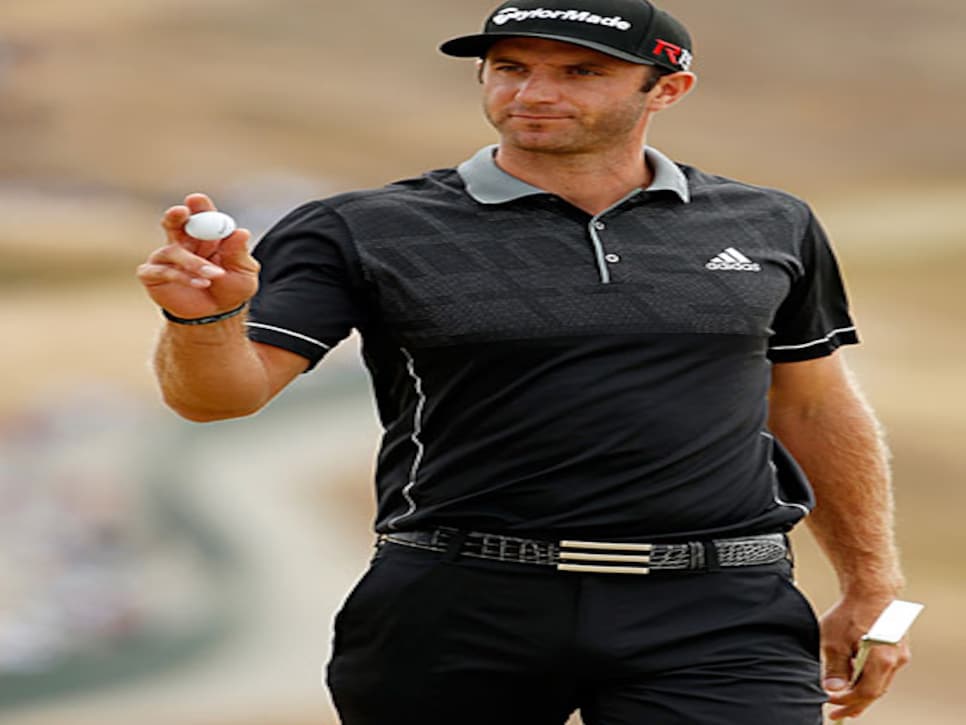 Birdie: Dustin Johnson
A wild opening tee shot into the high fescue wasn't the start Johnson wanted, but his ensuing par save seemed to really get him going. DJ made six birdies from there and had a shot at matching or even breaking the U.S. Open scoring record until a disappointing par on the par-5 eighth and his lone bogey on the par-3 ninth, his final hole of the day. Still, the 65 was his low career round at the U.S. Open and it puts him in great shape to contend for his first major championship win. -- Alex Myers
Bogey: Tiger Woods
Things started in promising fashion when Woods hit the first fairway of a tournament for the first time in six events this year. But his approach found the fescue and he made an opening bogey for the ninth time in his past 10 rounds. It didn't get any better with bogeys on Nos. 3, 4 and 6 and a bogey-bogey-bogey-triple bogey stretch on the back to give Woods an 80, his worst score ever as a pro at the U.S. Open by four shots. It's now been seven full years since Woods last won a major championship and after just one round, it seems pretty safe to say that drought won't end this week. -- A.M.
Birdie: Phil Mickelson
The only thing Mickelson needed to do on Thursday was remain relevant, and in that sense the day was an unqualified success. As low as three under par at one point, he reverted to aggressive mode on the back nine and paid the price with consecutive bogeys. Still, he finished the day in red numbers with a 69, allowing himself to at least entertain another run at that elusive first U.S. Open title. -- Sam Weinman
Bogey: Rory McIlroy
How Rory McIlroy's game would translate to Chambers Bay was a question mark coming into this week. The only real answer we got on Thursday was that Rory's putting continues to be a weak link as he missed a number of putts inside 5-10 feet, including two bogeys over his last three holes for a 2-over 74. "I made a couple of bad strokes coming in, which costed me a couple shots." Rory's game tee to green was solid at Chambers Bay in the first round, so that's an encouraging sign. But what's not encouraging? Rory has never won an event in the U.S. after opening with an over-par round. -- Steve Hennessey
Birdie: Henrik Stenson
The Swede called Chambers Bay "dangerous" after seeing his caddie, Gareth Lord, fall on the 16th hole during Wednesday's practice round. After his x-rays turned out negative, though, Lord was back on the bag Thursday (with a cast on his wrist) and it was his boss who asserted himself as a threat to the rest of the field. A decent first round became a fantastic one as Stenson birdied four of his final five holes to match Dustin Johnson with an opening 65 atop the leader board. Not that we should be surprised by Stenson lurking on a big leader board. He has seven top-four finishes in majors in the past seven years. -- A.M.
Bogey: Bubba Watson
The two-time Masters champ managed an even-par 70 on Day 1, but if you just watched his deflated body language, you would have thought he shot 80. Watson displayed his frustration from start to finish, sulking his way around Chambers Bay like he did at last year's PGA Championship and getting the #PrayForTedScott (Watson's caddie) hashtag circulating on Twitter again. It wasn't just his own play that bothered him, but the pace of the round. "Waiting 30 minutes," he said on camera on No. 18. "This is pathetic." Watson didn't shoot himself out of the tournament, but he'll probably need an attitude adjustment to keep himself in it. -- A.M.
Birdie: Fox Sports
The highly-anticipated debut of the newest golf broadcast team wasn't perfect -- more on that in a moment -- but it was still an impressive effort. The innovation, the level of ambition, the repartee between lead announcing team of Joe Buck and Greg Norman -- it was all proof that if Fox didn't nail it on Day 1, it can eventually. At this early stage, that's really all you can ask. -- S.W.
Bogey: Fox Sports
Like we said, it wasn't perfect. Fox didn't have its scoreboard working early in the broadcast, and Curt Menefee struggled as a studio host (he seemed to not know what U.S. Open sectional qualifying was and stumbled through several segments). On one hand, it's important to give the network time to find its footing. And yet seeing how it's had U.S. Open rights for nearly two years, it's not like it didn't have time to prepare. -- S.W.
Birdie: Jason Dufner
The 2013 PGA Champion has been largely a non-factor since his career-defining win at Oak Hills, in part due to injury, with maybe some off-the-course distraction mixed in between (he has split with popular wife Amanda). But Dufner has shown signs of life of late, with a top 10 at the Byron Nelson and at least a strong start at the Memorial. Dufner maintained the momentum at Chambers Bay, with his opening 68 putting him three shots off the lead. -- S.W.
Birdie: Chambers Bay
It's a brutal walk, inaccessible to many spectators, with uneven putting surfaces. And yet Chambers Bay was still successful in producing an impressive leaderboard on Thursday. Even better, it did it in a way that spared competitors the torture that often accompanies playing in the U.S. Open. With ample fairways and putting surfaces, players could stand to be aggressive and even make birdies, while still facing the prospect of a big number when off the mark. Just ask Tiger Woods. -- S.H.
Bogey: Chambers Bay's greens
We've come to expect Sergio Garcia to complain, but when a bunch of other guys -- including Rory McIlroy and Phil Mickelson -- chime in, it leads you to believe there's a problem with the putting surfaces. Garcia proclaimed the U.S. Open "deserves better" on Twitter. McIlroy, more diplomatically said, "They are not the best that I've ever putted on." The bad news for them and the rest of the field is that with wear and tear, the greens are probably only going to get worse. -- A.M.
Birdie: Jordan Spieth
Less talked about than Phil Mickelson's pursuit of the career Grand Slam is Spieth's chances of completing the calendar one. Of course, the odds of that are extremely long, but you can't win all four majors in one year without winning the first and you can't win the second without getting off to a solid start on Day 1. Spieth did just that on Thursday with a 68, and with a caddie, Michael Greller, who knows this course better than anyone in the field, it's tough to imagine the scrappy Spieth going away. A.M.
Bogey: Rickie Fowler
A year after finishing in the top five in all four majors, and just a month after his breakthrough win at the Players, Fowler, with his imaginative shot-making, was a popular pick to fare well this week. Well, maybe not. Fowler had a disastrous stretch on the front nine in which he went double bogey-bogey-double bogey-triple bogey. Despite a near-ace on the par-4 12th, the outward 43 was likely enough to derail his chances this week, and will make even making the cut a daunting task. -- S.W.