PGA Championship
Thursday's Birdies And Bogeys
Who were the winners and losers on Thursday of the PGA Championship? Let's take a closer look with with our first round edition of birdies and bogeys.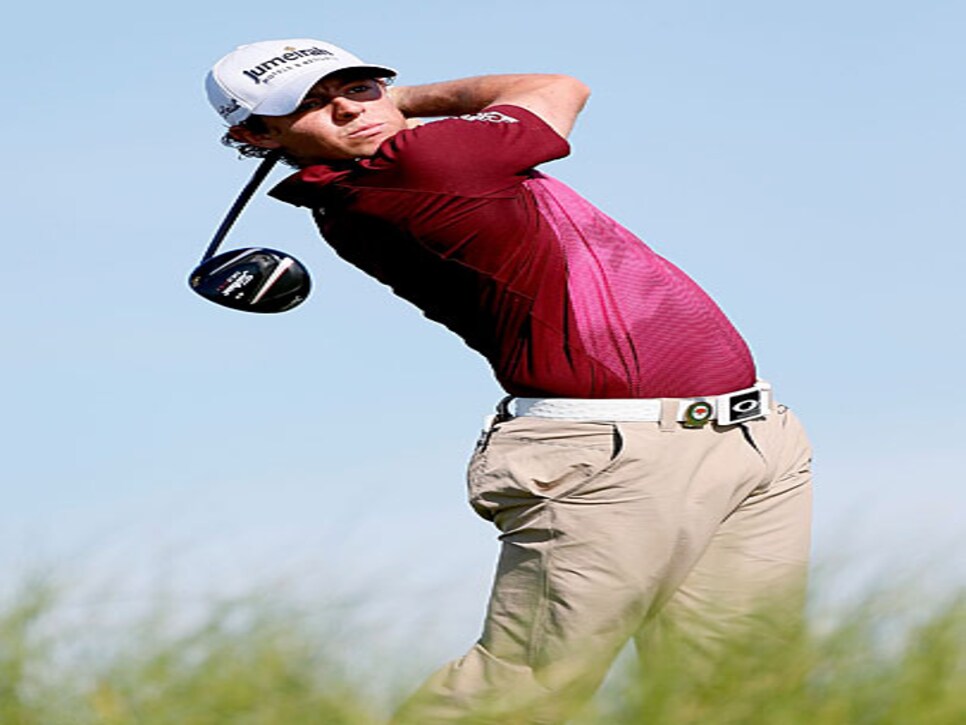 Birdie: Rory McIlroy
It was in the first round of last year's PGA when McIlroy attempted a recovery off a tree root, injured his wrist, and nearly withdrew. His major championship record hasn't been pretty since, with the 23-year-old McIlroy imploding on the weekend at the Masters, missing the cut in the U.S. Open, and hardly factoring at the British Open. Now the Northern Irishman appears to be emerging from the first trying period of his young career. After a T-5 finish at Firestone, McIlroy seized on calm conditions Thursday morning to post a bogey-free 67. Even better news? Tree roots are scarce at Kiawah.
Bogey: Martin Kaymer
Who was that guy scuffling along with Tiger Woods and Keegan Bradley on Thursday? Why, that's Martin Kaymer! You remember him -- won the PGA two years ago, even had a brief stay atop the world ranking. Since then, there hasn't been much to talk about. Kaymer hasn't finished in the top 10 in a major since his win at Whistling Straits (another Pete Dye course, by the way) and has struggled particularly badly of late. After missing the cut at the Open Championship, he opened the PGA Championship with a seven-over 79.
Birdie: Carl Pettersson
For a big guy, the Swede managed to quietly ascend to the top of the leader board Thursday, but it shouldn't be that big of a surprise. With a win and two runner-ups in 2012, Pettersson entered this event ranked No. 9 in the FedEx Cup standings, ahead of players like Ernie Els, Webb Simpson, Rickie Fowler and Jim Furyk. And where did his win -- the fifth of his PGA Tour career -- happen to come this year? Just down the road at Harbour Town, another famed Pete Dye design in South Carolina.
Bogey: Afternoon draw
Kiawah's strong prevailing winds weren't in full force at any point on Thursday, but those in the afternoon certainly faced tougher conditions. As a result, the overwhelming majority of the first page of the leader board came from players finishing their rounds at lunchtime. The good news for those who teed off late on Day 1? They should have a crack at a tamer Ocean Course early on Friday.
Birdie: Tiger Woods
If one sign of progress is an ability to manufacture a decent round even when slightly off, then Woods has reason to be encouraged. Forced into using the driver he mostly kept in the bag at Royal Lytham, Woods' ball-striking was enough of a concern that he headed to the practice range after his round to work through some kinks with instructor Sean Foley. But it wasn't like Thursday was a lost cause. Thanks to some clutch putting on Kiawah's paspalum greens, Woods shot 69 and sits just three shots off the lead.
Birdie: Keegan Bradley
Our favorite thing about the 2011 PGA champion? It's not his knack for coming from behind, as he did last year at Atlanta Athletic Club and again last week at Firestone. It's not the way he engages with the crowd, as he did Thursday when slapping five with a few kids while walking off the 17th green. No, it's that slightly-deranged, don't-get-on-my-bad-side look Bradley has when reading putts. For a former elite skiier and unabashed Boston sports enthusiast, the expression is emblematic of Bradley's competitive intensity, as if the tournament at hand simply means more to him. It seems to be working, too. Bradley rolled in a number of big putts in the first round of his title defense, good for a four-under 68.
Bogey: Charley Hoffman
Golf Digest ranks the Ocean Course as the toughest in the world. And even during a round with relatively no wind, it certainly seemed that way to Hoffman. The two-time winner on the PGA Tour started with a "snowman" on the par-4 first -- and it didn't get much better on the front nine. Three bogeys, two doubles and two birdies later, he made his first par on the ninth hole to card a nine-over 45. Again, this is a guy who has won twice on tour. Yeah, golf is a hard sport.
Birdie: John Daly
Don't ask if he can keep this up, since conventional wisdom says he can't. But in a year in which Daly has enjoyed a quiet resurgence -- he's made eight cuts in 10 events -- the 1991 PGA champion made his best case yet that he still has some game left. Two under through his first 10 holes, Daly drilled a 3-wood from 250 yards to 20 feet on the par-5 11th hole, setting up an eagle that moved him to four-under par. He ended the day with a 68, his best round in a major since the 2009 British Open.
Bogey: Webb Simpson
Following his major championship breakthrough at the U.S. Open, Simpson hasn't played much golf. It showed on Thursday. After skipping several tournaments -- including the British Open -- to be with his wife for the birth of the couple's second child, a rested, but rusty Simpson returned to major competition with a 79. On the bright side, he just celebrated his 27th birthday and his beloved belly putter is still legal. At least for now ...
Birdie: Gary Woodland
The 28-year-old Woodland has had a frustrating follow-up to a breakthrough 2011 season, thanks to a wrist injury sustained hitting out of a bunker during the Masters. It's bad enough when you're injured, even worse when you're attempting to rebuild your swing in the process. But Woodland says he's healthy now, and the work he's put in with new coach Butch Harmon is starting to pay off. His opening 67 putting him just a shot off the lead heading into Friday.
Bogey: Steve Stricker
A year after contending in this event at Atlanta Athletic Club and a week after coming up just a stroke short of a playoff at the WGC-Bridgestone Invitational, Stricker missed out on a chance to make a move while playing in early, calm conditions. While an opening 74 wasn't disastrous, it certainly made the task of winning a first major a lot harder for the 45-year-old. And if not now, when?
Birdie: Sergio Garcia
We are not in the habit of lauding players who shoot well over par, particularly players who have famously underachieved in majors. But Garcia should be commended for his actions on the par-5 16th hole, when waggling over his second shot, he inadvertently tapped his ball and advanced it a fraction of an inch. It was so subtle no one else likely would have noticed, but Garcia, while clearly disappointed, still alerted his playing partner Adam Scott, and then an official. A one-stroke penalty followed, and Garcia went on to make bogey. After a 76, he's now unlikely to make the cut, but he still earns points for integrity.
Birdie: Adam Scott
When the Aussie coughed up a commanding lead in the British Open and then claimed the whole thing was a confidence builder, it had all the appearance of a player trying to put on a brave face. Now it looks like he was actually being honest. In his first major round since his four-bogey finish at Royal Lytham, Scott cruised to a four-under 68 in difficult afternoon conditions, proving he may in fact be ready to move beyond his Open mishap.