The Masters
Thursday's Birdies and Bogeys
Who were the winners and losers on Thursday at Augusta National? It's time to take a closer look with another edition of birdies and bogeys.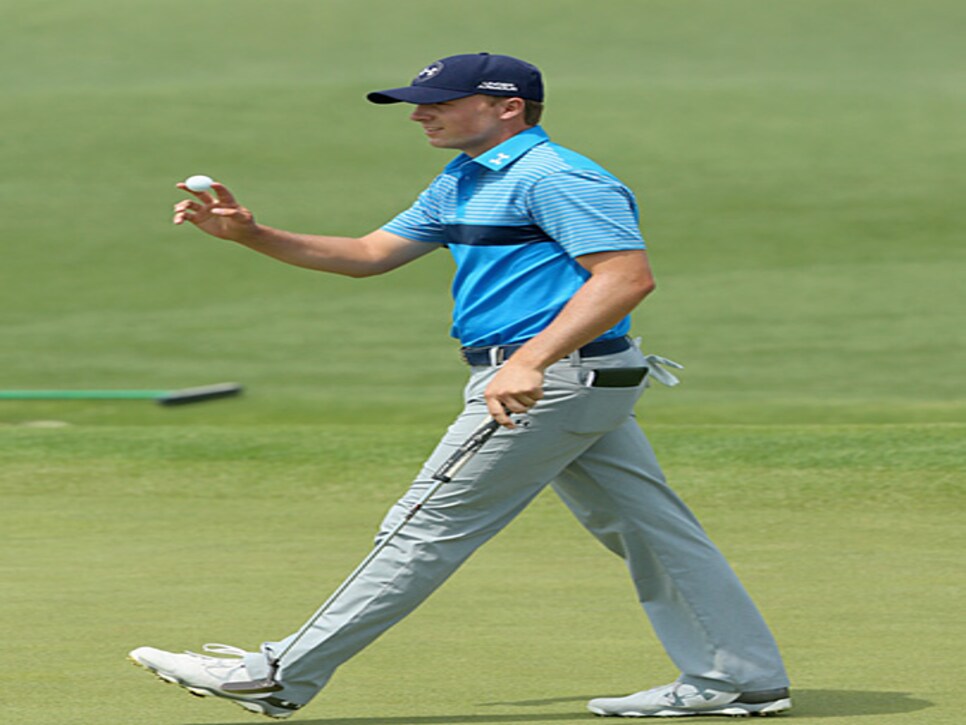 Birdie: Jordan Spieth
As Thursday afternoon progressed, Jordan Spieth's opening round kept feeling more and more special. Birdies at each hole on Amen Corner made it six over seven holes, and gave you the quick feeling that the 21-year-old might run away with this Masters. A hiccup bogey at the par-5 15th kept him from tying history and a major-record 63, but he settled for a three-shot lead at 8-under. Spieth admitted peaking at the leader board on the 15th tee after a miraculous birdie on 14 and "I tried to push it," he said afterward. But nine birdies over 18 holes at Augusta National? He picked right up where he left off last year in his T-2 performance. "I'm really excited about this start." -- Stephen Hennessey
Bogey: TV Times
No entity is more mindful of the fan experience than Augusta National, from the prices of the food, to the innovative Masters app. Which is why the tournament's insistence on limiting TV coverage is so maddening. As opposed to the other three majors that essentially provide wall-to-wall coverage once play begins, the Masters broadcast doesn't come on until 3 p.m. the first three days. C'mom guys. We've been waiting eight months for this tournament! Can't we get a peek a little earlier? -- Sam Weinman
Birdie: Tiger Woods' Short Game
The biggest question mark surrounding Woods heading into the year's first major wound up being his strongest asset during the opening round. Gone were the, well, you know, the dreaded "y-word" and instead, Tiger looked like the short-game savant of old at times. In particular, four straight up-and-downs on holes 10-13 kept his round together. On 11, he played an aggressive pitch shot towards the water that landed past the hole, but quickly checked up. As Jim Nantz said on the ESPN telecast, "millions of people just breathed a sigh of relief." - Alex Myers
Birdie: Rory McIlroy
The world No. 1 is already eight shots behind leader Jordan Spieth heading into the second round, and yet the victory here is that it could have been worse. One over after a bogey on the par-3 sixth, McIlroy played two under the rest of the way to shoot one-under 71. Of course, McIlroy shot 71 last year and followed that up with a 77 in the second round. But while far from dominant this year, McIlroy in 2015 has been proficient in not allowing rounds to unravel. If Rory is to win here, his success in keeping this round alive could prove the difference. -- S.W.
Bogey: Rickie Fowler
Rickie Fowler's four top fives in the majors last year was, by any measure, extremely impressive, so hopes were high for the 26-year-old heading into this year's Masters. After birdies on his opening two holes, Fowler made the turn in 37 en-route to a one-over 73, leaving him T-41 and nine shots off the lead. On a day where Jordan Spieth took everybody's breath away, it was a disappointing showing from Fowler, and continues to provoke questions over whether he's truly ready to win one of golf's biggest prizes. -- Luke Kerr-Dineen
Birdie: Ernie Els
There was a smile beaming on Ernie Els' face Thursday we haven't seen much in the last couple of years. The four-time major champion grabbed the solo lead after 15 holes with an eagle before Jordan Spieth jumped ahead of him, but Els still made it look easy for large stretches on the back nine until a three-putt bogey on 18 knocked him back to 5-under, tied with Justin Rose and Charley Hoffman. The 67 was one shy of his career-best 66 at Augusta in 2003. That was during a stretch of five Masters where he finished in the top 10, including being runner-up in 2000 and 2004. "I've been working hard on my game the last couple weeks," Els said. "I've been feeling very comfortable on the greens." -- S.H.
Bogey: J.B. Holmes
Coming off a win in Houston and playing the most consistent golf of his life with two runner-ups in his last six starts, many thought the big-hitting Holmes would be a factor in his first trip to Augusta National since a T-25 finish in 2008. Instead, he bogeyed the first hole and only made two birdies during an opening 76. He'll need a big effort just to make it to the weekend. - A.M.
Birdie: Justin Rose
This is a familiar position for Justin Rose. The Englishman has never missed a cut at the Masters and owns seven top 25s in his nine appearances. His 5-under 67 was good for the clubhouse lead in the morning wave before Spieth pushed him back into a tie for second. Rose has held three first-round leads at the Masters, none of which he has converted on. But the Englishman was solid on Thursday and carded six birdies. He hasn't had success leading, so maybe a couple back after one round is an ideal spot. -- S.H.
Birdie: Russell Henley
He's not the most consistent player in the world, but when Russell Henley gets hot, he can beat anybody. He proved as much when he won in his first start at the 2013 Sony Open, and then again when he topped Rory McIlroy in a playoff at the 2014 Honda Classic. The University of Georgia grad's four-under 68 on Thursday featured just one bogey and was an impressive opening round for Henley, who finished T-31 in his second Masters last year. With other big names capturing the attention at the top of the leader board, Henley remains under the radar. But sitting just three off the lead, he has potential to be a real force come the weekend. -- L.K.D.
Birdie: Tom Watson
Much is being made (rightly so) of 63-year-old Ben Crenshaw playing in his final Masters this week, but his elder in the field by two years isn't just showing up, he's still contending. Watson shot 71 to best Ben by a whopping 20 shots and become the oldest player to ever break par at the Masters. And he did it despite soft conditions that made Augusta National play even longer than the 7,435 yards on the scorecard. Surprisingly, the ageless wonder has only made the cut here once in the past 12 years, but he's in good shape to end that trend. -- A.M.
Bogey: Brandt Snedeker
Brandt Snedeker says the Masters is the tournament he wants to win the most, and at 34, his time to win majors needs to be sooner rather than later. He was two-under through 11 holes -- solid, if unspectacular -- but made three bogeys and one double in his next five holes. He birdied the 17th hole, but it wasn't enough to reverse the damage. Considering he hit 78 percent of his greens for the day (15 percent more than the field average) he'll be disappointed with a round that could have been better, and will have to play very well to be a factor at all come Sunday. -- L.K.D.
Birdie: Jason Day
The Aussie took his time getting going on Thursday, but once he did he found the top gear that made him a winner at Torrey Pines and one of the pre-tournament favorites. Starting on the 12th hole, Day made five straight birdies on his way to an opening 67. His streak was snapped with a bogey on No. 17, but he holed a ticklish par putt on 18 to finish on a positive note. In his four previous trips to Augusta National, Day has already come close to winning the green jacket twice -- and that's without ever breaking 70 on Thursday. -- A.M.
Birdie: Charley Hoffman
Wearing a green hat and glove, Hoffman's green jacket quest got off to a strong start. Playing in Thursday's first group, Hoffman shot 67 to grab the early lead. But his name being near the top of the leader board probably isn't as big of a surprise as you think. Hoffman is already a winner this season (albeit at the OHL Mayakoba Classic in the fall) and he finished T-27 in his only Masters appearance in 2011. -- A.M.