British Open
Thursday's Birdies and Bogeys
Who were the winners and losers on Day 1 at Muirfield? It's time to take a closer look with another edition of birdies and bogeys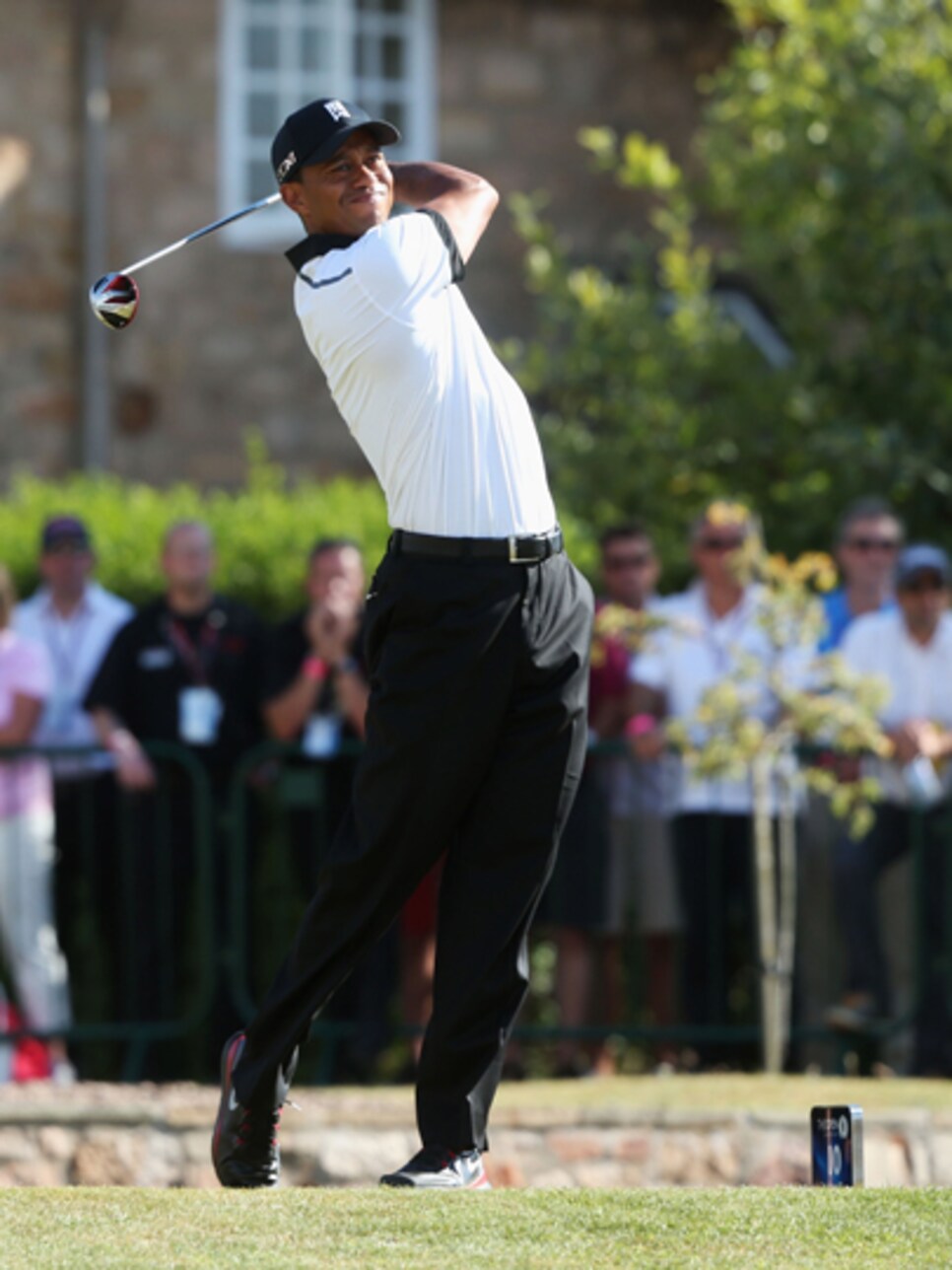 Birdie: Tiger WoodsHitting a provisional ball on the first hole isn't a great way for a player to start a major. Hitting that ball into deep rough is even worse. But after finding his first ball and taking a drop, Woods managed a bogey. It was the start of a scrappy front-nine 37 that might have been more impressive than his back-nine 32. The 69 is one shot better than his opening round at Muirfield in 2002, when he famously put himself into contention before shooting a Saturday 81 in awful weather. The good news for Woods is the weekend forecast looks a lot better this time around.
Photo By: Getty Images
Bogey: Rory McIlroyJust days earlier McIlroy was defending his work ethic after Nick Faldo suggested the two-time major champion could be more focused on golf. You know what helps strengthen those types of arguments? Shooting something lower than 79 -- which, incidentally is what the mostly-retired Faldo shot in the first round as well. Instead, McIlroy's painful 2013 has continued at Muirfield, where he'll need to go low on Friday to extend his stay. Given his fragile psyche, don't count on it. "It's all mental out there," McIlroy said.
Photo By: Getty Images
Birdie: The JohnsonsOne is coming off a disappointing playoff loss in the John Deere Classic, the other is coming off ... come to think of it, where exactly has Dustin Johnson been? Regardless, between Zach's 66 and Dustin's 68, the name Johnson was well represented on the first page of the leader board. And while Dustin has been largely quiet in 2013 -- a season-opening win and a handful of top 10s since -- he has an encouraging Open record to draw on. Thursday marked his fifth 68 in his last eight Open starts.
Photo By: Getty Images
Bogey: Course SetupHow do you know a course's setup is borderline unfair? When guys shooting good rounds are complaining about it. Following a 69, Phil Mickelson said the R&A should check its ego at the door and "just set the course up the way the best players can win." Of course, he was still a little steamed after three-putting No. 18, which had a hole placement right on top of a knob. No. 8's front-right location was under fire as well, most notably from Ian Poulter, who took to Twitter to express his frustration about both: "8th hole is a joke, 18th needs a windmill & clown face."
Photo By: Getty Images
Birdie: Phil MickelsonAfter two decades as a pro, Phil Mickelson has finally figured out links golf! Or maybe he just feels at home in the unusual SoCal weather Scotland has been experiencing. Either way, Lefty is on a roll across the pond. Following his win at the Scottish Open, Mickelson fired an opening 69. The 43-year-old has just two top-10 finishes in the British Open, but remember, this is the new Phil. Phil Linkelson, master of the links. Or something like that...
Photo By: Getty Images
Bogey: South AfricansErnie Els arrived in Scotland as both the defending Open champ and the defending champ at Muirfield. But if a repeat is in order, he'll need to do a lot better than his opening 74. He actually fared better than a couple of his high-profile countrymen. Louis Oosthuizen was forced to withdraw on the ninth hole due to a neck injury and Charl Schwartzel shot a 75, which included a snapped 6-iron when he flung it off the hard turf in frustration on No. 15. That might have been the best contact he made all day with a club.
Photo By: Getty Images
Birdie: Former Open ChampsFirst, there was 2004 champ Todd Hamilton, who hasn't made a cut in the Open in five years, coming out of nowhere to shoot 69. Then came 56-year-old Mark O'Meara, 15 years after winning the Masters and British Open in the same year, opening with a 67. Right behind him, Tom Lehman shot 68. Altogether, it made a for a heady day for guys with their names on the claret jug. And let's also not forget 2001 winner David Duval, who was a positive addition to ESPN's Open broadcast.
Photo By: Getty Images
Bogey: Luke DonaldYes, the afternoon wave had it tougher as Muirfield's greens baked to a crispy brown, but an 80? By a world-class putter? Donald's disappointing resume in golf's biggest events has been well documented, but after a rare Sunday appearance on a major championship leader board at the U.S. Open -- a tournament won by a fellow Brit who was in search of a first major, Justin Rose -- many thought it could be Donald's time for a breakthrough. Instead, it looks like he's going to have a longer break than expected before the next major.
Photo By: Getty Images
Birdie: Jordan SpiethUntil around dusk Sunday evening, the 19-year-old Spieth wasn't even planning on being at the Open. Then came his dramatic playoff win in the John Deere, where he became the first teenager in 82 years to win on tour. At that point one of the game's hottest players went from a likely Open TV viewer to Open contender. His 69 on Thursday proved he can remain just as unfazed in a major championship as he was in the playoff for his first tour win.
Photo By: Getty Images
Birdie: Shiv KapurMuirfield boasts a proud history of great champions: Player, Nicklaus, Trevino, Els. Now ... Kapur? OK, not so fast, but on Thursday, no player got off to a hotter start than the 31-year-old Indian. Making just his second career start in a major, Kapur shot 30 on the front nine to move into the lead. He made double bogey on No. 10 and eventually finished with a 68, but for a player ranked 210th in the world, it was still the surprise round of the day.
Photo By: Getty Images