Golf Equipment
What's In My Bag: Andres Gonzales
Age: 31 | Resides: Lakewood, Wash. | __Story:__Turned to golf after breaking his neck at age 11 while diving into a shallow lake. Finished 11th on the Web.com Tour in 2014 to earn his PGA Tour card.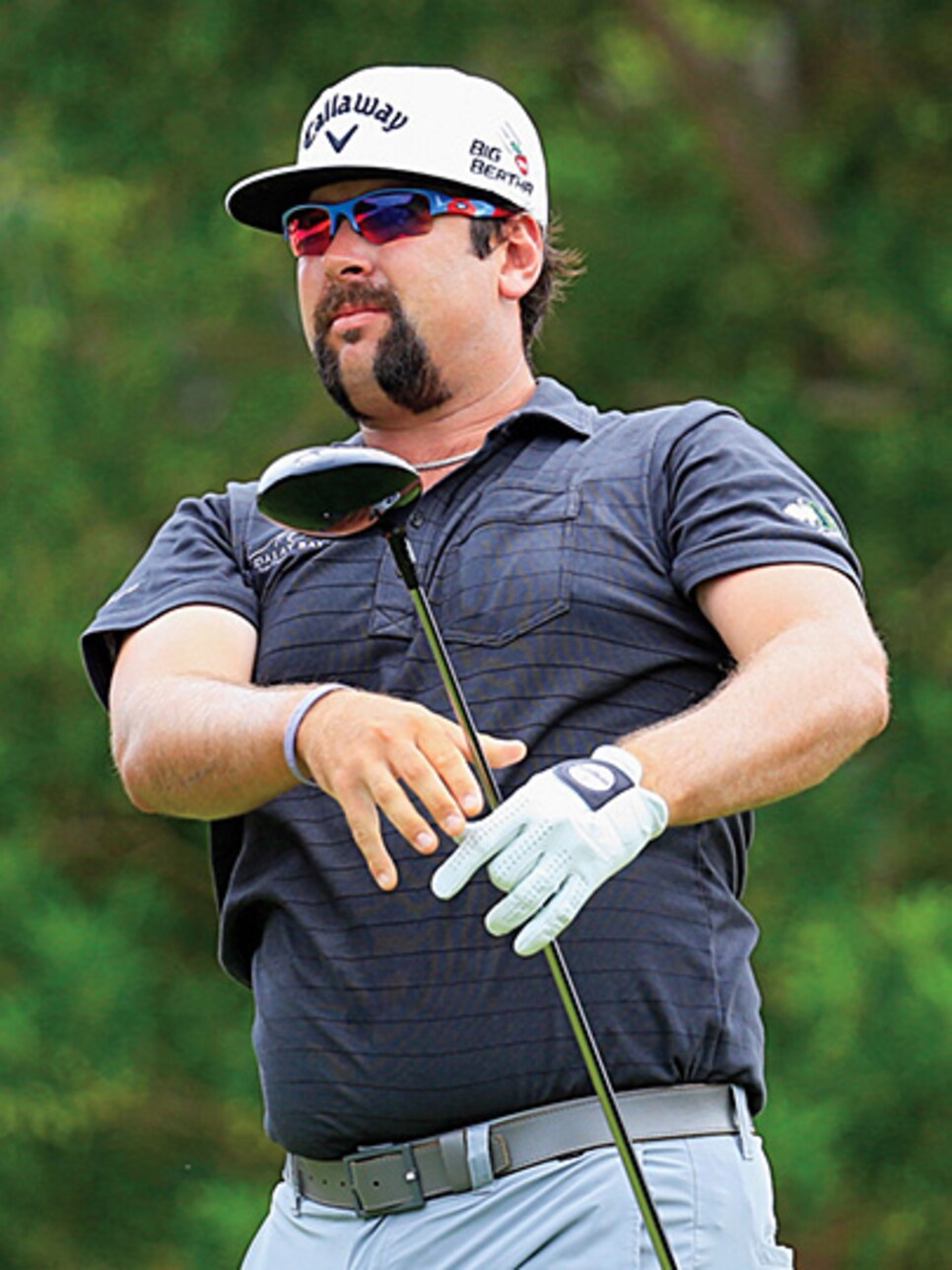 Photo By: rob carr/getty images
NO RAZOR REQUIREDFacial hair wasn't allowed on the golf team at UNLV. As a pro I grew it out as a joke and still have it.
Photo By: rob carr/getty images
BACKWARD APPROACHIf you look at my bag, you'll see I have the clubs set in reverse. When I was young I didn't want to dig through the headcovers to get to the irons and wedges, so I put those on top. I tried switching but kept putting clubs in the wrong spot, so I went back to doing it.
DRIVER
specs: Callaway Big Bertha Alpha 815, 9 degree loft, Mitsubishi Diamana 'ahina shaft, X-flex, 44½ inchesThe actual loft is closer to 11 degrees. The five-gram weight is in the toe and the seven-gram in the heel. All I know is, this club works.
FAIRWAY WOOD
specs: Callaway Big Bertha V Series 3-wood, 16 degree loft, Mitsubishi Diamana 'ahina shaft, X-flex, 42⅞ inchesI used the old Callaway War Bird for a long time. This has a similar V-shape sole that helps get the ball out of the rough and in the air.
HYBRID
specs: Adams Idea Pro, 20 degree loft, Aldila VS By You prototype shaft, X-flex, 40 inchesI've been using this hybrid since 2006. I don't know why I've had it so long, other than it's incredibly versatile. Plus, it goes exactly the distance I want it to go.
IRONS
specs: Callaway Apex 4-iron; Callaway Apex MB 5-iron to 9-iron; Callaway Mack Daddy 2 PW, True Temper Dynamic Gold X100 shaftsI wanted a little extra girth on the 4-iron to add some height and forgiveness. The blades help me maintain consistent distance control.
WEDGES
specs: Callaway Mack Daddy 2 Tour Grind (52, 56 and 60 degrees), True Temper Dynamic Gold X100 Tour Issue shaftsThe bounce on my wedges are similar (9 to 11 degrees). Roger Cleveland fits me, and we found what matches my swing. My wife's name, Kristin, is stamped on these clubs. I play golf, and she makes my life run. Works for both of us.
PUTTER
specs: Odyssey Works Versa 2-Ball Fang, 36 inches, 2.5 degree loft, 360 grams (headweight), Winn Long gripI had a black line put on the 2-Ball alignment aid. I was aiming a little right, and that solved it. It's only the fifth or sixth putter I've used in my whole life.
Simple stripeI'm not one to get crazy marking my ball. I put a small red line on the sidestamp of my Titleist Pro V1x. I use red because it's one of UNLV's team colors.
A putter with ferocious fangsNormally I just go with the putter cover that comes with the club. This one was based off the paint job for an old fighter plane. It's also fitting for my 2-Ball Fang putter.
Yardage book: I have it coveredMy college teammate, J.C. Deacon, was an assistant coach at UNLV before becoming Florida's head coach. He had this stitched for me.
A nickname is bornMy Half Man, Half Amazing nickname came while talking about Twitter. We wanted something cool, and that's what we came up with.
Photo By: matt mahon
Deep thoughtsI was a journalism major and keep a diary. I thought I might write a book on tour life, but that sounds like an awful lot of work.