PGA Tour
11 New Things About Tiger Woods In Jaime Diaz's November Story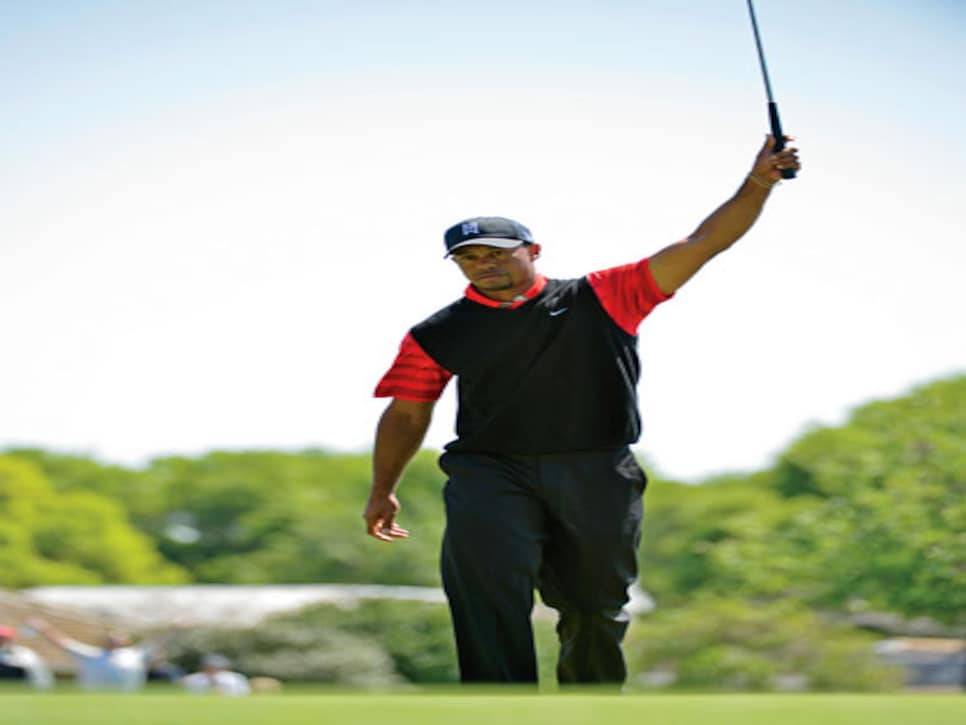 He has to overachieve to reach Jack's record.Golf World's David Barrett analyzed the winning patterns of the best post-World War II players before and after their 37th birthday. If Tiger continues on his current track, he'll finish with 94 PGA Tour victories and 17 majors -- one short of Jack Nicklaus' record 18.
The jury's still out on the Tiger-Sean Foley relationship.Some say he has become a more conservative, less artistic player under Foley. Others say that on the driving range he can (and does) hit every shot imaginable but won't use them in competition.
Jack Nicklaus supports Tiger's swing change."I don't think Tiger's golf swing is as natural as it used to be, but I think his ability to control a golf ball is greater than I've ever seen him do it," Nicklaus says in the piece. "At Firestone, I thought that was the best swinging the golf club under control I've ever seen him do."
He's avoiding hitting his driver.Tiger is hitting more fairways than ever because he's pulling more 3 and 5-woods off the tee, but that's actually hurting him in other ways. He's fallen from near the top of two key rankings, reachable holes and driving distance, to 32nd and 56th on tour respectively. That's something he can get away with in regular tour events, but gets exposed badly in majors.
Tiger's fade is failing him.Take it from the fade master, Lee Trevino: "Tiger aims left and hits a cut, but he's hit too many double-crosses, and it's caused him to lose his confidence with the driver and even the 3-wood in majors ... I don't like how he dips and comes up in his swing."
Tiger's three-pronged attack is down to just one.Diaz writes that in the past players knew Tiger's combination of distance, ball-striking and putting made him extremely difficult to beat. But with the rest of the field catching up to him in the first two categories, he's more reliant than ever on his putter, which isn't as solid as it once was.
When the pressure's on, Tiger falters more often.It's not just in the majors. Tiger is first in Round 1 scoring on the PGA Tour and second in Round 2 scoring, but when the weekend rolls around, he drops to T-84 on Saturday and 120th on Sunday.
His intimidation factor isn't that scary anymore.Paul Azinger tells Diaz that players used to be intimidated by Tiger because of his unwavering discipline, but that hasn't been the case since his high-profile sex scandal. "[Woods' scandal] made players start to think that they might actually be more disciplined than him," Azinger says in the piece.
He doesn't feel loved like he used to."He's not idolized like he was ... and he knows it. And the other guys know he knows," Raymond Floyd tells Diaz, a notion echoed by Gary Player: "It's an important feeling for a golfer to believe people admire you. He had the opposite, and that's very hard to deal with."
Being a father might mellow him ...Jack Nicklaus tells Diaz that once he became a father and his kids started playing sports, golf became less of a priority -- something that he could see happening to Tiger Woods. "Most of the time that I didn't win, I look back at it and say I just didn't work hard enough or I just wasn't focused enough," Nicklaus says.
__ ... Or he might have mellowed already.__Hank Haney, Tiger's former swing coach, has gone on record saying that Tiger doesn't practice as hard as he used to before or after tournament rounds. Tiger's work ethic has never been questioned before, but as he and his kids grow older and his body begins to wear down, perhaps Tiger might be taking it a little easier.